LCI Paper celebrates our 20th podcast episode with an interview with Lisa Hladish of PaperDaisiesStationery.com. Lisa is an Atlanta-based wedding invitation designer who likes to think of her designs as "kind of a like a little present. They're fun to open. They're like nothing they've ever seen before." Her web site, PaperDaisiesStationery.com, showcases some of her designs, which she describes as "traditional to modern to whimsical to cute." Last week, Lisa talked to me about Paper Daisies Stationery.
To save the audio to your computer, right click and "save as."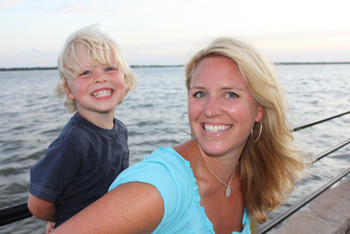 Here is a transcript of the interview:
When and how did you start Paper Daisies Stationery?
I started when I got married six years ago with my own wedding invitations. I could not find what I was looking for in the price range I liked. So we decided to make my invitations. It just kind of grew from there-word of mouth. My friends received my invitations and I was at the marrying age so I ended up doing a handful of friends' invitations and it just kind of grew from there.
What paths did you take to try to find invitations? Where did you go?
Oh, I think I went to some stores and looked through books. I really feel like I was on the cusp of just this great energy with invitations. It really feels like when I got married, people were just starting to get really creative. So, the ones that were kind of standing out, they tended to be more expensive. And now, you can pretty much go anywhere and get some really interesting, fun, unique invitations. And that's kind of what I was looking for when I got married and they just weren't as available as they are now.
Just the fact that do it yourself trends have really picked up the past few years, where a lot of brides are able to do invitations themselves or work through people like me where they have their own ideas and we can work together towards getting their design and their theme put together in an invitation and it's really unique and it's not the kind of stamped, big company where you might actually get the same invitation that you've received a year or two before.
I know you are a teacher or you were a teacher, so you're…
I did. I used to be a high school art teacher.
Ok, so you're a creative person anyway. And what's your background in art and design?
I taught high school art for a few years. I had actually quit teaching for a year and was painting murals on sides of buildings and I also did decorative painting in people's homes while I was working on my invitations. I'm not a graphic designer by trade. I definitely never had any formal training. I'm self-taught. I work on a small, little, tiny program. But after a lot of hard work, I taught myself how to create different designs. And if I can't find something, then I draw it and scan it in.
Tell me about how the business started. I know you had quite a lot of good feedback from your invitations at your own wedding.
Uhuh, I did. I did some kind of neat things with my wedding. I did a postcard reply card which saved on the postage and that was really something that was not widely done. Pretty much 99% of my brides will do that and it's just a great way to save money and it's something unique and fun. I did square invitations which, at the time, weren't really widely done. After I mailed my invitations out, there were about three or four jobs that I received within a few months after that. Just through friends of friends it just kind of started up. Never in a million years would I have known I'd be doing what I'm doing. (laughter)
Tell me about the web site. PaperDaisiesStationery.com has a redesign, correct?
Yes. I started that web site about a year ago. For the past five years, I've actually only had a web site that had personalized stationery and smaller invitations-birthday, wedding shower, baby shower, personalized note cards. I just never had time to get any of my wedding invitations on my web site and so last year I finally kicked it into gear and I launched PaperDaisiesStationery.com. And that links to my personalized stationery which I still do have. It's a web site that mainly showcases the jobs that I've done. It's not the kind of web site you would go to order off of. I really enjoy meeting with brides for consultations and doing everything custom. I think it shows my style. A bride can go on and look through and see all the different designs. I work in pretty much any style you can imagine from traditional to modern to whimsical to cute. No two invitations really are the same. And I love, I just love simple. I think if you keep things simple, you can pretty much make anything look good-work in any style.
Looking through the invitations that you have showcased there, I definitely get simple. But I definitely get fun. I don't get boring. You know, I don't get necessarily traditional.
I really don't enjoy those kind of boring, everyday wedding invitations that have been around for a really long time. It just makes me sad when I get one of those in the mail because they don't… There's no personality. You can't… You know, there's almost nothing to get excited about for the wedding. I like to think when guests get my wedding invitations that they're kind of like a little present. They're fun to open. They're like nothing they've ever seen before. If I work with a bride and she wants something traditional, maybe I'll work with a monogram or I'll work with traditional colors. But it's not going to be that same boring cream invitation that you've gotten twenty times already.
Gotcha. One of the invitations, Betsy and Brian… It's just one that caught my eye and… First of all, I love the colors the dark blue, the navy blue and the white. Love the flower designs… And that's your little on, yeah? So if you need to break away at any time, feel free.
Oh that's fine. He just wanted to peep in.
Ok.
Yeah, Betsy and Brian's wedding… Betsy actually came to me with the design that she found somewhere that she really liked. And so I took that design and manipulated it a little bit and redrew something that really said exactly what she wanted. And then I'd played with it. I took different design elements and put them in different places throughout the invitation. The lining-it's kind of the entire composition of the flowers and the leaves. And then I kind of took parts of that. I took parts of the flower out. I blew it up, made it smaller, took part of the leaves… And I really do not like the way an invitation set looks when it's matched. I really like things to compliment each other. I think it just gives it a little bit more of an upscale, a little bit more of an expensive look. I think we used navy, a navy blue. We used kind of a taupe color on parts of the invitation. And also, there were parts that probably aren't on my web site but that I did with our table card and seating card where we brought in some paler blues and it was a really pretty invitation set. I like that one a lot.
And you lined the envelope as well-custom lined.
Custom lined the envelope, yep. And I think I had said that was an LCI envelope. I love your big square envelopes. I love that size. I think it's so much fun when you get an invitation that's just a big, large square. I don't know. It's exciting, you can't wait to open it, and again, very different than your boring, regular old cream invitation.
Tell me about the connection you make with your clients. I mean, to design something as personal as a wedding invitation must at least take some getting to know each other.
It does. I love my brides and actually I love some of my grooms too. They come along to some of the consultations. My process is to have a complimentary consultation with brides and a lot of times their moms or their sisters or their best friends will come. Sometimes the grooms come along. We sit down, look through all the different portfolios that I have and the different designs. And through that process, I do get to know them. I go back to my home office and I create complimentary samples based on the discussions that we've had. And I do everything. I make the invitation set. I make the programs, table cards, seating cards, menu cards, save the date-any things that they think they might need for their wedding stationery set. I mail those to the bride along with a price list. And all of that is complimentary. So there's absolutely no pressure on the bride to feel like she needs to work with me before she's even seen anything. And that's really important. When she sits down and gets her samples she gets to see her look in her colors with their names, maybe their monogram, their design. And then they can decide if we would be a good fit. And through that process it's always so exciting.
I just got an e-mail today from a bride. I worked so hard on her sample. I just had my fingers crossed because she was very particular about what she wanted and she just loved it. So I was so excited to get that e-mail from her today.
A lot of my brides, I work with them through the entire wedding process-from save the dates to table and escort cards so we do get to know each other. And a lot of times, a year or two later, I get a call back and they're pregnant and they want me to make their baby announcements. Or they'll be doing bridal shower invitations for their friends. I work a lot of word of mouth so a lot of times brides that I do know will give my name to one of their friends or a couple of their friends and I end up knowing kind of an entire wedding party. So it's a lot of fun. At least to this point, I've never forgotten a bride and a design.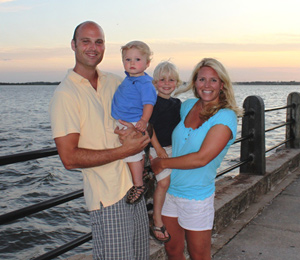 Is Paper Daisies your full time job?
I feel like it's a full time job. I work Paper Daisies Mondays, Wednesdays, and Fridays and I have two little boys–three and one, and on Tuesdays and Thursdays I stay home with them. So I am a full-time mom and a full time stationer, at least that's what it feels like. But it's the best of both worlds. I really love it.
Perfect. How do you get the word out about your business? And tell me about some of the networking you've been doing recently.
Definitely word of mouth has been a huge play in making my business grow but I also work with wedding planners in the metro Atlanta area. Two successful planners here are Ashley Baber Weddings and Wedding Soirée and they both send me a whole lot of business. It's great, kind of to have my services, as a wedding planner, because I give their brides something complimentary. So it's a great thing for a wedding planner to have. I also recently joined a company called The Bridal Bar. They're a new startup company here in Atlanta. They have two stores out in California-San Diego and LA. And they're a great service for brides. It's a complimentary service. They choose up to six vendors in each category and they're very, very specific and particular about the vendors that they choose. They try and get variety, good quality, excellent references. So I'm one their stationers. If you go in to the Bridal Bar as a bride, newly engaged bride, you can have a consultation. They give you champagne. You can go in with your mom, your sisters, your friends, and they will actually sit down and try and pick vendors that will fit your budget, fit your look, fit your style. And it's just a great service. I've had a lot of fun working with them so far. I haven't quite done the Facebook or Twitter yet. I'm a little bit computer illiterate at that. (laughter) But maybe down the road I'll get a little better.
Thanks to Lisa Hladish for taking the time to tell me about her invitation design business, Paper Daisies Stationery. See her designs at PaperDaisiesStationery.com.
Joshua Birch