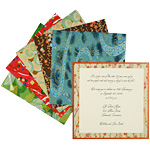 The vibrant patterns found on Japanese Chiyogami Paper have the ability add a touch of elegance to any creative project. Despite its delicate appearance, Chiyogami is quite durable. It is also easy to cut, fold, and paste; making it ideal for creating distinctive invitations, scrap-book pages, envelope liners, or any creative project that comes to mind.
If you are familiar with chiyogami paper, you are probably already well versed in its positive attributes and versatility. However, there are several interesting facets of chiyogami paper you may not be familiar with. For example, do you know that chiyogami is as environmentally friendly as it is stunning; or that traditional chiyogami designs represent beauty, good fortune and long life?
In an excerpt of an interview with The Japanese Paper Place, Jessica Mann discusses the history, production, and alternative uses of chiyogami paper that you may be interested in learning. Culture and tradition permeate chiyogami, making it far more than a decorative paper.
You mentioned in a former interview that the vibrant, colorful patterns on chiyogami paper are modeled after Kimono patterns. Could you please talk a bit more about the history of chiyogami?
Sure! The paper that we know as chiyogami actually comes from a blending of two Japanese traditions: woodblock-printed Japanese papers ("chiyogami"), and a specific style of kimono fabric patterns ("Yuzen"). The word "Yuzen" originally referred to a style of highly elaborate designs, incorporating a lot of gold, which were printed onto cloth for kimonos. After World War II, however, with Japan embracing the West and the drastic decline in demand for kimonos, the old cloth printing studios with little to do began applying their patterns to paper. These patterns blended with the existing woodblock-printed chiyogami tradition to create a newer, wider range of paper patterns that now also included gold. Over time, the more efficient silkscreen technique imported from the West replaced woodblock production.

Part of the confusion about whether these papers are called Yuzen (as they are commonly known in the USA) or chiyogami comes from this blended history. Really, today's papers are both. We call them chiyogami because it's the term that refers traditionally and specifically to paper (-gami means paper).
I am aware that in the past, chiyogami was silk-screened by hand. Is chiyogmai still produced in this way?
All the chiyogami that we carry is still silk-screened by hand. It's a laborious process, with each pattern requiring a separate screen that needs to be hand-registered for each colour layer. Just imagine: for the plum blossom pattern you call Floral Pattern Sky Blue, each sheet needs to be registered and a colour layer applied – and then left to dry – six times.

Moreover, the chiyogami we carry are not made in sweatshop conditions in the Third World somewhere. They all come from studios we know – and in several cases have visited and seen for ourselves – that are small, family-run Japanese businesses we are proud to support.
For the most part, LCI customers purchase Japanese paper for layering and embellishing purposes on invitations, scrap book pages, etc. Being solely in the business of Japanese paper, can you discuss some other popular trends you have been noticing?
One of the main qualities of Japanese paper that we hear people commenting on is how easy it is to manage – to paste down, or fold, or use in other ways. In North American the major use of decorative Japanese paper continues to be for invitations, whether for printing, wrapping, lining or embellishing. But there are many other popular, though less well known uses as well. Bookbinders and boxmakers have long loved chiyogami in particular for book and box covers. Backgrounds in advertising and magazine pictures are also common. Restaurants love to use printable Japanese paper for menus. A number of spa product companies are more and more using tissues and chiyogami for decorative wrap of candles and soaps in particular. Decorative Japanese wallpaper is on the rise as well: several high-end locations in England use chiyogami to cover accent walls. And in addition to the longtime favourite crafts of origami, iris folding and washi eggs, jewelry in general and glass pendants in particular are benefiting from the distinctive beauty of chiyogami.