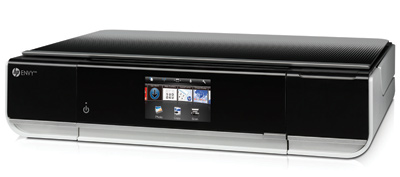 Does your all-in-one printer look like this?
Designed to look like a home theater component, the sleek HP Envy 100 e-All-in-One is like no other all-in-one printer/scanner/copier you've ever seen. It gives you the ability to print and receive documents with mobile devices and needs no cables (save power to the wall). It may also be your first experience with a printer where you'll interface via the unit's touch screen.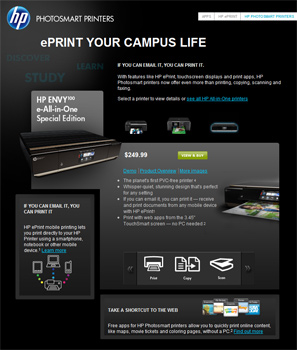 Wireless networking means you can place it anywhere!
Although networked printers have been around for years, wireless printing is a more recent phenomenon, with the leader in home printing, HP, in the middle of a serious campaign to promote their e-Print technology. Currently, the company positions the Envy 100 as the perfect accessory in a college dorm room or suite as shown in this HP/Best Buy promotion.
With a street price of about $200, the HP Envy 100 e-All-in-One is the flagship model in a line that includes the HP Photosmart e-All-in-One ($70 street) and the HP Photosmart Plus e-All-in-One ($99 street).
Why We Are Reviewing the HP Envy 100
We received a review unit from HP because they consider it a great consumer-oriented printer that outputs excellent quality. They also thought it would do a better job at printing cards than the HP Officejet 7500A Plus e-All-in-One, a disappointment for one of our customers. In fact, when printing custom size paper like greeting cards and invitations, many of our customers find HP printers in general difficult to configure because inputting custom paper dimensions in the print driver is either hard to find or no customization exists. Does the HP Envy look great and handle all the custom paper sizes that our creative customers will ever want to throw at it? Or did HP pay more attention to looks rather than functionality? Read our review to find out!
Features
High resolution touch display
Whisper quiet operation
Automatic, retractable paper tray
Web apps for maps, movie tickets, coupons,
recipes, greeting cards & more
Wireless networking
Print from the web via Snapfish
Print from mobile devices
Print from memory card slots
Print photo lab quality photos
Copy
Scan
Energy Star
PVC-free printer

First Look at This Unique Design
At first glance, we doubt anyone will take the HP Envy 100 for a printer, much less an all-in-one. They're usually so bulky! Measuring only 4 inches high, it's housed in a piano black finish trimmed with light gray plastic and a mirror surface on top (scanner lid). But even with all of that going on, its rounded corners and motorized display will keep anyone new to the product guessing,
The back of the unit has connections for the supplied power cord and for a USB 2.0 cable (not included) to connect to a computer, but that's where convention ends. First thoughts are sure to be along the lines of, "Where do you load the paper?" "Where does the paper output?" "Where do you change the inks?"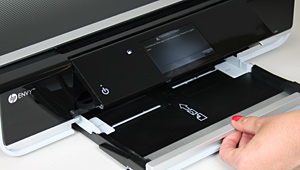 Paper Tray
The paper tray is actually located in front, under the motorized touch screen and is manually pulled out and pushed in for loading, similar to a laser printer. The manual actually instructs the user to completely remove the paper tray to load paper. Unfortunately, there is very little space for fingers to fit under the LCD and above the table top, so getting a grip on the tray is becomes delicate endeavor.
Plastic paper guides loosen or tighten against the edges of the paper. Loading paper under 8 ½ inches wide means you'll need to adjust the guides to rest flush against the edges of the paper.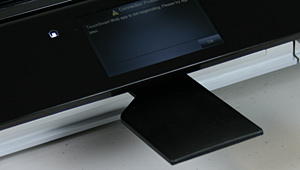 Output Tray Extender
During actual printing, the touch screen panel lifts to its maximum height and underneath, a narrow, 2 3/8" paper output tray extender swings counterclockwise from inside the printer. After the printed page is lifted from the tray, the extender retracts clockwise back inside the printer, hidden away from view. The operation is something to see—quite a wow factor! But with this printer's tiny height and the close proximity of the paper load tray to the paper output try comes a real concern; the paper, card, or envelope needs to travel back into the printer, and within a very small space, make a tight turn over itself to travel back to the output try. With such a tight turn along the paper path, this makes printing many items like envelopes and thick, heavy card stock a risky proposition. More on this later.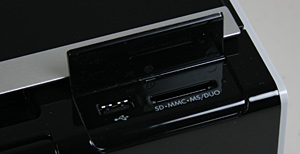 Memory Card Slots
On the top right corner of the unit is a small cover that opens to reveal two memory card slots for a USB 2.0 device and an SD card. When a USB thumb drive or SD card is inserted, either can be used as destinations for scanned documents and pictures or as printing sources.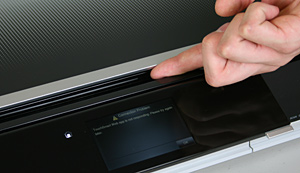 Lid
Opening the lid is awkward for adult sized fingers. The only place to get a reasonably good grip on the lid's grey, plastic "handle" is by sliding a finger in between the lid and the LCD and even then the grip and feel isn't quite right.
Printer Access Door
Inks are accessed in almost the same manner as opening the lid. But instead of pulling up on the grey handle, one's finger probes a bit deeper to access and touch a black plastic lid called the printer access door that opens up the unit, revealing guts of the printer and the ink cartidges. We wonder how many people will open up the printer when they mean to open the lid.
Either the lid or the combination of the lid and printer access door can remain opened vertically on their own.
---
Hardware & Software Install
In our office, we have users on both Mac and Windows platforms that connect to our network and share printers. A number of us were looking forward to connecting to the Envy 100. As you'll soon read, our experiences varied between the three computers we used to connect.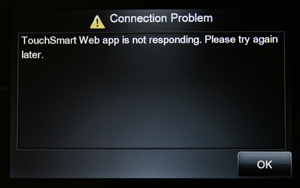 TouchSmart Web App Problem
Before we cover Windows and Mac setup, we need to tell you about a general annoyance that is not just plaguing us, but other Envy 100 users as well.
Connection Problem – TouchSmart Web app is not responding. Please try again later.
This error on the touch screen interrupted our flow and continued to be an annoyance throughout our setup and throughout our testing. Loads of others had posted on
HP's official support forum
with the same issue. On the HP Customer Care site we found their official solution to the issue: "Update the product firmware."
We were able to update the firmware by using the touch screen. The firmware update downloaded over the WiFi network and seemed to install flawlessly on the printer. Once complete, the printer indicated that another firmware update was available. That update also completed without issue. However, after the automatic printer restart, the same annoying "Connection Problem" continued to plague us. Our HP contact suggested it might relate to our company's router as corporate network infrastructure is normally "locked down" more-so than a typical home setup. He said he can often solve the issue by changing settings on our router. We passed on his offer after he assured us that this error only relates to the Envy 100's web apps, among them Sudoku, of which we decided we probably wouldn't ever use.
Windows Setup
We first set up the Envy 100 next to a Windows 7 64 bit machine. HP's quick setup document reads, "Important! Do NOT connect a USB cable unless prompted by the software! (Windows only)" so we just connected the power cord to the unit and plugged the other end into the wall. We ran the setup from the CD provided in the box which installed two important components—the print driver and the software for controlling the scanner from the PC.
The setup seemed straightforward with the Envy 100 installing as a network printer that connected to our WiFi network. But when we tried to use the unit as a scanner controlled from the desktop PC, the scanning software would not initialize. We suspected a problem with the software from the original setup disk. Perhaps it was out of date. To the HP Customer Care Site we went, first selecting our operating system, then HP ENVY Full Feature Software and Drivers dated November 17, 2010. After downloading, frustration hit when the software install never managed to complete installation, leaving multiple HP devices in Device Driver in a non-working state. We could no longer use the printer to print from the desktop PC, let alone scan. Trying to manually uninstall the HP driver software and devices (in Device Manager) were unsuccessful after multiple attempts. We wondered aloud, "Why can't printers be simple?"

Our contact person from HP, the same person that had originally selected this particular printer to send as a review unit, answered our call and came to the rescue. Ultimately, we ended up using third party uninstall software to completely remove all traces of the HP driver. This allowed us to remove the HP devices from Device Driver. We were ready to start fresh with the same HP ENVY Full Feature Software and Drivers dated November 17, 2010 that had previously failed to complete. This time the setup completed and we were finally able to print and scan.
Our setup experience on the PC side was taxing and time consuming, but if retail boxes ship with the updated setup software that we ended up installing, the setup should be smooth.
Mac Setup
For printing alone, setup on two different Mac computers–one running Lion (OS 10.7) and one running Snow Leopard (10.6.8)–was simple. The Envy 100 was already on the list of available printers. When the printer was selected, the operating system automatically installed the correct software and we were able to run our printing tests from our Mac computers–all wireless, without connecting a USB cable.

To control scanning from the Mac computers, we had to visit HP's Customer Care site and download the HP ENVY Full Feature Software and Drivers – Mac OS X v10.5 and v10.6 dated October 3, 2010. The machine running Mac OS 10.6.8 proceeded to install the software and finish successfully, allowing us to use this computer to control the scanning function of the Envy 100.

HP's Full Feature Software and Drivers Not Ready for Lion
Although the Mac running OS 10.7 was able to control the printing function of the Envy 100, it was not able control the scanning function because the HP software would not install on this version of the operating system.
As Mac OS 10.7 is a new software release, our best guess it that HP will soon release a compatible Envy 100 driver and that all will be well with Lion and the Envy 100. But until such time, scanning could not be controlled from the Mac box running OS 10.7.
---
Printing Tests
Our Expectations
Inkjet printers, with their ability to print black & white text, color text, and photo quality color photos, are versatile and inexpensive, making them the most likely to find printers in most homes. Many of them can handle a range of different paper sizes and paper types. Some can even approach laser printer quality text. But where inkjet printers generally lose out to laser is on challenging paper surfaces like those with metallic and vellum finishes. The wet ink of an inkjet just can't adhere to the paper soon enough like the toner of a laser. That's why an inkjet printer that can hang with a laser on these surfaces gets high ranks.
Before we started testing the Envy 100, we expected mediocrity. We thought of all-in-one printers as utilitarian, performing a variety of tasks at an average level. We just assumed that our more expensive, wide format inkjet printers, the Epson R1900 and Canon iX7000, would outperform the all-in-one.
In round 1 of our printing tests, when the the Envy 100 performed well on our own LCI smooth matte finish paper, we raised an eyebrow. But we weren't prepared for the performance we witnessed when we fed it Metallic Finish Paper in round 2 and Translucent Vellum paper in round 3! You can read the results and see photos of our print samples below. We made sure to get in close so you can see the detail and any printing imperfections.
Printing from Mac or PC – Subtle Variances in Print Quality
Interestingly, certain test sheets printed from our Mac showed deeper black than the same paper printed from a PC. It doesn't seem fair that results should vary among different platforms using different print drivers, but it happens. When we announced on our LCI Paper Twitter account, @LCIPaper, that we were testing this printer, we received immediate feedback to expect variances between Macs & PCs. We were advised to test, test, test!
Print Quality Settings Affect Printing
We tried both "Best" quality setting and "Normal" within our print driver on both PC & Mac machines. The result was sharp, well saturated text on Best quality setting with a marginally noticeable drop in sharpness and saturation on Normal. Best quality setting was far slower printing than with Normal setting which is acceptable because we're interested in quality over speed. At Best quality setting, we would feel confident using the Envy 100 as our printer for any important documents, invitations, etc. on specialty paper up to 80 lb card stock (216 gsm). Why only up to 80 lb card stock you ask? Keep reading.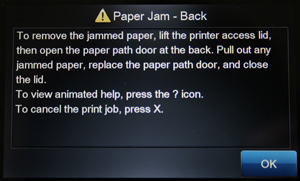 Printing Heavy Card Stock? Not with This Printer
Because the paper input tray and the paper output tray are both located at the front of the printer, the paper must travel into the printer and make a 180 degree turn to return to the front. And since the printer is only 4 inches high, the turnaround happens within a very small, confined space. Heavyweight paper cannot bend enough to make the turn. In our testing, we found that any card stock over 80 lb (216 gsm) weight caused paper jams. Comparatively, other inkjet printers in our office are able to print on card stock up to 120 lb (325 gsm).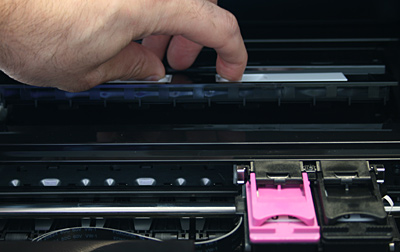 How to Handle a Paper Jam
With some printers, it's a chore to locate and remove a jammed sheet. With the Envy 100, it's a matter of opening the printer access door, locating the small paper path cover and squeezing two buttons to remove it (see photo), and lifting out the paper. Out of all the physical operations the user experiences with this printer, opening the paper path cover is actually the easiest and most comfortable.
Printing Envelopes? This is brutal!
The HP Envy's tight turnaround along the printing path means that folded items like envelopes are vulnerable to bending and damage. Our printing tests found that medium to large envelopes were bent and brutalized along the paper path to such extent that we can't recommend the printer to anyone that needs to print invitation or announcement envelopes.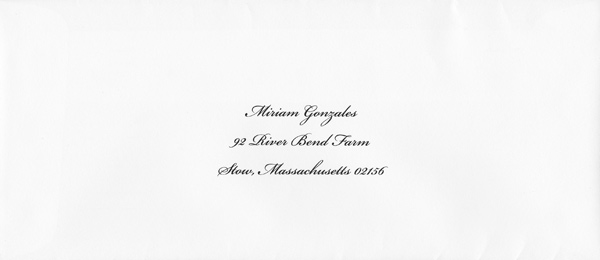 Front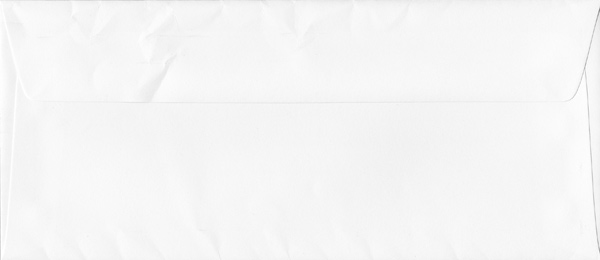 Back
---
Printing Test Samples
Weights Tested
70 lb text (189 gsm)
80 lb cover (216 gsm)
Because this is our most popular, smooth, matte finish paper, it is also the first paper we test when we're trying to assess text print quality on fine paper. The Envy 100 matched up favorably with our Canon iX7000 and narrowly outperformed our Epson R1900.
HP Envy 100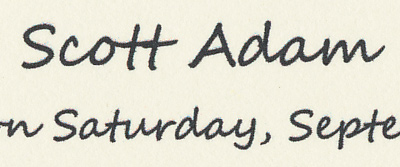 Epson R1900
---
Weights & Brands Tested
Stardream 81 lb text (120 gsm)
Aspire Petallics 80 lb text (118 gsm) & 81 lb text (120 gsm)
Aspire Petallics Linen 80 lb text (118 gsm)
Printing Metallic Finish Paper can be hit and miss with inkjet printers, so we were thrilled with the sharp, deep black text produced on all of our tests with the HP Envy 100. Whether we printed on metallic sheets that boasted improved inkjet compatibility or not–even Linen Metallic sheets–amazingly, the text looked as good as text printed on the same sheets using the higher end inkjet printer Canon iX7000, and better than tests using the Epson R1900. We consider it quite a triumph for an all-in-one printer like the Envy 100 to match or beat wide format printers from the likes of Canon & Epson.
Just keep in mind that inkjet printing on any metallic sheets requires extra drying time because the wet ink of an inkjet does not adhere as quickly as it would to a matte finish paper. So resist the urge to handle right away.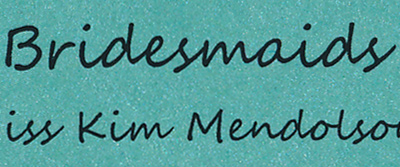 HP Envy 100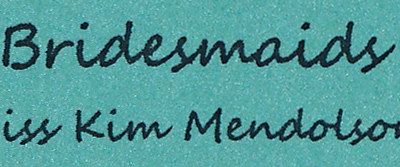 Epson R1900
---
Weights & Brands Tested
Glama Vellum 17 lb bond (64 gsm) – 48 lb bond (181 gsm)
Gmund Contact Colors Vellum 30 lb bond (113 gsm)
After testing a variety of Translucent Vellum sheets in different weights and seeing the sharp and deep black text printing, our confidence in the Envy 100 ballooned. Its test performance among the full range of weights we printed was better than both of our more expensive, wide format Canon and Epson printers. This is high praise for any printer because Translucent Vellum is challenging to print at home. The chipping and flaking we've seen from higher end inkjet printers was non-existent on the Envy 100. The only challenge we encountered printing on Vellum was with a 24 lb bond (90 gsm) sheet. On first attempt, the printer spit out the sheet without bothering to print on it. So within the print driver, under Media, we chose "Other specialty papers" then tried again. This time printer rose to the occasion and outputted the high level of performance we've grown accustomed to.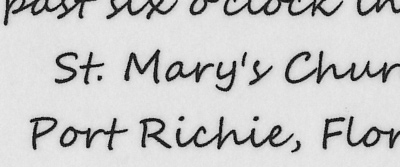 HP Envy 100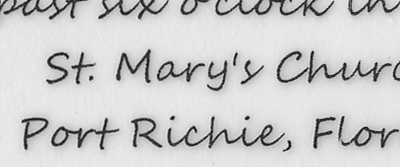 Canon Pixma iX7000
European Parchment Paper 24 lb bond (90 gsm)
The Envy 100's fine performance on this paper, usually a challenge for inkjet printers, shocked us with an out of the park homerun. The printed black text of our sample program wording approached laser quality in terms of saturation and sharpness, as good or better than the Canon Pixma iX7000. Almost as impressive was that the ink required less drying time. The ink quickly adhered to the vellum finish without spreading, unlike the Epson R1900, which when seen up close, is far less sharp and precise.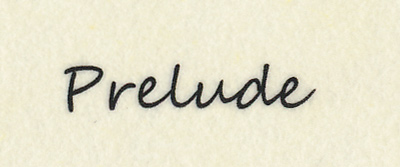 HP Envy 100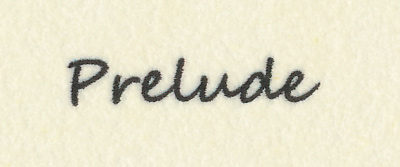 Epson R1900
---
Printing Custom Paper Sizes – Important Differences Between PC & Mac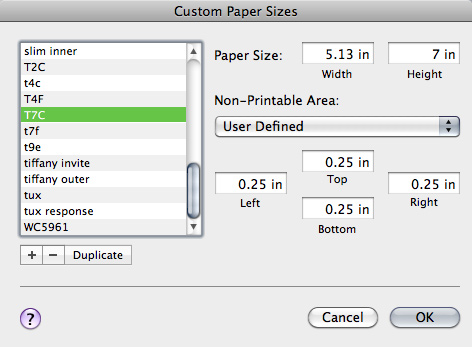 Mac Custom Size Setup
Mac printing differs from PC printing in that the standard Mac printer controller allows for the user to enter custom dimensions. From our Mac computers, we were able to print a wide array of custom size cards.
In Word, we created a new document and sized it to our card size. After we were pleased with the text layout and other creative options, we clicked File > Print > Page Setup which initializes the Mac printer controller. We selected the HP Envy 100, clicked the Paper Size drop down, clicked Manage Custom Sizes, and entered our card's dimensions.
PC Custom Size Setup – We Discover a Severe Limitation
Printing any size document other than 8 ½ x 11 from a PC to the Envy 100 means that once the document template is correctly sized and ready to print, the user needs to enter the print driver: File > Print, select the HP Envy 100, click Properties. The HP print driver is initiated. In the Paper/Quality tab, there is a Paper Size selection where we choose from a list of pre-defined sizes. The Envy 100 print driver for Windows, current at the time of this review, includes 10 different envelope sizes and 29 different paper and card sizes.
But what if your paper, card, or envelope size is not among those on the list of pre-configured paper sizes in the HP driver?

Perhaps you're thinking, "That's okay because I always enter custom sizes whenever I print."
But here's the problem, and it's a big one folks. Nowhere in the driver can the user enter custom paper size dimensions. Yes, it's true. Our contact at HP confirmed it. The HP Envy 100 does not allow for custom paper sizes in Windows. So unless your paper, card, or envelope size is listed in the print driver under Paper Size, you are out of luck and this printer will not print it correctly.
---
Conclusion – Superior Inkjet Printing But Severe Limitations for DIYers
The HP Envy 100 does not look like a printer. Instead, our guess is that HP intends the unit to sit alongside home theater components like a cable box, networked media player, or home theater PC. Since it's a WiFi printer, besides the power cord, it doesn't need cables so it's not a stretch to think that some buyers will place it away from their computers and closer to a common area for family members or roommates to share. But if it's placed with other home theater components there would have to be plenty of space above the unit to for users to open the scanner cover and the printer access door to scan and to change inks. More practical placement would be a table top with plenty of room to actually print, scan, and copy.
HP touts the printer as "whisper quiet" and we found the printer to be free from rowdy, table shaking knocks and jolts often associated with inkjet printers. It is indeed quiet and unobtrusive.
Its design and functionality put the Envy 100 in a class of its own. But how appealing is it? Looks-wise, it's a personal decision. As a printer, in certain areas it succeeds like no other inkjet we've experienced. With challenging printing tasks like printing on Metallic paper, Vellum paper, Parchment paper, it out-performs more expensive printers including the Epson R1900 and the Canon Pixma iX7000 with superior text sharpness and quality.
But with some printing tasks, top loading printers like Canon and Epson rock the HP. Because printers with a more direct, gravity feeding paper path don't bend the paper to such an extreme, they have better success with envelopes and heavy weight card stocks. The HP Envy 100 cannot print card stock over 80 lb (216 gsm) weight which puts it at a disadvantage among many other inkjet printers that can. It bends envelopes that other inkjet printers wouldn't.
For PC users that often or even occasionally print non-standard card sizes, or sizes that HP considers non-standard in their print driver software, the inability to input custom document sizes is a deal breaker, although this shouldn't be an issue with Mac users.
A nagging annoyance is the aforementioned "Connection Problem" error regarding web apps. Since we didn't care about HP's partner web apps we didn't invest the time to solve the issue. But a quick search shows lots of Envy 100 users still in frustration.
Bottom Line For Our Creative Customers
Pros
Amazing printing results on 8 1/2 x 11
Wireless
Sleek & Compact
Quiet
Cons
Cannot print heavier paper than 80 lb cover (216 gsm)
PC users cannot input custom paper sizes
Bends large envelopes
Paper tray is not very accessible
---
We want to hear about your printing experiences!
What has your experience been with the HP Envy 100? Post a comment and tell us about it!
You may also be interested in our reviews of these inkjet printers:
Epson Artisan 50 Inkjet Printer Review – Basic Yet Versatile Printer
Canon Pixma iX7000 Large Format Ink Jet Printer Review