Today we'll show you how to print our 4-Up Computer Printable Place Cards. Four folding place cards come on each perforated 8 1/2 x 11 sheet, and are scored to fold. Using our free Microsoft Word template, you can print the place cards using any home inkjet or laser printer.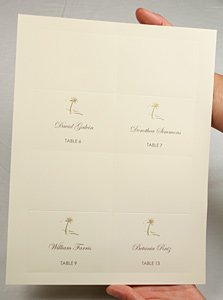 For this video we've chosen to print on our printable place cards with a foil printed palm tree motif top center of the card
After you've printed the place the cards, fold all four sides of the outer edges, then fold right down the middle. Carefully tear away the outer edge from the place cards. Then fold and tear each card, one at a time. Finally, fold each card along the score line and you're ready to set them at your tables!