Shown Above: Folding blank place cards in Colors MATT Light Sky Blue (left) and Powder Pink (right).
How to Print Place Cards at Home in 5 Steps
In this tutorial you'll learn to customize and print your own place cards using our free place card template and your home printer.
Our folded, tent style place cards come in dozens of colors, several finishes, and in square and rectangular sizes. In these instructions, we use rectangular 4 1/2 x 2 1/2 place cards as an example.
Shop Place Cards Blank or Printed
Let's get started!
---
Step 1 – Download Free Microsoft Word Place Card Print Template
Start by downloading the print template that matches your product from our Free Print Templates page.
We offer 3 x 3 and 4 1/2 x 2 1/2 inch place cards. Templates for both sizes are found in the Fold Cards section of the template page. See below.
Please note we also offer inDesign templates, but in this tutorial we address Microsoft Word only.
---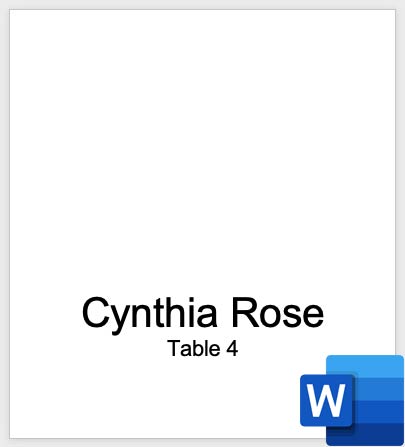 Step 2 – Open the Template File in Microsoft Word
Open the .doc template file in Microsoft Word.
About the Template:
Sized to the open, unfolded dimensions of place cards: (4.5 x 5 inches in this example)
0.25 inch margins on the left, right and bottom sides
2.75 inch top margin to accommodate for the back side which won't be printed
Black text in default font that can be changed to your liking

---

Step 3 – Enter your Guests Names and Table Numbers

Change the sample place card wording to the name and table number for one of your guests. Change font, size, and text color if you wish.

Font shown here is Adelicia Script.

You have set up your template and are ready for a test print!

TIP: At this time, we recommend cutting a plain piece of paper to the size of your place card for the test print. This way you do not waste any of your cards.

---

Step 4 – Time To Print!

Before printing, we need to set the custom document size of our place card. Otherwise, the printer assumes we are printing on a standard 8 1/2 x 11 sheet.

IMPORTANT: In this example, we are using Word version 16.24 on a Mac. If you have a different version of Word or are using a PC, instructions may slightly differ but basic principles will be the same.

Go to File > Page Setup
If 4.5 x 5 is not listed as your page size, use the drop down to select Manage Custom Sizes to add it
Click the + button and enter 4.5 x 5 inches. Rename if you wish, then click Ok
Click File > Print to open the print interface
Make any necessary changes to trays or paper type, then click Ok to print your test.

---

Step 5 – Fold and Finish

Fold your test sheet or place card in half.

Like what you see? Great! Save your template, enter all your guests' names and table numbers, then print the entire run.

If not, make changes and perform additional test prints until you like the results.

---

Not Up for It? Let Us Print Your Place Cards for You!

If you would rather not print your own place cards, take advantage of our print services and let us do it for you. It's professional, fast, and super convenient!

To order, simply choose your place cards, font, and ink color and send us your guest list. We'll do the rest! We print in color, black or white ink (a look that really pops on dark place cards)!

Shop Colorful Folding Place Cards

---

Matte finish blush pink place cards printed in black. Choose one of our fonts or send us your own for no extra charge

Square black (Ebony) place cards printed in white shown here

Midnight blue place cards printed in white ink shown here