---
Addressing and printing invitation envelopes at home can be a real time saver over hand addressing.
In this tutorial, you will learn two ways to address envelopes and step by step instructions to print them.
Method 1: Learn To Print Envelopes by Typing Each Address
Method 2: Learn Mail Merge to Address Envelopes all at Once
---
Method 1: Learn To Print Envelopes by Typing Each Address
---
Download Envelope Print Template
Download the print template for your envelope from our free print templates page. (In this tutorial, we use an A7 (5 1/4 x 7 1/4) straight flap envelope as an example.)
How to Open and Customize Template in Microsoft Word
Open the template in Microsoft Word
Replace the sample address with your guest's address
Change fonts and colors to ones you prefer.
Once the address is complete, hit Return/Enter until you create an additional page in your document to type the next address into. Repeat until all addresses are entered.
How to Access Printer Driver to Enter Width, Height & Alignment
When you power on your printer, it is programmed to print 8 1/2 x 11 size paper. Even though your template is set to custom dimensions, you still need to enter your envelope's dimensions in your print driver in order for it to print correctly. Since you loaded your envelope on its side (short edge first), the short side is referred to as the width measurement and the long side is the height measurement in the print driver. You will also need to select Landscape printing as opposed to Portrait.
PC Instructions
Mac Instructions

Click File > Print > Properties
Look for Paper Size, Page Size or similar
Click Custom or User Defined Size
Enter custom paper size width & height
Assign the new size a name & save it so you can call it up later
Look for Orientation & select Landscape

Click File > Print > Page Setup
Click Paper Size dropdown
Click "Manage Custom Sizes"
Click "+" to add size
Enter custom paper size width & height
Assign the new size a name & save it so you can call it up later
In Orientation area, click Landscape icon
In Windows, the print driver interface is dependent on your printer manufacturer's software, so specific instructions may vary.
If you cannot enter custom dimensions that reflect your envelope size, you may try installing an updated printer driver from your manufacturer's web site.
Since envelopes are folded paper, they are thicker than a sheet of standard paper. Check to see if your print driver has an envelopes setting that will allow the envelopes to more easily travel through the printer. If your printer is older, there may be a physical lever to switch to the envelopes setting.
Adjusting the print quality to the highest setting may give you better printing results.
Turn off all scaling and resizing options. You will not need to stretch or squeeze your printed text.
Load One Test Envelope in Printer
With the envelope aligned on its side (short edge first), the flap closed and pointing right, load a single envelope into your printer's paper input tray. The envelope's right edge should rest flush against the right edge of the paper tray.
Move the sliding paper guide from left to right, resting flush against the envelope's left edge.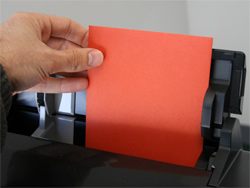 Loading envelope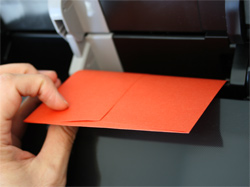 Looking behind envelope to show closed flap pointing right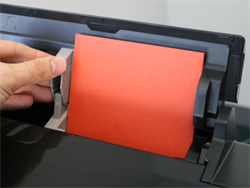 Adjusting paper guide
Check your printer manual to learn how envelopes are to be loaded in your printer. If your printer has more than one paper input try, the manufacturer may designate that envelopes be loaded into one particular tray over another.
Check to see how envelopes should be positioned in the tray. Often, envelopes are loaded short edge first (tall rather than wide), but your manual will have the specifics.
If you can't find your printer manual, your manufacturer may have a downloadable manual online.
For printers with 2 paper guides that move dependently in the paper input tray, the envelope should be placed in the middle of the tray and the guides adjusted inward so they rest flush against both envelope edges.
Print One Envelope To Test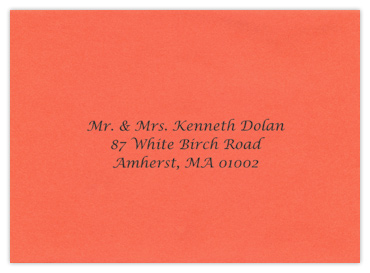 Click OK to save your print driver settings and close the driver
Click OK to print
What To Look For When Printing
After running through your printer, is the envelope still in excellent condition?
How is the quality of the printing itself? Depending on the type of paper used to make your envelopes – matte, metallic, vellum, textured – your particular printer may or may not be the best choice.
Print Your Envelopes
We recommend loading 10 envelopes into your printer's input tray at a time, but check your printer manual for the definitive recommendation.
---
Method 2: Mail Merge to Address Envelopes all at Once
---
Below, learn how to use Microsoft Word's Mail Merge feature to easily address envelopes. We'll show you how to create a template, enter addresses, set up the print driver, and finally, print the envelopes.
For this example, we use a 6 1/2 square envelope and Microsoft Office Word 2003. Steps and menus will be similar, but will vary depending on your version of Word and your operating system.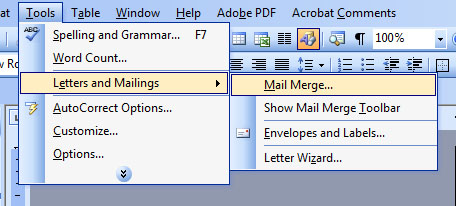 Start Mail Merge & Select Document Type
Open Word with a blank document
Click Tools > Letters and Mailings > Mail Merge.
The Mail Merge workflow interface opens, guiding you through the rest of the process. You're asked what type of document you're working on.
Select Envelopes, then continue by clicking Next.
Select a Starting Document
Step 2 asks "How do you want to set up your envelopes?" Choose Change document layout. Under that, click Envelope options.
A new window will open where you can choose from a list of common envelope sizes. 6 1/2 x 6 1/2 is not listed, but scroll down and click Custom, then type in the dimensions in inches. Click Ok a couple times.
Now we're back to the document. You might have to change the zoom percentage to 100 or even less to see the entire square envelope template onscreen.
Click Next and proceed to the next step.
Select Recipients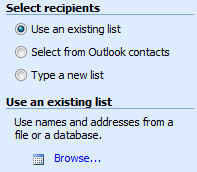 If you've already prepared a list of names and addresses in a database program like Excel, you can use that. You can also enter recipients' information within Mail Merge. We'll show you both methods, starting with a database file that we've already populated.
If your recipient information is already in a database: Under "Select Recipients," click Use an Existing List.
Click Browse, navigate to the database file, and double click on it. Based on how the database file was set up, choose the appropriate options on the "Select Table box" and click OK.
A new window, "Mail Merge Recipients," appears where you can verify the formatting and remove certain recipients. Click OK to move on. Then click Next.

If you do not already have a database populated with guests' names and addresses:

In Step 3, under "Select Recipients," instead of choosing Use an Existing List, click Type a New List, then Create.
A "New Address List" window opens where you'll type your recipients' information, one recipient at a time. Enter the information exactly as you'd like it to appear on your envelopes.
Continue to create and populate new entries for as many recipients as needed. When all the recipients are entered, click Close. You're prompted to save your recipients list so type a file name and click Save.
Once the recipients list is in order, click Next to move on.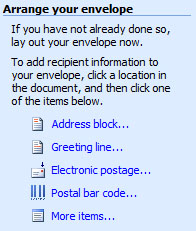 Arrange Your Envelope
In Step 4, you'll actually lay out the recipient information on the envelope template.
Under "Arrange Your Envelopes," click Address Block. The address block is a placeholder for the names and addresses that you insert into the template.
The "Insert Address Block" window will open where you can tweak the way the information will be presented. Click OK to move on. The Address Block has been placed on the document template. Click Next to move on to step 5.
Preview Your Envelopes
Immediately, the address block changes to actual recipient information. Take the time to scroll through the recipients to verify that all of the names and addresses fit nicely on the template. Once you're satisfied, move on to step 6 by clicking Next.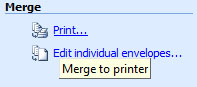 Complete the Merge & Print
Click Print. A "Merge to Printer" window appears.
This is the appropriate time to print one envelope as a test.
Click Current Record.

This prints just the record on the screen, not the entire recipients list.

Click OK.
A print window appears. Select your printer from the drop down list, then click Properties.

This brings up your printer's driver where you can communicate to the printer that you are printing on a 6 1/2 square envelope—not an 8 1/2 x 11 sheet of copy paper. Every printer's software will vary, so just poke around and try to find paper size, then the area to enter custom dimensions.

Enter 6.5 inches, 650 hundredths of an inch, or whatever unit the printer driver calls for.
Now that the printer is set to recognize the envelope size, you're ready to print on a test sheet or envelope.
After printing the test, if the recipient's address is properly positioned, go ahead and print the entire list.
We suggest that you load 10 envelopes into your printer at a time. When you print the first batch of 10, the printer will pause so you can load more.