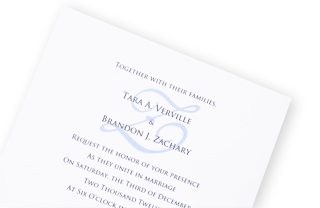 Monograms add a touch of professional polish and elegance to invitation ensembles, programs, menu cards, or any of your wedding stationery. You may be surprised to see that the simple addition of a script letter or two can completely transform the tone of your design.
If you are interested in creating a monogram for your invitation design, read the following step by step instructions for creating one using Microsoft Word.
Note: Microsoft Word 2008 for Mac is used to illustrate the following steps. Although you may be using a PC or a different version of Word, the outline of the steps will be similar.
– – – – –
Format your Wedding Invitation document first; add a monogram last
Tip: It is easier to visualize your monogram's placement, size, and appearance if you add it to your invitation design last.
It is recommended that you fully format your document before creating your monogram. Before beginning, be sure your text is in the font, size, color, and location of your choice. A fully formatted invitation card document is shown below.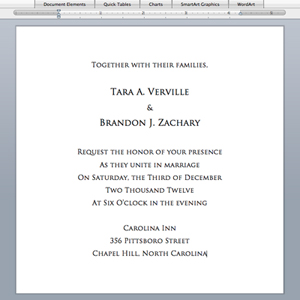 1 – Insert A Text Box
You will be using a text box to create your monogram, typing the letters into a box that is separate from the rest of your text.
To insert a text box, navigate to:
This is illustrated below.
To create the box:
Place your mouse anywhere in your document
Drag the mouse to create a box that will be the general size of your monogram
Don't worry about creating a precisely sized or placed text box. You can always make adjustments later.
Note: When you create your text box, it will most likely push your previously entered text onto another page, as shown below. This will not affect the final appearance of your design, as this will be changed later by altering the layout of the text box.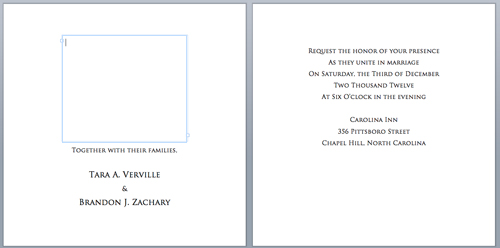 2 – Type The Monogram Letter(s) Into The Text Box
Now, type the monogram letter or letters of your choice into the text box.
To create a large monogram, change the font size of your letter as indicated below.
3 – Experiment With Fonts
Now, experiment with various fonts for your letter(s) to find the one you prefer. Keep in mind that script fonts are a popular choice for monograms.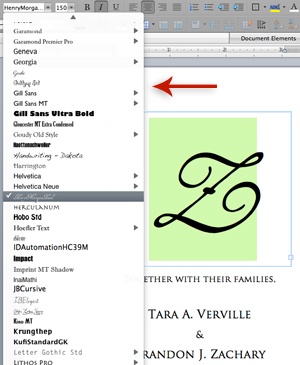 4 – Set layout of text box to Behind Text
Once you are satisfied with the size and font of your monogram, you will need to place it behind the invitation text. Do this by formatting the layout of the text box.
To format text box layout, navigate to:
A window will pop up with various formatting options.
Select Layout in the top menu
Click Behind Text
See below: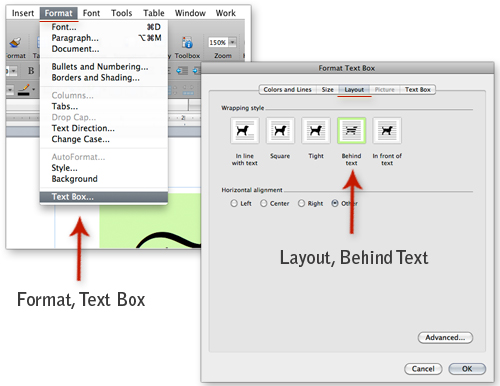 After changing the layout of the box, your document will look something like the following. Notice the document now fits on its original single page.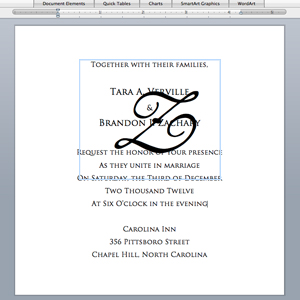 5 – Change The Monogram To A Lighter Color
Since you want your monogram to be just a subtle touch to your invitation, you will need to lighten it up and change its color, if you wish.
Choose a lighter shade for your letter by highlighting it, then selecting a new font color, as pictured below.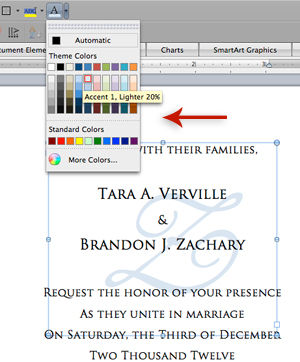 Once you are satisfied with the color of your monogram, you can reposition and resize it as you see fit.
That's all there is to it! In just five easy steps you can create a professional, elegant monogram for your wedding design.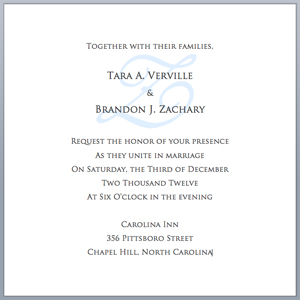 Recommended Link: