Many customers like the look of a borderless invitation in which the design goes right to the edge of the card, but are unable to print this design at home. This is because many printers work by gripping a small outer edge of the paper to guide it through, thus leaving a blank border around the edge where no ink or toner can be laid. Some printers have an option to print borderless, but unfortunately many customers do not have access to this. If you find yourself in this situation, there is a simple solution – print first, then trim the blank border off, giving you a borderless design. See below for an example.
Borderless Invitation Design
Below is a Microsoft Word invitation document. Notice that the design in the lower left hand corner goes all the way to the edge of the card. If this card was to be printed on a borderless printer, it would print out just as it looks below.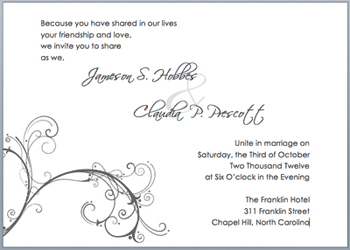 Print Preview of Design – Printer Without Borderless Option
Below is a preview of what the same design will look like printed. Notice that a quarter inch outer edge will be left blank, cutting into the lower left design.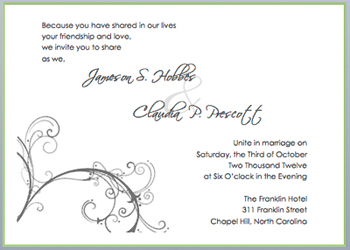 Simple Solution – Print, then Cut
If your printer will not print the outer edge of your invitation card, you can always print first, then trim the blank edges off after, as shown below.
Note: Keep in mind that trimming the edges of the card will make it significantly smaller, so you may wish to start with a larger card, depending on your design.