Graphics are a great addition to DIY Invitations of all occasions; having the ability to incorporate tone, theme, personality, or simply a splash of color into an otherwise traditional design. In this article, you will learn the three ways to add graphics to invitations using Microsoft Word, as well as how to format them to suit your custom design.
Microsoft Word 2008 for Mac is used to illustrate the following steps. Although you may be using a PC or a different version of Word, the outline of the steps will be similar.
Note – inserting personal photos: Although the word graphic is used throughout the following instructions, please note that the same instructions apply for inserting photos.
– – – – –
Tip: Format your invitation document before adding graphics
It is typically easier to visualize where a graphic should be placed if it is added to a design last. It is recommended that you fully format your Word document before adding any graphics, making sure your text is in the font, size, color, and location of your choice. The formatted document below will be used to illustrate the steps of adding graphics in Word.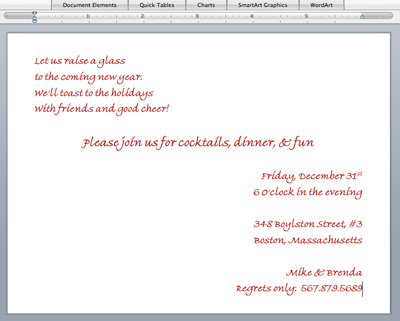 Three Ways To Insert A Graphic
Copy and paste
Insert from a file
Insert from Word's clip art
1 – Copy and Paste
The first method of inserting a graphic into a Word document is to copy the graphic, then paste it directly into your document.
Copy and paste a graphic stored on your computer
Copy and paste free graphics from the internet
For this copy and paste example, free New Year's Eve party clip art was searched for on the internet, bringing up several graphics that would be appropriate for the New Year's Eve party invitation document.
To insert a graphic by copying and pasting:
Right click on the graphic of choice; select copy in the menu
Right click anywhere within the Word document, select paste
See below: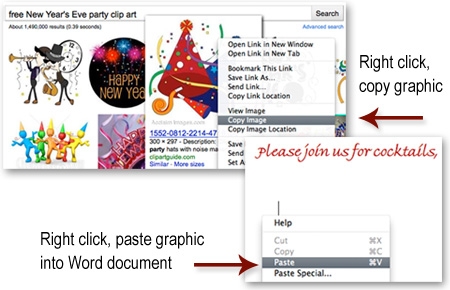 2 – Insert From A File
If you have a graphic stored on your computer that you wish to use, you can insert it into your document by navigating to the file where it is located.
To insert a graphic from a file, within Word's top menu, navigate to:
Insert, Picture
Choose From File
A directory of the files on your computer will then appear.
Find the graphic you wish to insert.
Click Insert to add it to your document.
3 – Insert From Word's Clip Art
All versions of Word come with a variety of clip art that can be inserted into documents. The clip art available to you will vary depending on the version of Word you are using.
To insert clip art, navigate to:
Insert, Picture
Choose From Clip Art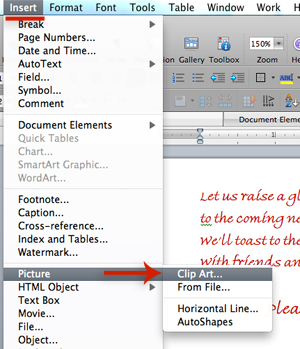 The clip art menu will then appear, sorted by category.
Choose a graphic
Click Insert to insert it into your document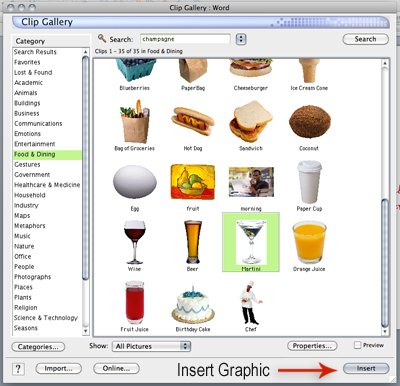 Note: Inserting a graphic may alter the layout of your text.
As shown below, when you insert your graphic, it will most likely move your text onto multiple pages. This is something that can be easily fixed by formatting the graphic as instructed below.

– – – – –
Formatting Graphics to Suit Your Invitation Design
Now that you know how to insert graphics, you will learn how to format them to suit your invitation design.
Note: The clip art that was inserted above will be used as an example in the following instructions. Regardless of the method you chose to insert your graphic, all formatting instructions will be the same.
Navigate To The Format Picture Menu: 2 Ways to Navigate to the Formatting Menu
All of the edits you make to your graphic will be done within the formatting menu. There are two ways to get to this menu:
Navigate to Format, then Picture.
Right click on the picture, then select Format Picture within the menu.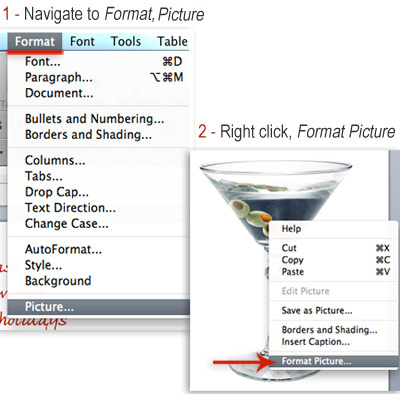 Set Graphic Layout To Behind Text
Before making any other changes to your graphic, it is recommended that you first place it where you want it. This will help you get a better feel for the final appearance of the graphic, as well as get your text back to one page.
One of the easiest ways to move and resize your graphic without it impacting text placement is to set the layout of the graphic to Behind Text.
To set layout of graphic:
Navigate to the formatting menu as explained above
Within the menu, select Layout, then Behind Text
See below: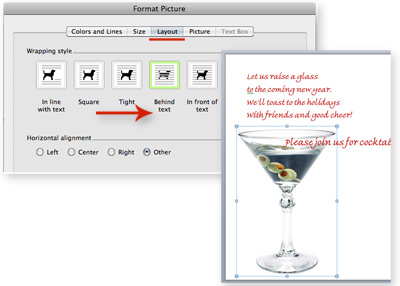 Resize The Graphic
Now that your graphic is set to Behind Text, you can freely move it and resize it without it affecting your text. You are now ready to size it to fit your invitation.
Note about graphic sizing: If you are pasting or inserting a graphic from a file, it is recommended you insert it first, then size it down within Word after. Graphics look best when they are sized from larger to smaller, never when stretched from smaller to larger. If you resize a graphic before inserting it and it is too small, you will have to go through the process of reinserting it, because stretching it back out will cause it to lose quality.
To resize a graphic:
As shown below, click on the graphic so the wire frame appears
Click on any corner of the frame and drag to size the image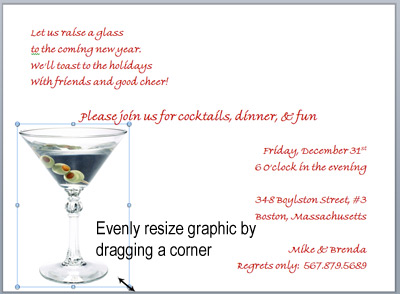 Note: Dragging the frame from a corner will resize the graphic proportionately, whereas dragging from a middle point will warp the image.
Experiment With Other Formatting Options To Fine Tune Your Graphic
You will notice several other options within the formatting menu that you can use to fine tune your graphic.

Below is an outline of the various options you will find within the formatting menu:
Within Colors & Lines:
Create a box around the graphic
Create an outline around the picture
Within Size:
Manually resize the picture
Rotate the picture
Within Layout:
Change layout of graphic, as described above
Within Picture:
Crop picture
Adjust colors
Adjust brightness and contrast
Make picture transparent to lay behind text