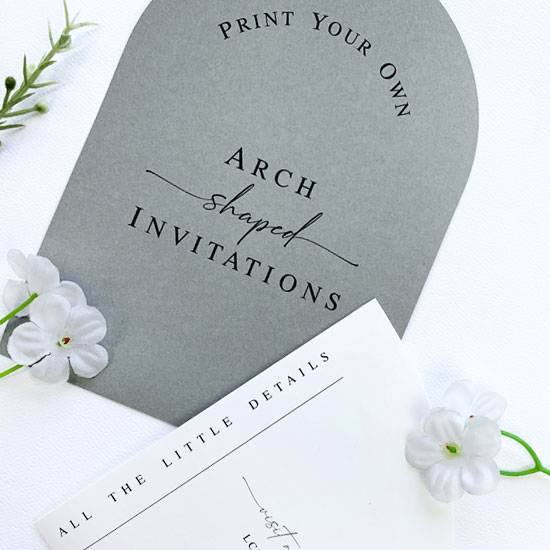 DIY Wedding Tips: Print Your Own Arch Shaped Paper and Save Money!
Great for modern wedding invitations, RSVPs, table cards, menus and more, arch shaped cards are very in right now. In this article you'll find step-by-step instructions to design and print your own arch-shaped stationery. Create a look that's truly yours and save some money along the way.
---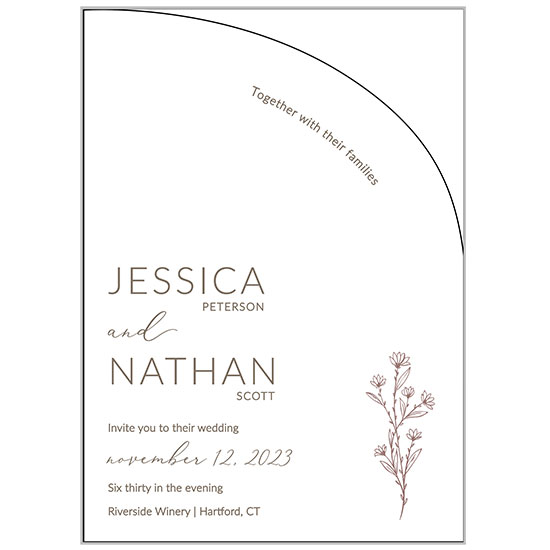 How do I Make My Own Arch Invitations?
There are many ways to design your own arch invites:
Design Savvy?
Great! Download a template and use inDesign, Illustrator, or even Microsoft Word or Google Docs.
Not so Much?
Not a designer? No problem! You can:
Hire a designer
Order a design from Etsy
Use Canva to design your invites
Just make sure that your design file fits the arch or half arch cards you are planning to print.
---
Considering DIY Printing? Check Your Printer
Not all home printers (or even print shops) are able to print pre-cut arch cards due to their custom size and thickness. Before you begin, check your printer specs (or check in with your local printer) to be sure it is capable of printing custom sizes and heavier weight card stock.
---
How to Print Arch Paper, Step 1 – Flip Your File
Good to go? Start by saving your file as a PDF,* then rotate it 180 degrees. Why?
Most printers can't grip round edges, so arch cards must be loaded into the printer flat edge first.
Most printers print from the top, down. If you don't flip your file, the top of your design will print on the flat edge of the card and the bottom on the rounded edge – upside down!
How to Save Your File as a PDF*
We recommend saving your file as a PDF so that it can easily be rotated. To save your file as a PDF, navigate to File > Save As > PDF or File > Export > PDF, depending on the program you are using. Be sure to eliminate all arch outlines or they will print onto your cards.
Rotate it 180 Degrees
In Adobe or in a preview a window (depending on your system or file type), rotate your file 180 degrees to it appears upside down on your screen.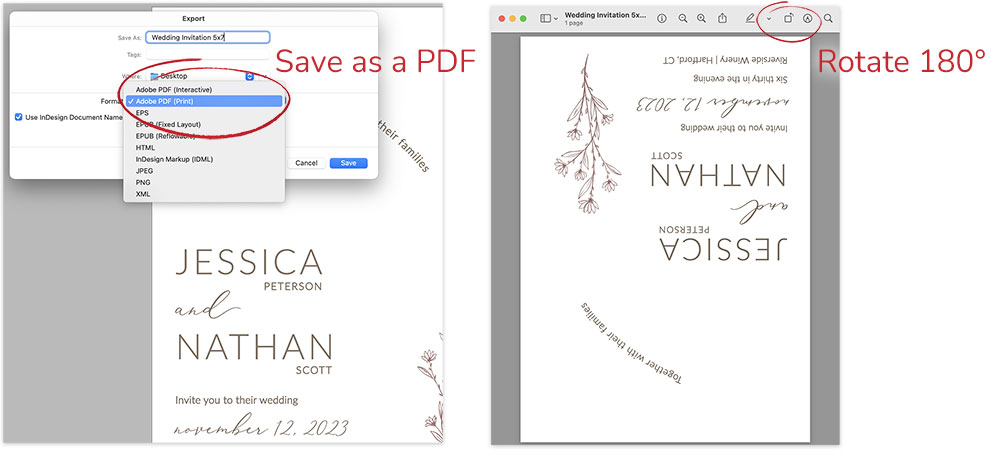 ---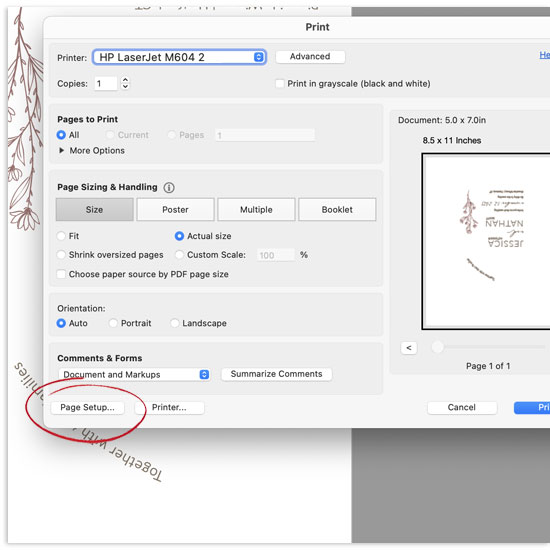 Step 2 – Set a Custom Paper Size
Now you need to communicate to your printer that you are printing on a custom size card instead of standard letter size paper. You will do this by setting a custom paper size in your print driver.
All printers are different, but look for something along the lines of Page Setup, or Paper Size.
You may also need to select a different tray (for example, a manual feed vs. a large paper cassette) or paper type (card stock vs. plain paper).
---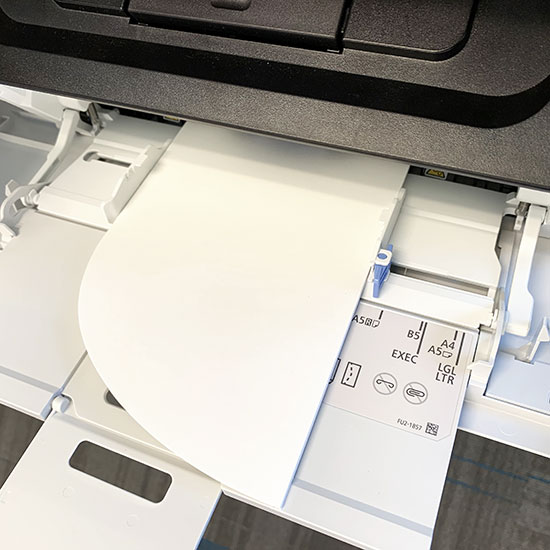 Step 3 – Load the Cards Flat Side First
Load one card into your printer flat side first. This will allow your printer to recognize and feed the cards through.
If your printer has an external tray like shown here, this should be straightforward. If you need to load the cards into an internal tray, you may need to experiment to determine the proper way to put them in.
---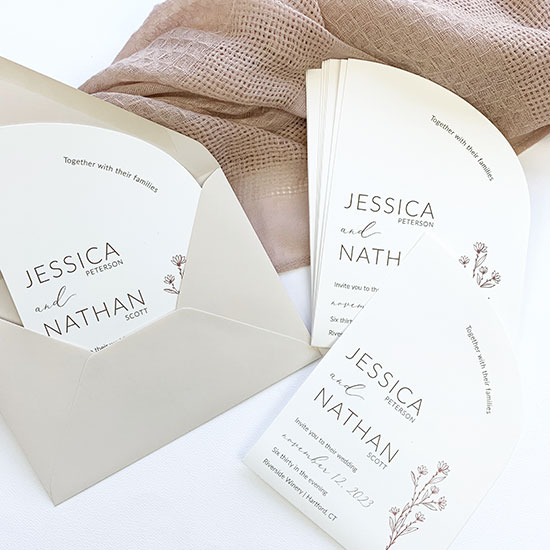 Step 4 – Run a Test
Print a test to make sure everything works and looks ok.
Is the printing straight and where you expected it to be? If not, you may have a page size issue.
Do you like the print quality? If not, try changing the paper (media) settings in your driver or making updates in your file.
Make any necessary changes to your file or in your print driver until your test print meets your expectations.
Step 5 – Print all of your Cards
Once all is good with your testing, print all of your arch cards, loading small batches at a time until they are all complete.
---
Let us Print for You
If you run into trouble or decide you don't have time to print your own imnvitations, let us do it for you! Just send us your file, and we'll print your arch cards in white, black, or full color.
Learn About LCI's Printing Services
---
Arch Shaped Wedding Stationery Ideas
Arch cards aren't just great for invites, but for save the dates, menus, table numbers, RSVP and details cards, and more. Here's some of our favorites designs, below.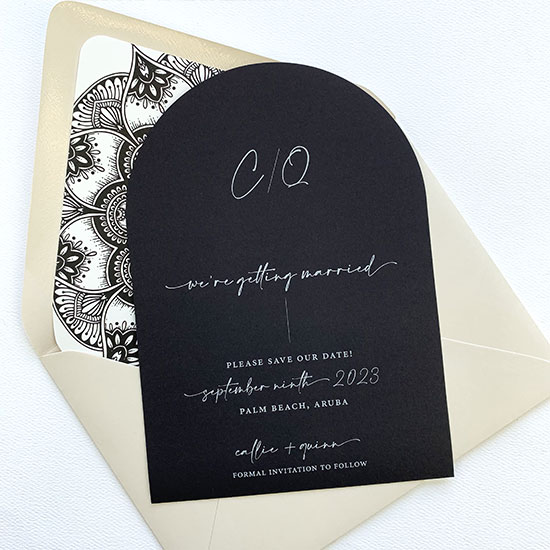 Arch Shaped Save the Dates
What's shown here:
---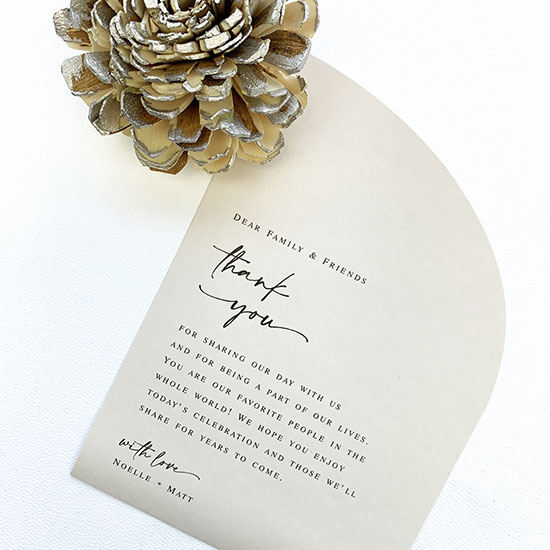 Half Arch Thank You Cards
What's shown here:
These wedding table setting thank you cards are printed on A7 Chardonnay half arch cards.
---
Arch Table Number Cards
What's shown here:
This table number is printed in white on an A7 Midnight blue arch shaped card. To recreate this look, send us your multi-page file.