Ribbon is great for decorating and securing the layers of a variety of creative projects, making these embellishments as beautiful as they are practical. After viewing LCI's variety of ribbon embellished items, customers frequently ask how much ribbon they will need for their own creative projects.
While we are always happy to answer customer questions, we are also pleased to tell customers there is a simple guideline they may use to quickly estimate their ribbon needs. Although all creative projects are different, most use ribbon in a similar fashion; tied around the project into a decorative bow. If you are using ribbon in this manner, you may perform a quick estimate by measuring the length or width of the card you will be tying ribbon around, and multiplying this measurement by four or five.
Keep in mind, multiplying your project dimension by four or five will yield average sized loops. If you prefer the look of an oversize bow, consider multiplying by six or seven. It is also important to keep in mind that large loops leave room for error and are easier to work with. Even if you prefer small bows, plan to use more ribbon than less.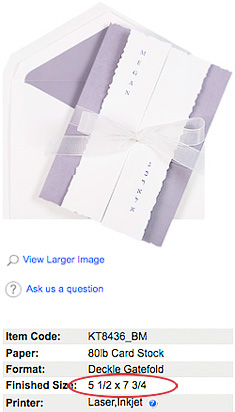 Determine the Length or Width of Your Project
The first step in estimating how much ribbon you will need for your project is to determine the length or width of the area that the ribbon will be tied around. In this case, ribbon is tied horizontally around the 5 1/2 inch width of the invitation. Seen to the right, the dimensions of your item can be found on its product page.
Multiply the Measurement by Four or Five
After determining the measurement of the area to be tied, simply multiply it by four or five:
5 1/2″ Wide Invitation x 5 = 27 1/2″ of Ribbon
Quick, simple, and direct, in no time at all you have an accurate measurement of how much ribbon you will need. This example is further illustrated in the photo below.
Recommended Links