The Great Debate: What's the Proper Way to Address Wedding Envelopes?
When it comes to addressing wedding envelopes, there's an ongoing debate over the "proper" way to do it – handwriting or printing. So what's our opinion? We're impartial and think it's up to you! Below we'll discuss the pros and cons of each so that you can decide what's best for you and your wedding invites.
---
Handwritten Wedding Envelopes: The Argument
Traditional wedding etiquette suggests that it's proper to hand write wedding envelopes, as social correspondence is written and business correspondence is printed. Some argue that writing is also more personal than printing.
Ways to Handwrite Envelopes
If you are the DIY type, you can write your own envelopes by hand. If you're not (or feel your handwriting just won't cut it), you may also hire a calligrapher to address your envelopes for you.
Handwritten Envelope Pros
Follows traditional wedding etiquette
Adds a personal touch to your invites
You can choose any color (even opaques and metallics) thanks to cool pens and inks.
DIY addressing is very cost effective.
Handwritten Envelope Cons
Time consuming
If you have bad handwriting, your envelopes may not look polished or may be difficult to read and deliver.
If hiring a calligrapher, addressing may get costly.
Shown right, Ebony matte finish envelope printed in white with digital calligraphy.
---
Printed Wedding Envelopes: The Argument
Digital printing is a modern and typically quick, easy and cost effective way to nicely address your envelopes.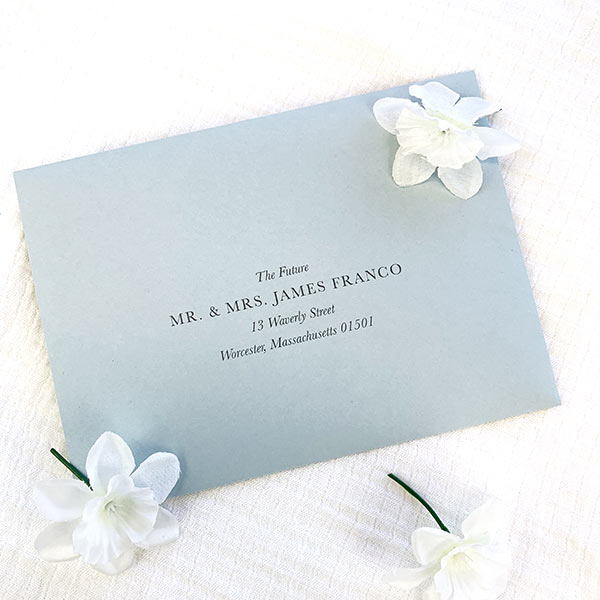 Ways to Print Envelopes
You may print your own envelopes at home, take them to local printer, or order printed envelopes online.
As not all printers are capable of printing envelopes, it is always a good idea to order samples to test print prior to purchase.
Order Printed Wedding Envelopes
Printed Address Pros
Quick and easy
Consistent, legible addresses on every envelope
Great for those with messy handwriting
Ability to mix and match fonts and graphics for modern style
DIY printing is cost effective
Printed Address Cons
Doesn't follow traditional wedding etiquette
Personal touch is lost
Print colors may be limited
Some printing methods are high in price (foil or letterpress return addressing, white ink toner, etc.)
DIY printing may be time consuming without the proper knowledge or equipment
Shown here, a Placid Blue matte finish envelope with blue address printing.
---
More Wedding Envelope Ideas
Top Trend Neutrals
Neutrals are all the rage! Shown here, a Chardonnay envelope and a Timberwolf card, both printed by LCI Paper.
---
White on Green
We offer several shades of green, dusty "Seedling Green" being one of our most popular. It's shown here printed in white.
---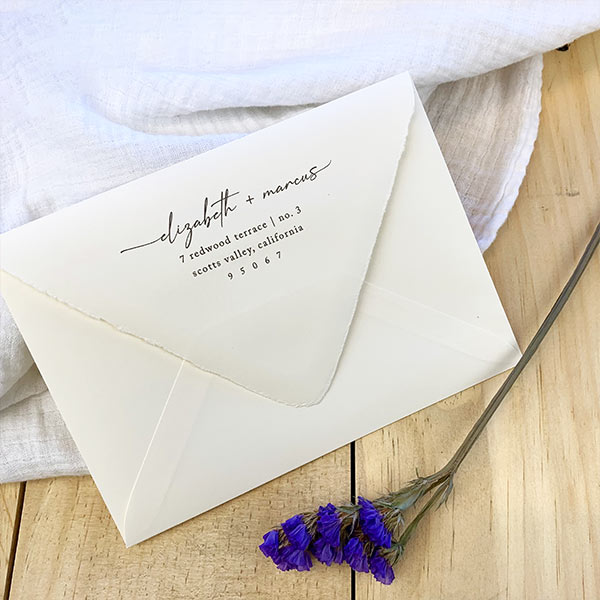 Just the Return Address
If you don't want your addresses printed but still want to save a little time, let us print your return addresses for you! Here is a Wedding cream deckled edge envelope printed in charcoal.
---
Simple & Modern
For a clean and modern look, try crisp black printing on classic white envelopes. A wedding white envelope is shown here.
---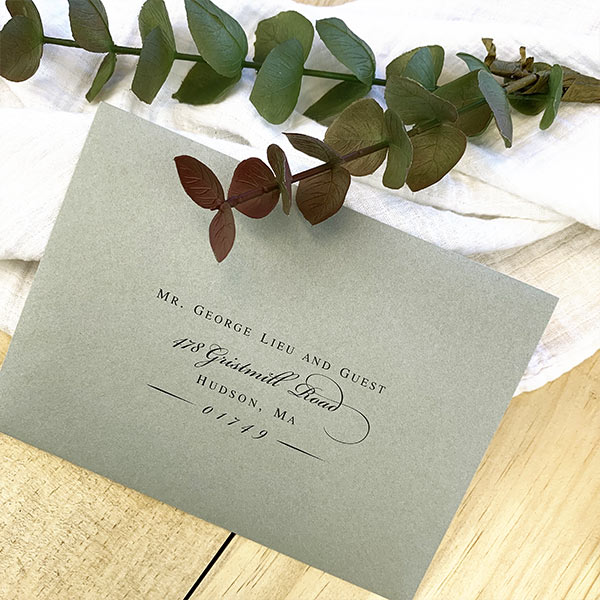 Black on Sage
Yet another top trend green, soft gray/green Sage envelopes printed in black is a poplar choice.
---