Fun, Festive, Eco-Friendly Holiday Cards by Claire Lordon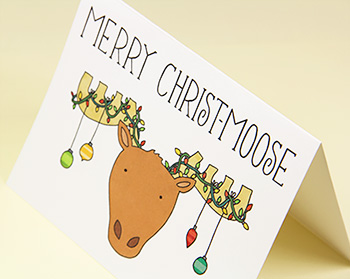 In this interview, we hear from Claire Lordon, owner of Claire Lordon Designs in Brooklyn, New York. Claire is an illustrator and designer who creates fun, handmade greeting cards and products perfect for gifting and putting a smile on someone's face.
Here, we chat with Claire about her fun and festive holiday cards which can be found in her Etsy shop, ClaireLordonDesign.etsy.com. For other examples of Claire's illustrations and designs, you may also check out ClaireLordon.com.
Take it away, Claire!
---
What inspired you to start your own business designing cards?
I knew I wanted to start a business on Etsy.com and thought greeting cards would be a fun way to share my art with others.
How long have you been designing greeting cards?
I have been designing handmade greeting cards since I can remember. Whenever there was an event such as a birthday or mother's day I would create my own card instead of buying one from a store. Every year since I was seven I have designed my parents' Christmas card too. I have always been creative and artistic and it just seemed natural to create my own art and cards for these events.
What was the paper stock selected for this project, and what was the inspiration behind using it for your holiday greeting cards?
The paper stock is 100lb 100% recycled card stock. I have always been an advocate for the environment and recycling. Growing up I would constantly go camping and hiking, so being environmentally friendly is important to me. When it came time for me to choose paper for my greeting cards I knew I wanted the paper to be 100% recycled. I did much research and LCI's PC100 Astrolite was by far the best option.
The paper is 100lb so it is heavy and substantial when it is in a person's hand, which I think is important for someone receiving a greeting card. I also wanted to use card stock as opposed to a glossy paper so it would be easy to write messages inside with any pen. The paper is also bright white and my colors print vividly on it.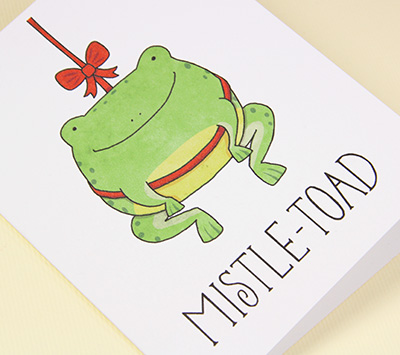 Can you talk about your printing results from using recycled paper?
Printing on recycled paper occasionally has a small black dot or two that gives the card personality, reminding you that it is recycled and used to be something else. I know that by using recycled paper I'm not creating more waste in this world and that my customers and I are helping the environment.
And can you tell me about the overall reaction of your customers when they receive the finished product?
I love reading the reviews and responses I get from my customers. They love the drawings and messages I put on my greeting cards, as well as the quality of the product. When I receive these messages they put a warm fuzzy feeling inside my heart that pushes me to create and grow my business.
Please tell me a bit more about Claire Lordon Design and where people can purchase your beautifully designed holiday cards.
I create fun greeting cards and products that I, and hopefully you or someone you know, would love receiving. I hope they put a smile on your face and some joy in your heart.
My cards are found at www.clairelordondesign.etsy.com. (Please note that the last day for holiday card shipping is noon EST on December 18th). I have other cards besides my holiday cards and more cards will be coming soon, including Valentine's Day cards.
---
Thank you for sharing, Claire!