When You Hand Cancel You Help Protect Your Wedding Invitations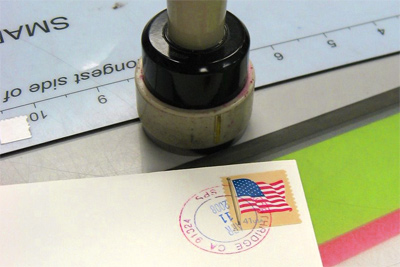 What Does It Mean For The USPS To Hand Cancel?
Cancellation refers to the markings that the postal service puts on stamped mail to prevent the stamps from being re-used; in current times, this marking is typically created by automated high speed machinery. While these machines are quick and convenient, mail that goes through them run the risk of being bent, marked up, and even torn – risks you do not want to take with formal invitations. Hand canceling, as the names implies, means that each invitation will be post marked by hand, not machinery, thus reducing the aforementioned risk factors.
---
How do I get my invitations hand canceled?
After completing your invitations, bring your finished ensemble into your local post office and simply request that they are hand canceled. Most (not all) post offices will have no problem with this, as it is common practice with formal mail. Depending on your local branch, be prepared to be asked to stamp your own invitations, or told that they can be hand canceled on another day.
Calculate The Correct Postage
Always check with your local post office about the cost of postage prior to mailing. Keep in mind that square invitation envelopes will cost more to send, and mail that weighs over one ounce will also have a surcharge. So check first and eliminate Return to Sender stamped across your invitation envelopes.
Send A Test Invitation
Consider sending a test invitation to yourself and/or a friend or relative who lives far away. Simply bring a finished ensemble to the post office, determine the appropriate postage, request that it is hand canceled, and see how it arrives. Of course if it arrives safely and free or markings, bends, or tears, you can feel more confident in sending the rest out to your guests.
Warnings On Hand Canceling
Just because your local post office agrees to hand cancel your invitations, it does not mean that your invitations will not hit an automated sorter during its travel. Mail can have many stops along the way and be subject to sorting at other facilities. We have heard that you can request Special Handling for a cost. At the time of this writing we do not have more information on exactly what special handling means or of the associated fees. This is something you should discuss with your local post office.
---
Let us hear your mailing stories. Did hand canceling work for you? What other tips do you have to make sure your invitations reach your guests without damage?