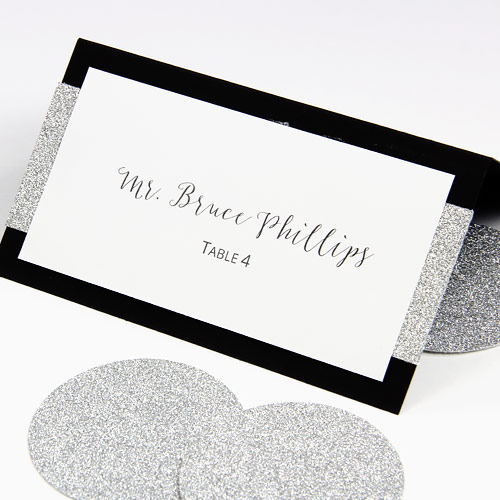 Layered Place Cards Made With Glitter Paper
If glitter and glam aren't quite your style, don't worry, you can use our print templates, instructions, and any of our colorful specialty papers to customize place cards for your taste.
Check it out below, and if you decide to make your own layered place cards, be sure to snap a photo of them and tag us on Instagram (@LCIPaper)!
What Paper & Supplies You'll Need
Download The Layered Place Card Print Templates
Download Layered Place Card Templates. The folder contains two Microsoft Word documents to print back to back on 8 1/2 x 11 paper:
Front: a document with 2×4 inch tables to customize with guest names
Back: a cutting guidelines document with 2×4 tables to print on the reverse side
Customize Your Place Card Print Templates
Customize by highlighting and typing over the sample wording and table numbers.
Tip: If you prefer to customize with outlines, right click on the table then click Table Properties > Borders & Shading > All. Just make sure to remove them before printing!
Fonts shown in example piece are Salt & Spices Pro and Open Sans.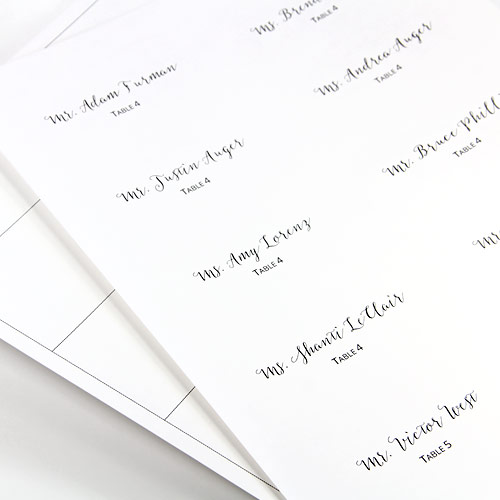 Print on 8 1/2 x 11 Paper
Print guest names on the front of 8 1/2 x 11 paper, then turn the sheets over and print guidelines on the back. Be sure to print both sides in the same direction for proper cutting alignment.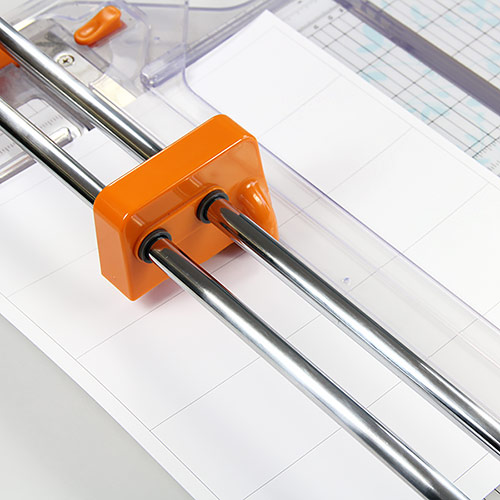 Cut The Paper Along The Guidelines
Using a paper trimmer, cut along guidelines to yield place card top layers.
Cut Glitter Paper Into Strips
Cut (10) 1 1/2 x 4 1/2 decorative glitter strips from (1) 8 1/2 x 11 sheet (as shown).
Glue Glitter Strips Onto Place Cards
Glue each glitter strip to the center of each place card using your preferred adhesive.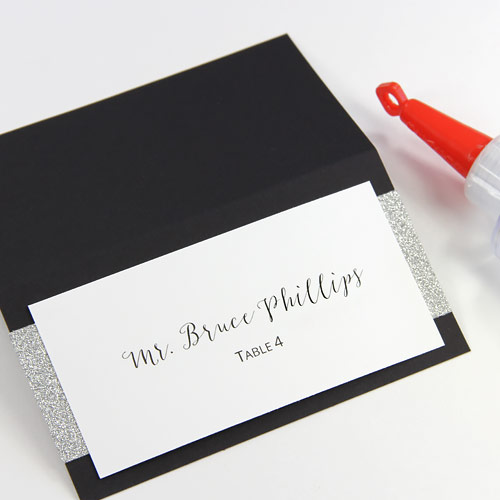 Glue Printed Layer
Finally, glue each top layer in the center of each card/glitter strip, and you're done!
Try a Different Spin: Let Us Print Place Cards for You (and Embellish as You Please)
Prefer to nix the layered look? Let us print your guests names on our blank place cards,* then embellish any way you'd like! See some of our favorite examples below.
*Just check the Click here to order your cards printed! box under the place cards you like.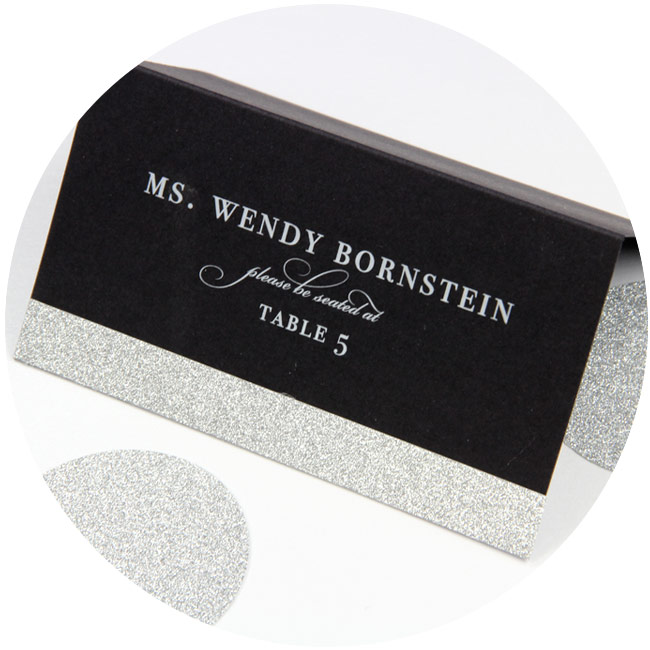 Place Cards with White Ink Print & Silver Sparkle Paper
White ink on black place cards really pops, especially when accented by a sparkling strip of silver glitter.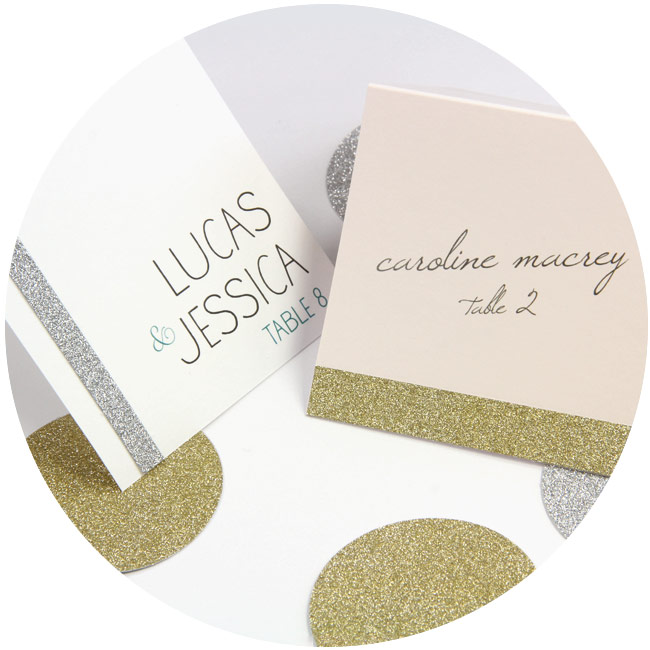 Square Place Cards With Gold & Silver Glitter Paper Accent
Here, we decorated square place cards with gold & silver glitter strips for a more fun and modern look.
Materials (left)
Colors Matt Snow White square place card
MirriSPARKLE silver strip cut to 1/8 x 6 inches.
Materials (right)
Colors Matt Powder Pink Square place card (printed in white ink)
MirriSPARKLE gold strip cut to 1/4 x 3 inches.
Gold Glitter Confetti on Classic Ivory Place Cards
In this example, we used a hole punch to create glitter confetti to adhere to each card.
(Yes, we understand this one is best suited for small weddings or very patient brides and bridesmaids!)
Materials
Colors Matt Antique Ivory place card
MirriSPARKLE gold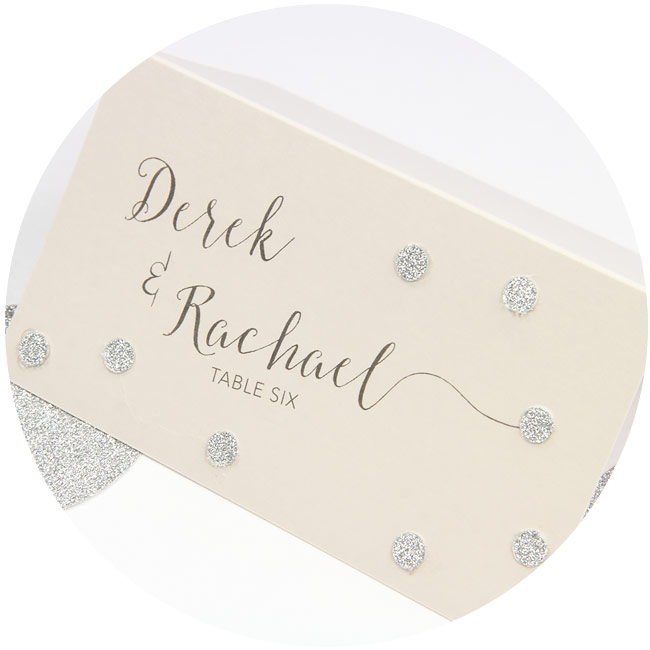 Silver Glitter Confetti on Powder Pink Place Cards
Here, the same story, but with a Powder Pink place cards and silver glitter.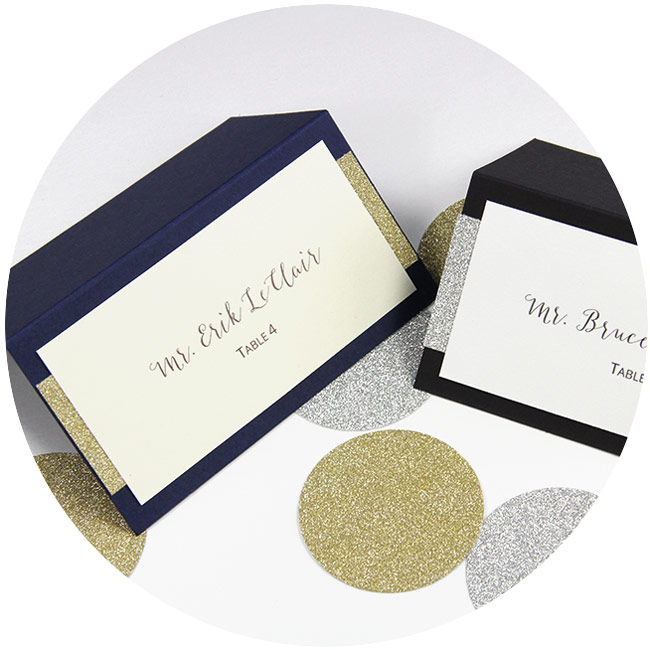 One Last Look
Just because we love them, one last look.
Left place card assembled with LCI Ecru paper, gold glitter and Midnight Blue blank place cards.