Download, Customize & Print!
Ready to get started? Download the free templates folder below!
Download Free Wedding Return Address Templates
---

What's in the Templates Folder
The templates folder is a zip file that contains all five templates in Microsoft Word (.doc) and PDF (.pdf) formats.
Using the Word Templates:
The Word version of the templates include embedded calligraphy text and editable text boxes for your address. They can be edited in Microsoft Word only. Instructions are below.
Using the PDF Templates:
The PDF version of the templates include script text only. A more advanced technique, they can be placed as graphics into any page layout program you prefer such as Adobe inDesign or Illustrator.
Templates contain black text only.
The Designs
For reference, file names in templates folder correspond to listing below. (For example, future-mr-mrs.doc)
From top to bottom:
The Fonts Used
Script/calligraphy font: Adelicia Script
Address font: Source Sans Pro
Templates Sized for A1 & A7 Envelopes
Print on the front center of A1 response envelopes or the back flaps of A7 invite envelopes.
---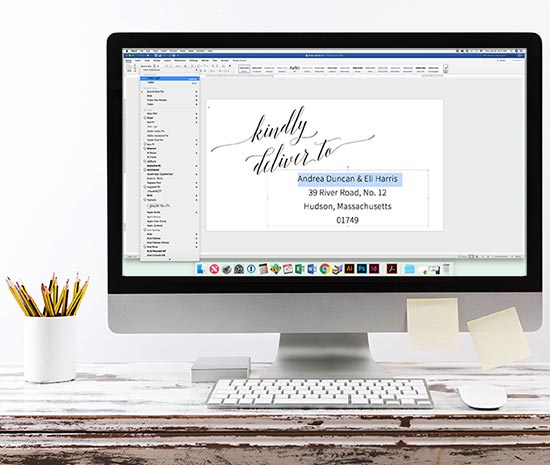 How to Edit the Templates
When you open your preferred template in Word, you will notice both the script text (an image) and editable address text are in movable boxes. Click on each to reveal the boxes as shown.
Calligraphy Text Image
If you like the design as is, skip this step. If you'd like to make changes, you may do the following:
The script can be moved around the page by clicking the box and dragging
You may increase or reduce the size of the script but it is not recommended. This may warp the image.
Color of the script can not be changed
Address Text Box
Select the text box to change the sample address to your own. Change fonts, sizes and colors if you wish. If you need more space, click the corner of the text box and drag to expand the size.
---
Save Completed Template as PDF
Once everything looks good to you, save the file as a PDF.
Click File > Save As
Select PDF from the File Format drop down menu
You now have a custom wedding return address file that can be opened on any computer and printed on any envelope you choose.
---
Print on the Envelopes of Your Choice
Now comes the fun part! Here are the ways you can get your return addresses printed: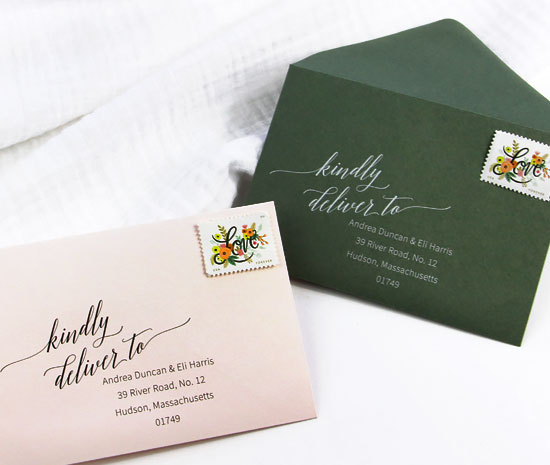 Print Your Wedding Envelopes at Home
If you have a quality printer and want to save some money, you can print envelopes at home. Use the following instructions to do so.
How to Print Envelopes at Home – Step by Step Instructions
Let Us Print for You!
If you'd like us to print your envelopes for you, follow the steps in this post below. We can print your return address in black or white ink (a great look for dark envelopes).
For an extra time saver, you may also get your envelopes fully addressed. Just send us your guest list!
How to Order Envelope Printing & Addressing
---