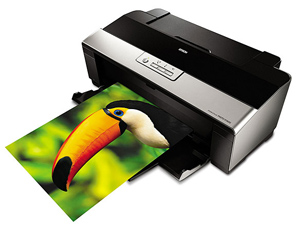 For the consumer wanting the flexibility of printing clean, sharp text and graphics as well as crisp, vibrant photos, today's inkjet printers are a great choice. Although some specialty papers like those with metallic or certain vellum finishes require the toner technology of a laser printer as opposed to thermal inkjet technology, the inkjet is still the most versatile and most popular of consumer grade printers.
The staff at LCI Paper tests the different types and brands of specialty paper that we use to make our exclusive invitation offerings like envelopes, cards, pochettes, pocket folds, programs, etc. We test on a variety of inkjet and laser printers and note our recommendations on each product page. We also print sample wording and photograph many of our invitation cards, response cards, programs, and other items so that our customers can visualize how their invitations might look once they receive their blank stock purchase and print their custom wording at home. Since we print on so many different types of text weight papers and card stocks, we feel qualified to review our latest printer purchase, the Epson Stylus Photo R1900 Ink Jet Printer. Our R1900 was purchased about 6 months ago and since then, has seen almost daily use.
Features
The Epson Stylus Photo R1900 Ink Jet Printer is a wide-format printer capable of printing photos and documents as large as 13 inches wide and 44 inches long. Additionally, Epson lists these features and technologies:
Photos with a superior gloss finish
Epson UltraChrome Hi-Gloss® 2 pigment ink
Red and Orange inks — improved vibrancy
Smudge, fade and water resistant prints
New Radiance™ technology — optimum color gamut
Gallery-quality prints at faster speeds
Thick paper support for fine art media
Roll paper support for printing panoramas
Professional quality CD/DVD printing
Auto-switching Photo and Matte Black inks
On the date of this review, Epson.com's regular price was $549.99 with a $150 mail-in rebate good in October and November 2009, making the final price $399.99. Epson's rebate is only good for purchases at their web store. If you're willing to deal with a mail-in rebate, it's a better bargain than Amazon's current price of $499.00 and no rebate. Both offer free shipping on this printer. At this price point, the target audience is probably the "prosumer" that needs the flexibility of available wide-format printing and the higher printing quality that a more expensive printer like this should provide.
Look and Feel
The Epson Stylus Photo R1900 Ink Jet Printer is a good looking, sturdy unit. The paper loading tray can be folded down to cover the loading area and the paper output tray can be folded up to protect the output opening. This makes the printer a lot easier to carry and also helps protect the unit when it's not in use.
Connections
The R1900 has two USB connectors so two computers can connect to the printer at the same time, but at this price point, the printer should have an ethernet port to connect to a router or network switch. In our office, the printer is connected by USB to a computer on our wired local area network (LAN). This enables our networked PCs to share the printer.
Drivers
Trying to use this printer with our office Macintosh computers has been a frustrating experience. We downloaded and installed the latest Mac driver from Epson's site but were unable to access the driver to fine-tune our print settings. We could not print to the R1900 while it was connected to the PC on our LAN, and when we directly connected a Mac to the printer via USB and tried to print on a 5×7 card, it seemed the printer was working overtime. The card took longer than normal to print and came out wet and limp as if the entire surface had been coated with a clear ink. Perhaps with our inability to access the print driver, the default Quality Option was set to photo, causing the printer to cover the card with photo Gloss Optimizer. Granted, we are all very busy and have not put a lot of time into finding a solution for the Mac incompatibility, but it should not take a lot of extra work for the printer to properly work with a Mac running the recommended OS X version number and Epson's driver for the same version.
The good news for PC users is the PC driver effectively communicates with the printer and offers all of the customization that we need. Here is a screen shot of the driver on a Windows XP machine: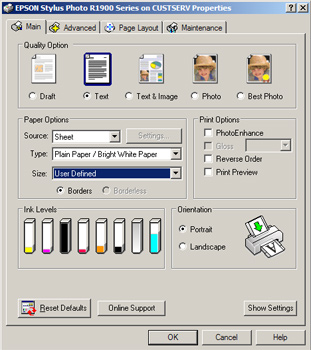 For the most part, every setting we need, including print quality, paper type, paper orientation, and custom size, can be adjusted in the interface's Main tab. This is important as many of our customers have commented that they are unable to find the area within their specific printer driver to enter a custom paper size setting. Our research has found when this issue comes up, it is frequently associated with HP brand printers. This is not a problem here, as we simply choose User Defined and enter our custom width and height in hundredths of an inch. So for a card that is 8 inches high, we would be enter a custom value of 800 for paper height.
Printing Results
As expected, the R1900 prints wonderfully on all the types of papers, cards, and envelopes and we found the top loading paper tray is quite helpful when printing small cards or envelopes. Other ink jet printers, with front loading trays have to feed the paper up–working against gravity–and tend not to do well with smaller items.
We found text to be sharper than we were used to seeing from less expensive and older inkjet printers. We were especially pleased with the results when we printed on challenging heavyweight, textured card stocks like Japanese linen and Gmund Vice Versa. The textures of these papers are more dramatic with deeper grooves between the raised lines. Additionally, printing on lighter specialty sheets, like our Japanese Floral Sukashi vellum, was flawless.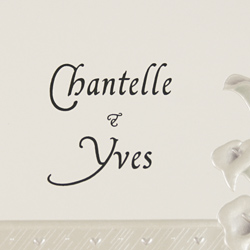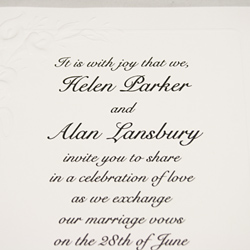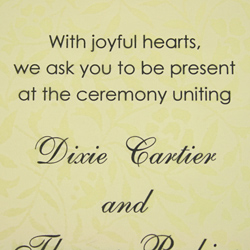 Conclusion
From inkjet vellum all the way up to 113 lb, extra heavy, textured card stock, printing is no problem for the R1900. It consistently printed sharp text that approached the sharpness of a laser printer.
Even though it has two USB connections, a current printer at this price point should have a network adapter for shared printing. But the biggest issue is that we are not yet able to achieve satisfactory results printing from a Mac computer.
For those that do not need an ethernet connector or the ability to print from a Mac computer, the R1900 offers great text and photo printing results with the added flexibility of wide-format printing.
You may also be interested in our other inkjet printer reviews:
Epson Artisan 50 Inkjet Printer Review – Basic Yet Versatile Printer
HP Envy 100 e-All-in-One Inkjet Printer Review – Does it print as great as it looks?