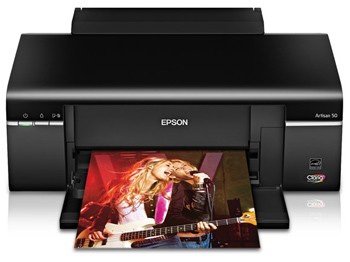 Looking for a Basic but Customizable Inkjet Printer?
You may be in the minority! If it's been a few years since you've shopped for an inkjet printer, a stroll down the printer isle at Best Buy might surprise you. Instead of printers, you're more likely to see surprisingly affordable all-in-one, multifunction machines aimed at home office setups from big names like HP, Canon, Epson, Lexmark, and more recently, Kodak. These devices combine three major functions in one box–printing, scanning, and faxing. Priced between $50 and $150, most offer another recent feature in home printing, wireless networking, meaning there are no wires from your computer(s) to the printer.
But if you're like us, you'd rather buy one device that performs its function well and is free of the extra complications. We want a printer that is easy to use; one that comes without a steep learning curve. Epson's new Artisan 50 Photo CD/DVD Document Printer has the potential to be that device. It doesn't fax and it doesn't scan, but it is a good-looking, compact printer with a street price ranging from $99 to $150.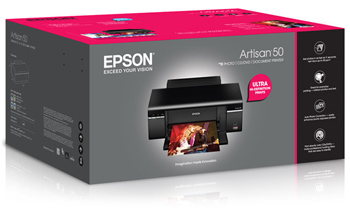 In the Box
Printer
Separate tray for printing CD media
All 6 ink cartridges
Power cord
CD containing drivers & bonus software
Printed "Quick Guide" & "Start Here" foldout instructions
A USB cable required to connect the printer to a computer is not included.
Features
Easy Hardware & Software Setup
Using the easy-to-follow "Start Here" foldout instructions, we plugged in the power, installed the 6 included ink cartridges–Black, Cyan, Magenta, Yellow, Light Cyan, and Light Magenta, and pressed the ink button to charge the ink.
While the Artisan 50 has no networking capability, we still wanted to test it on different systems, so one at a time, we installed it on three different machines–a Mac running OSX Lion, another Mac running OSX Snow Leopard, and a third running running Windows 7.
We contemplated installing the software that came on the CD, but our extensive printing experience has taught us that you can't always enter custom paper sizes without installing the latest print driver. What if the drivers found on the CD were older than what we could find on Epson's web site? So instead of installing the software provided on the CD, we went to Epson's Drivers & Support page, finding the appropriate section for each operating system. We opted for the lighter software versions over the all inclusive "Drivers and Utilities Combo Package" because we never use the extra software that seems to clog up our systems when installing a new printer.
The Mac drivers installed without a hitch on the Mac systems and the same was true for Windows. In each case, when the installation completed, the printer was installed and ready to print. We give the setup two big thumbs up for being easy.
---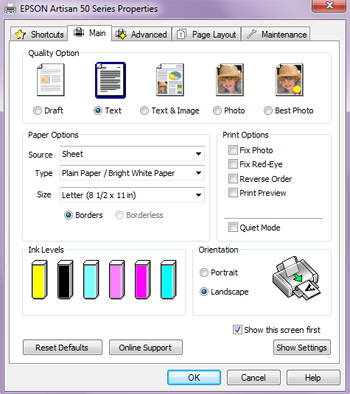 Using the Print Driver
If you've spent any time printing specialty paper and non-standard card sizes, you've likely spent a proportionate amount of time in your printer's driver. The print driver is your interface to your printer and all of its user-configurable settings.
Epson printers are well regarded among the printing experts in our office, not only for their quality printing and but for their versatility in printing custom sized paper. We've always found their print drivers to include all the settings and customization needed for almost any type of printing scenario.
Although we know the power of the print driver, many people don't know how to access it, and as a result, have problems printing. We love how clearly Epson has documented the "Printing in Windows" process in their Quick Guide. Here are the first 3 of 11 steps they detail:
Open a photo or document in an application.
Open the File menu and select Print.
Make sure Epson Artisan 50 Series is selected, the click the Preferences or Properties button. (If you see a Setup, Printer, or Options button, click it. Then click Preferences or Properties on the next screen.)
The guide goes on to explain the different settings once the print driver is open.
The "Printing With a Macintosh" section is equally helpful to the newbie printer.
Setting Custom Paper Sizes
The Artisan 50 can print any custom paper sizes that measure between 3 1/2 to 8 1/2 inches wide and 5 to 44 inches high. You just need to communicate the paper size to the printer.
In the Main tab, under Paper Options, there is a dropdown for Size.
Click Letter (8 1/2 x 11in) to reveal the list of pre-programmed paper sizes
Instead of selecting a size, choose User Defined
In Paper Width field, enter paper width as it is loaded into your printer (short edge first)
Measurement is in hundredths of an inch or hundredths of a centimeter
In Paper Height field, enter paper height
Click OK
We test printed some non-stardard card sizes, or at least sizes that don't appear in the list of those pre-configured in the print driver:
6 1/4 x 6 1/4
3 1/2 x 4 7/8
3 3/4 x 9
We wanted to make sure that, within the print driver, we could enter any custom paper size (within the acceptable print range) and print to that size.
Although the smallest card (3 1/2 x 4 7/8) was 1/8 of an inch too small for the printer's minimum printable size, we just entered 5 inches and ran with it. The card printed fine as did the other two sizes.
---
2 Sided Printing – Does It Save Money & Time?
This is not automatic 2 sided printing, also known as duplex printing. Generally, duplex printing is available only in commercial grade printers. With the Artisan 50, it is a manual process.
In Epson's Artisan 50 product overview, the ability to "Save paper — easily print on both sides of the paper, saving money and paper" is touted as a key feature. But does this 2 sided printing really save money and should it be considered as a feature? Before we weigh in on that, we'll show you how it works.
Step 1: Create a 2 sided document within a page layout or word processing program:
In Microsoft Word, we created this wedding program: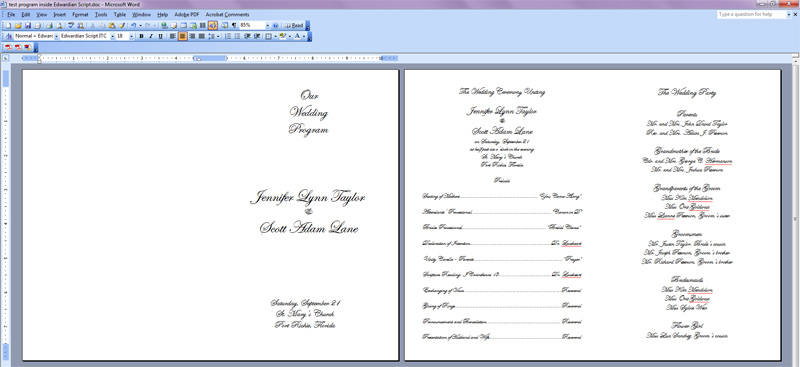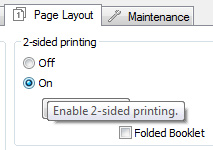 Step 2: Access the print driver & select 2-sided printing:
In program, click File > Print
Select Epson Artisan 50 printer
Click Properties (or Preferences) button
Within Epson printer driver, click Page Layout tab
In 2-sided printing section, click "On"
Click "OK"
Click "OK" again to print
Step 3: Retrieve Printed Paper, Turn Paper Over & Reload
When the front side has finished printing, a popup details the rest of the process: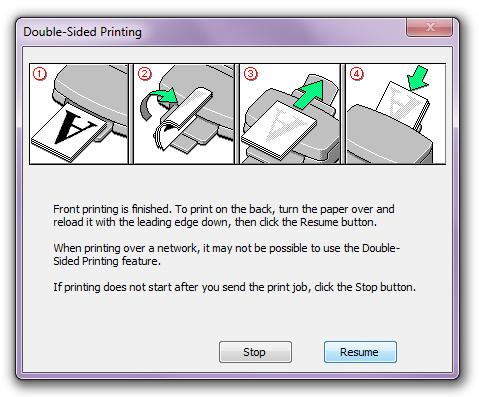 2-Sided Printing Feature Conclusion
Many of our customers print on both sides of our paper using their home inkjet and laser printers. Although we haven't heard from anyone using a manual 2-sided printing feature like this, perhaps some are. But most are probably printing front and back manually. It's easy enough to create a document for the front side and a document for the rear side, print the front side, reload the paper, and print the back side. So while we aren't jumping up and down over Epson's implementation, if that extra popup window shown in Step 3 provides users with that extra hand holding that they need to feel comfortable about printing paper on both sides, it's worth using.
This feature is only available when printing from a PC. It is disabled in the Mac driver.
---
Printing Tests – Our Expectations & Methods
We did not make it easy on the Epson Artisan 50.
We test printed on a variety of popular 8 1/2 x 11 specialty papers. Most were chosen for having unique characteristics in their weights and surfaces that make them a challenge for inkjet printers and home printers in general.
For our tests, we used a sample wedding program insert sheet, designed in Microsoft Word and using the Edwardian Script ITC font. We find this script font useful for revealing printing weaknesses as opposed to a more uniform font like Comic Sans which can hide weaknesses like jagged edges and spreading.
For Comparison's Sake…
Our tests spanned 4 different inkjet printers, the Epson Artisan 50, the larger, wide format Epson Stylus Photo R1900, another wide format Canon Pixma iX7000, and the HP Envy 100 All-in-One.

At the end of this article, you can read our reviews of the other printers.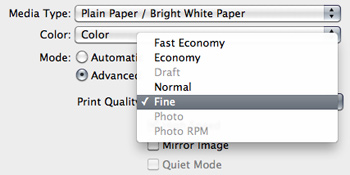 Similar Printer Settings for an Equal Playing Field
To create an equal playing field, we tested with the same papers and printed from the same Word document. Within the 4 different print drivers, we kept the settings as equal as possible, generally choosing plain text printing at the best quality setting. We turned off fast printing when available as an option. If the printers had alternative paper trays, we used the trays recommended in the manuals for best printing on the particular sheets we happened to be testing at the time.
What You See Is What We Got
After the test samples were printed, they were scanned with a quality Canon Canoscan 9000F scanner. Other than cropping and resizing, no further image adjustments were made. So to the best of our abilities, what you see on your screen is what was printed. Clicking on an image will take you to a full size photo scanned at 300 dpi. This is the best way to analyze the printing results.
When deciding which printing examples to show as comparisons to the Epson Artisan 50, we chose only those with appreciable differences, but even then, some are close enough that you'll need to evaluate which looks better to you.
---
Printing Test Examples
Round 1 – Printing on Matte Finish Paper
Weights Tested
70lb (104 gsm) Text Paper – LCI Paper Brand
111lb (300 gsm) Card Stock – GMUND Colors MATT
120lb (325 gsm) Card Stock – LCI Paper Brand
When it comes to printing text on matte finish paper, the Epson Artisan 50 is a competent performer, on par with the more expensive Epson Stylus Photo R1900 wide format printer. But can it hang with the Canon Pixma iX7000 or the HP Envy 100 which are also more expensive printers?
In these sample photos, notice how the ink from the Epson spreads on the sample 70lb (104 gsm) Text Paper – LCI Paper Brand, while the Canon and HP photos show crisper printing:
When moving up to 111lb (300 gsm) Card Stock – GMUND Colors MATT, the gap between the Epson and Canon narrows, but the Canon's text is still a bit more crisp:
But on this premium heavyweight 120lb (325 gsm) Card Stock – LCI Paper Brand, the Epson edges out the more expensive Canon. Although neither printer produces great results on this thick paper, note the Epson's truer black:
---
Round 2 – Printing on Textured Paper
Weights Tested
80lb (216 gsm) Linen Card Stock – LCI Paper Brand
100lb (270 gsm) Felt Card Stock – LCI Paper Brand
Textured finish paper can be challenging for inkjet printers because the tiny ridges and crevasses in the pattern affect the ink sprayed from the printer. Furthermore, a printer that does well on one type of texture may not do as well when confronted with a different texture. Testing is a must.
Printing on the subtle embossed linen finish of 80lb (216 gsm) Linen Card Stock – LCI Paper Brand yields less than definitive results. The Epson's black ink is a bit darker, but the ink has also spread a bit further than the Canon. Click on the larger images to see the actual texture of the paper and notice that the Canon printing seems to have produced more jagged edges.
The Felt textured finish of 100lb (270 gsm) Felt Card Stock – LCI Paper Brand is typically more challenging than the subtle linen finish above, yet the Epson produced an admirable result. Which do you find preferable? On close examination, the Epson printing seems to have spread a bit more than we would have liked, but we still consider it a good result.
---
Round 3 – Printing on Metallic Finish Paper
Weights Tested
81lb (120 gsm) Metallic Text Paper – Stardream Brand
111lb (300 gsm) Metallic Card Stock – Curious Metallics Brand
We find that metallic finish papers are best printed with laser printers. The toner instantly bonds to the paper far better and faster than when printing from an inkjet. Inkjet printing on metallic stock also requires extra drying time before handling. With those factors in mind, some inkjet printers are capable of printing on metallic paper, and are often a more convenient option, as they are found in more homes than laser printers. We put the Epson up against our two other office inkjet printers. We think you'll agree that the Epson came up just a bit short.
The first printing test almost seems unfair, as the Epson was thrown into the same arena as the HP Envy 100, a printer that blew us away in it's ability to print on lighter weight metallic paper and approach laser quality. The Epson's print quality is adequate on this Stardream text weight sheet, but the HP is super sharp and saturated.
Next, we tested on heavy 111lb (300 gsm) Metallic Card Stock – Curious Metallics Brand–paper that jammed in the HP Envy 100. However, the Epson is able to handle paper as thick and heavier. Here is its result of a comparison with our Canon inkjet. The Epson printout is quite sharp but a bit light when shown side by side with the Canon:
---
Round 4 – Printing on Translucent Paper
Weights Tested
74lb (110 gsm) European Parchment – Pergamenata Brand<
30lb (113 gsm) Translucent – GMUND Colors Transparent Brand
Printing translucent paper can be challenging in any home printer. First, the paper is a light weight and depending on the surface coating, can be difficult to be pulled in by the printer's rollers.
Due to the light weight and surface of 74lb (110 gsm) European Parchment – Pergamenata Brand, we find that in most cases, laser printer is a better alternative than inkjet printing. The Epson print result leaves a bit to be desired because the ink has not been able to bond quickly enough to the paper surface, causing the ink to spread. We were surprised at the great result from the HP Envy where the text is quite sharp.
The Epson was unable to load the 30lb (113 gsm) Translucent – GMUND Colors Transparent Brand paper when identified as "Plain Paper / Bright White Paper" in the print driver and caused the printer to jam. Unsure of the paper jam protocol, we followed the Quick Guide instructions and powered off the printer which smoothly ejected the paper. We then canceled the print job in the print queue and powered the printer back on. We decided to try another paper type so in the print driver we chose "Presentation Paper Matte" but ran into another paper jam. "Photo Paper Glossy" turned out to be the right choice but as expected, the paper took extra time to print. The ink came out wet, easy to smudge, and requiring extra drying time before we could handle it.
Test printing on 30lb (113 gsm) Translucent – GMUND Colors Transparent Brand sheet yielded our first real disappointment on the Epson. The ink dispersed too far from the edges causing a jagged look that we find just less than satisfactory. On the other hand, our HP Envy 100 shows the clearest distinction–sharp text that quite frankly, blew us away.
---
Round 5 – Photo Printing on 80lb (216 gsm) Smooth Card Stock
Weight Tested
80lb (216 gsm) Smooth Card Stock – LCI Paper Brand
When making Half Fold Greeting Cards, many of our customers print photos directly onto our smooth card stock.
In this test we printed a high resolution outdoor photo on our own 5 1/2 x 8 1/2 Radiant White card stock. In the print driver we left paper type as Plain Paper and changed the printing quality to Fine. We also unchecked the High Speed printing option.
You can see that the Epson produced somewhat less dynamic color, less detail, less contrast, and less sharpness than the same printed photo on HP Envy 100 All-in-One. While the Epson's photo print quality is still good, it's not the best.
---
Update:
We re-tested the Epson Artisan 50 with different paper settings suggested by one of our readers.
---
Conclusion & Final Thoughts
We put the Epson Artisan 50 up against some serious competition, perhaps unfairly. The good news is we found very little difference in print quality between it and the more expensive Epson R1900 wide format printer. And while it didn't match the slightly more expensive HP Envy 100 All-in-One in terms of print sharpness, it handled every different paper weight and custom card size that we tested which is more than we can say for the HP. The Canon iX700 is a wide format printer that can be had for a great price, and while it often bested the less expensive Epson Artisan 50, the differences were smaller when printing on textured paper. The Epson arguably yielded better results when we tested premium, heavyweight card stock.
We're Fans of Top-Loading Printers
With its proven paper loading design which feeds paper from the top, the paper doesn't make any extreme turns along its path. This allows the printer to handle heavy card stock, envelopes, and custom sized paper in stride.
Mature, Full Featured Print Driver
The Epson print driver that DIYers know and love is intact and even more functional than in older models. We're sure that custom printing will not be a frustrating experience because whether the printer is connected and operated from a PC or from a Mac, the driver is easy to navigate and it's easy to choose different printing options.
We noticed that most settings, with the exception of double sided printing, are available whether printing from a Mac or PC. In whatever machine we were using to print, in our tests, we saw no discernible printing differences when printing from Mac or PC. We believe Epson has well-developed drivers that are consistent between the two platforms.
Great Documentation
In reviewing Epson's documentation, from the printed "Start Here" setup guide & "Quick Guide" to the online "Epson Information Center," our impression is that the company knows what DIY users want to do and they make it easy and clear for their customers to accomplish their goals.
Sadly, No Networking
On the negative side, the printer lacks a feature found in most current printers–networking. You will either have to directly connect to the printer via USB, or be technically savvy enough to know how to connect to it from another computer connected on the same network.
As for the other touted features like CD printing, automatic red-eye removal, and a version of double sided printing, we'll leave it up to you to decide if they are attractions.
Bottom Line
While we can't bestow any best-in-category awards, we consider the Epson Artisan 50 a quality peripheral for the DIY home printer. It seems like Epson is in the corner of the DIY customer and they make it easy for you to do what you want.
More Printer Reviews
All of the printers mentioned and compared in this review have also been thoroughly reviewed on their own:
HP Envy 100 e-All-in-One Inkjet Printer Review – Does it print as great as it looks?
Epson Stylus Photo R1900 Ink Jet Printer Review
Canon Pixma iX7000 Large Format Ink Jet Printer Review