Feature Friday – "Krafty" Cards by Eva Vose
In this feature, we hear from customer Eva Vose from central New Hampshire. Eva is a preschool teacher who makes custom greeting cards in her spare time using Neenah Environment kraft paper. After seeing a sampling of the fun designs she had to offer, we wanted to know more. Read about Eva and her "krafty" cards below.
Tell me about this card hobby of yours. Do you make them for fun, or for sale?
Well, a little bit of both I suppose. I very much enjoy making cards so it started off as, and will probably remain, a fun side hobby. I make them for my own personal use here and there – a birthday or get well card for a friend, thank you or thinking of you cards to have on hand, etc. Sometimes I give them as gifts. For example, my sister is a teacher as well, and finds it handy to have thank you and note cards on hand, so that was part of my Christmas gift to her this year. Or, I have an Aunt and Uncle in Florida who like to write, so I made them a ten pack of Hello, from the Sunshine State cards. Finally, when time allows, I sell them at a local craft fair. But as I said, it's more a creative outlet than a side business for me.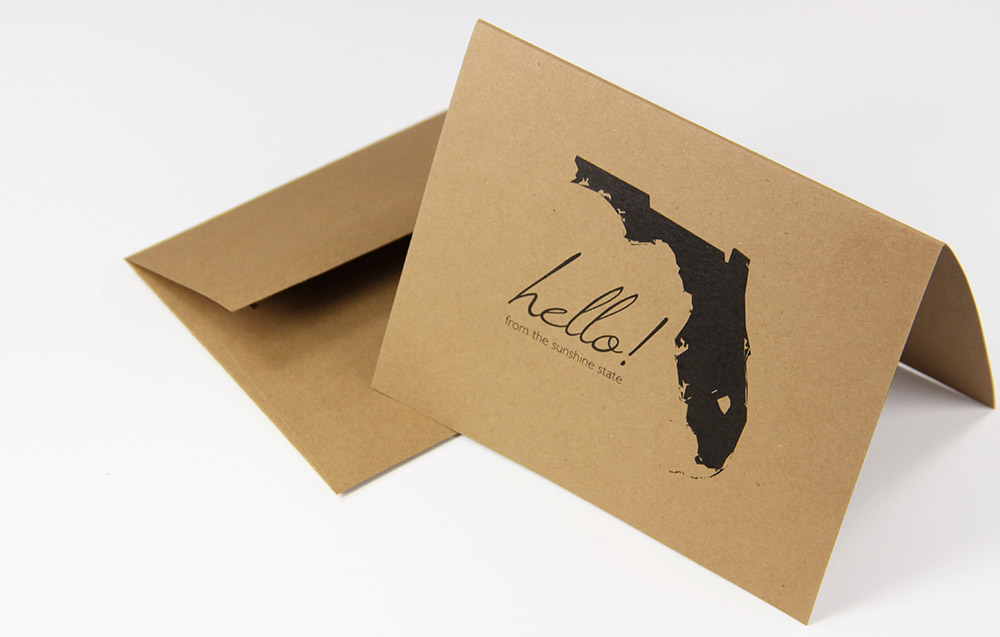 As a preschool teacher, I would imagine you are creative in nature, but do you have a design background as well?
Yes, thank you, I would say I am naturally creative, and tend to create things that I myself like. I don't have a design background, but I did take a few courses in college, so I know my way around. I have always been a paper craft lover too, and enjoy browsing local greeting card/gift stores, paper and craft blogs, and now Pinterest (actually, that's how I found you guys!), so I guess you could say that is where my inspiration and ideas come from.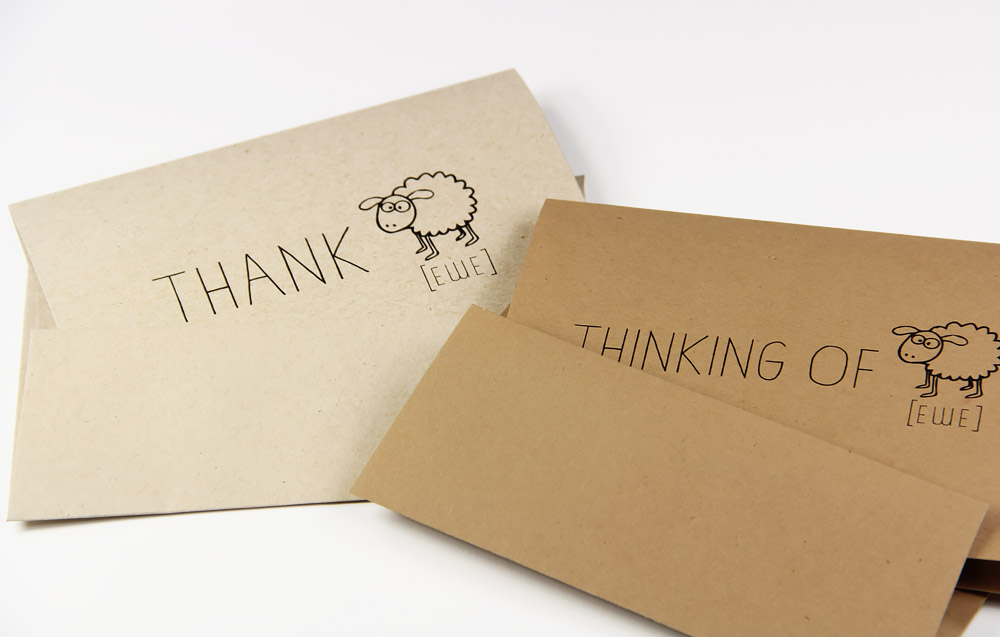 Tell me about your experience with Environment. Why is it your paper of choice for so many of your cards?
I first tried Environment out because I thought the paper bag look would add to the handmade feel and character of my cards, and it certainly did. However, the more I used it, I realized there was a lot more that I liked about it! I buy the 80lb A2 folding cards in all three colors, and found that they all print really nicely with my ink jet. They tend to hold color really well, and make for a nice, neutral backdrop. They are a good alternative to white or cream, I think. I also like that they are recycled and that you can see fibers sprinkled throughout the paper. It really adds to the look of the design!
Thanks for sharing Eva! Have you made something with Environment? Post a picture of it on Facebook – we'd love to see it!