Elegant Typography For Your Wedding Invitations Using Microsoft Word!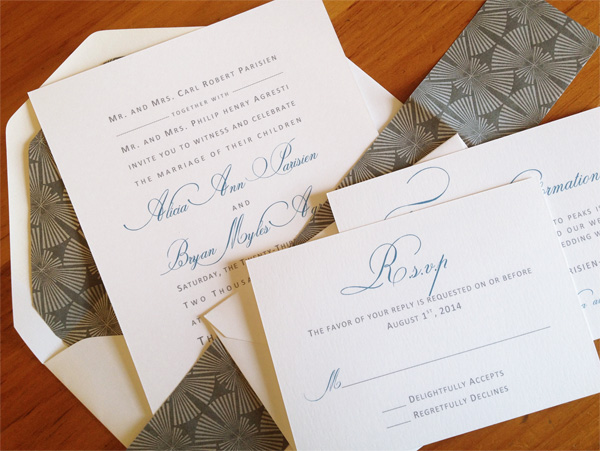 As featured on WedLoft, this simple and elegant DIY ensemble consists of heavyweight invitation, information, and response cards neatly wrapped up in a patterned paper band. The invitation ensemble is brought together with a matching hand lined European flap envelope.
However, this design is not distinguished by the papers it is made of, but instead by the professional looking, elegant wedding typography that is printed on it – typography you too can recreate using the detailed tutorial found on WedLoft and a program you probably already have at home, Microsoft Word.
If you like the looks of this invitation design, use the Add to Cart button below to order the materials to recreate it as shown. If you'd like to jazz up the colors a bit or use different papers, no problem; just use the linked materials list below to design it the way you like!
Materials To Customize Banded Invitation
Invitation – 5 1/4 x 7 1/4 (A7) – Wedding White Smooth
Response – 3 5/8 x 5 1/8 (A1) – Wedding White Smooth
Pre-Cut Blank Cards
8 1/2 x 11 Pearlized Paper for Bands & Envelope Liners
Additional Tools
Large Paper Trimmer or Preferred Cutting Tool – to cut paper bands & envelope liners