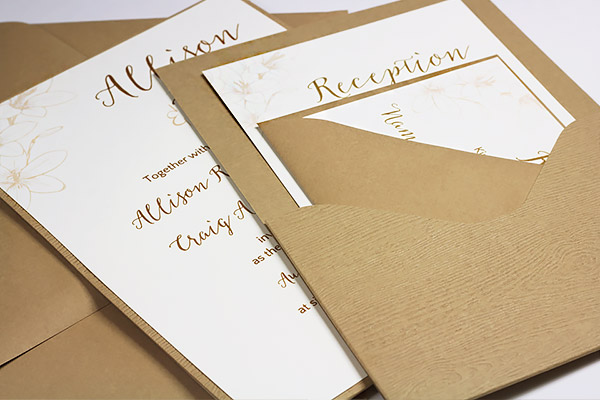 Wood Grain & Floral, Sweet & Simple
A flat card with a pocket on the back, pocket cards are a simple, streamlined way to organize your invitation ensemble.
In this post, we give you step by step instructions to make a wood grain pocket card invite like the one shown here. Just choose your materials, customize and print your templates (choose from blue or blush floral designs), cut and assemble.
Materials and steps to customize this design are below. Let's begin.
---
Materials
1. Download Templates – Invite, Reception, Reply – Blush or Blue
Download your print template zip file using the link below. The zip file includes the following templates in Microsoft Word format: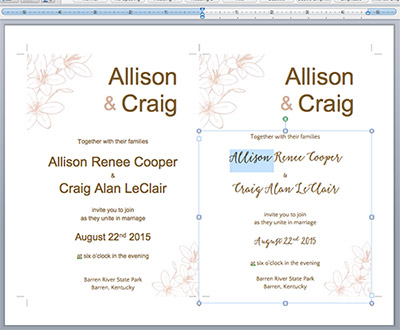 Two folders – blush and blue (each containing the following 3 templates)
8 1/2 x 11 (2-up, 4 7/8 x 6 7/8 inch) invitation template
8 1/2 x 11 (2-up, 4 x 6) reception card template
8 1/2 x 11 (4-up, 3 1/2 x 4 7/8) reply card template
2. Customize Templates
Customize invitation, reception and reply card templates by clicking on the text boxes and changing text and fonts as shown here.
Fonts used in this example were Salt and Spices Pro (calligraphy) and Quattrocento Sans.
3. Print Cards on 8 1/2 x 11 Card Stock
After customizing your cards, print. No custom document set up is necessary since templates are a standard 8 1/2 x 11 size.
Note: Be sure to select a card stock that is compatible with your home printer. If unsure, we recommend ordering a sample to test prior to purchase.
4. Cut using Crop Marks
Using the crop marks as a guide, cut your invite, reception and reply cards.
(2) 4 7/8 x 6 7/8 invitation cards per sheet
(2) 4 x 6 reception cards per sheet
(4) 3 1/2 x 4 7/8 reply cards per sheet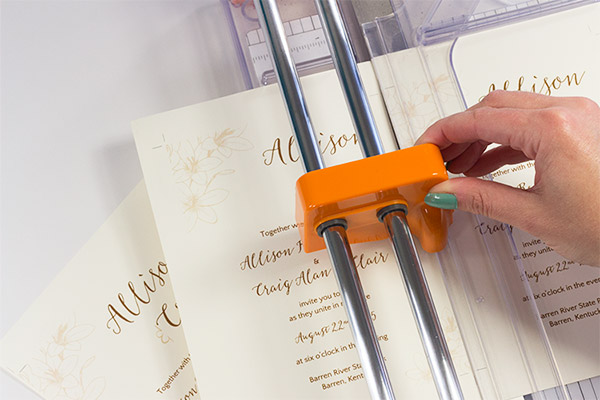 5. Adhere Invitation to Back of Pocket Card
Using the adhesive of your choice (we like ZipDry), adhere your invitation cards to the back, non-pocket side of your pocket cards.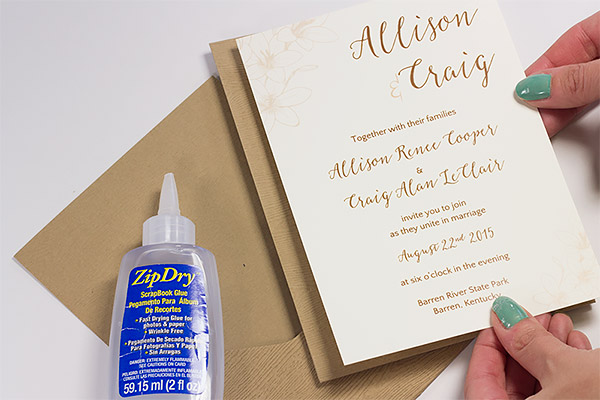 6. Place Reception & Reply Items in Pocket
Finally, place a reception card and response card/envelope in each pocket, and you're done!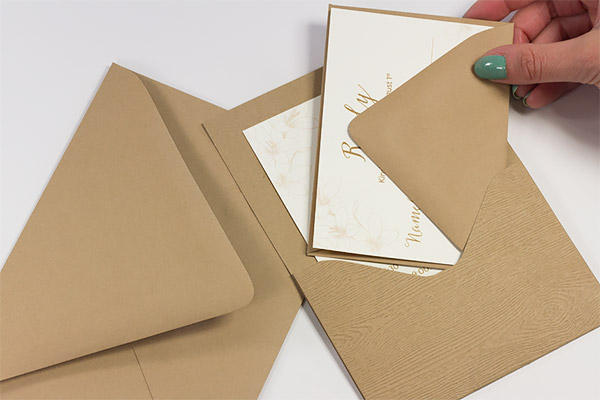 See More Pics!