Professional Calligrapher Not Required to Make These Invitations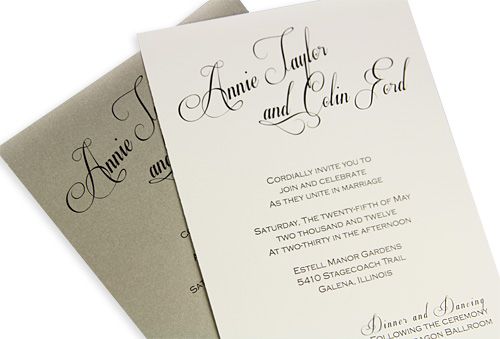 Love the look and style of a crisp, formal calligraphy style invitation but not the price? You do not need a professional calligrapher to get this look. All you need is a computer, a printer, some free downloadable fonts, and the following DIY invitation tutorial, complete with printing template.
For a classic, elegant look, print the design in black on a traditional white or ecru card stock. You can also jazz it up a bit by printing on brightly colored card stock, or by layering in some patterned papers. For a different, more modern look, you can also print in multiple colors.
This design is versatile, and the choice is yours. Let's get started!
Here's What You'll Need
Computer with Microsoft Word
Printer
---
1. Download the Free Calligraphy Font Used in Template
For the template to look right when you open it, you will need to first download the calligraphy font that is in it, Respective.
Download Respective font from dafont.com by clicking the Download Button to the right of the font name. A folder will be downloaded to your operating system with four styles of Respective
How to Install the Font After Downloading
After downloading, a zip folder named Respective will be in your downloads.
Double click to open the zip folder, then again to open the folder inside
Inside there are four ".tff" files. Select them and double click to open them
On most PC & Mac systems, this action will bring up your fonts folder/book and prompt you to install them
You now have the proper font installed on your computer, and you are ready to download the template!
---
2. Download Printing Template
Download 5 1/8 x 7 Elegant Calligraphy Invitation Word Template
Note: On some operating systems, Respective font may be cut off at the top. This can be remedied by shrinking the font size, or by choosing a different calligraphy font:
Download free calligraphy fonts from dafont.com
---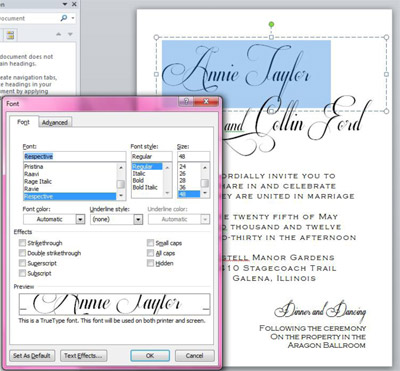 3. Edit Text
This invitation template is set up in a series of text boxes. To edit the text inside, simply click on the boxes. Once the box is selected and the text is highlighted, you are free to edit.
Note about Rotated Text Boxes
All versions of Microsoft Word after 2010 allow for rotation of text boxes, as in the template. If you are using a version of word previous to 2010 and would like rotated calligraphy names:
Copy the contents of the text box into an image editing program, like Paint
Save the text as an image
Copy and paste the image back into Word, as Word will allow for rotation of images
Just note that after making the text an image, it is no longer editable.
Change the sample wording to your own wording, names and wedding information.
If you are happy with the invitation as is, then you are ready to print. If not, change the fonts, sizes, and colors to suit your taste.
---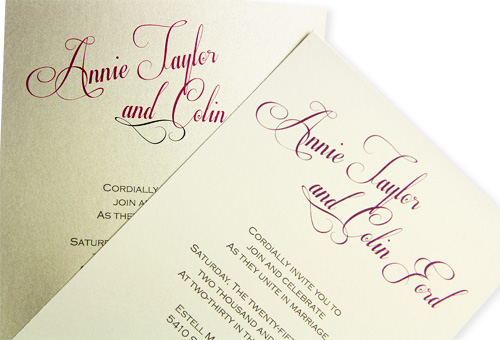 4. Print
Finally, print! If you aren't familiar with printing custom sized cards, check out this tutorial video:
Printing Invitations at Home with Your Computer and Printer
If you have any questions about customizing this design, be sure to get in touch with us!