Hand calligraphy addressed wedding envelopes are elegant, classy, traditional, and look great – but let's face it, if you're on a budget, the cost of a professional calligrapher may not be so great.
So what do you do if you have your heart set on calligraphy but can't bear the thought of the price (or the look of your own handwriting)? Read the tutorial below to learn how to create professional looking calligraphy on your own!

Here's What You'll Need
Wedding Envelopes
DIY calligraphy can be written on any of our wedding envelopes, and in any color, so the choice is yours! Choose envelopes light or dark, matte or metallic, large or small – whatever suits your fancy!
Gelly Roll Pens
We prefer Gelly Roll gel pens for hand writing because they have a smooth, roller ball tip that makes writing comfortable and easy, and also because they are offered in dozens of colors and styles, but you can also use a calligraphy marker if you prefer.
---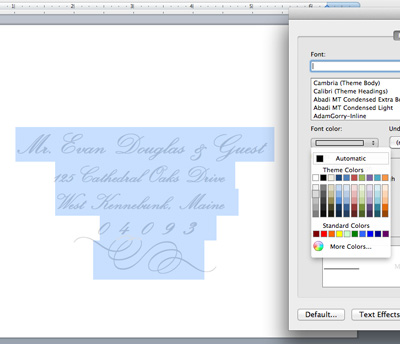 1. Choose a Fantastic (and Free!) Calligraphy Font
Start by choosing a calligraphy font that you would like to address your envelopes with. If you don't have one you like installed on your operating system, browse a site like dafont.com or fontsquirrel.com, find one you like, and download it for free!
What Fonts are Those?
The fonts shown here are Exmouth (text) and Splendid Ornaments (decorative swirls)
---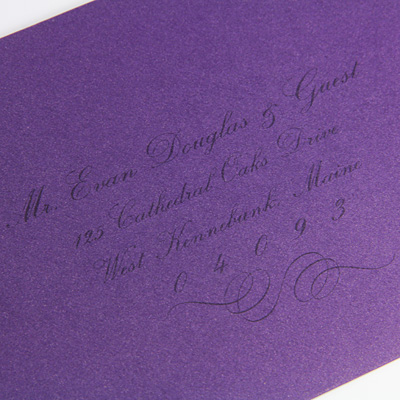 2. Print Addresses on Envelopes (or Let Us do it for You!)
Next, print your guests' addresses on your envelopes. As shown here, print in a color just dark enough to be visible for tracing, as you do not want the digital printing to show through later on.
If you are not familiar with how to print envelopes at home, please consult the following:
Print Envelopes at Home – Here's Some Instructions
Or, Order Them Printed!
If you do not want to deal with printing envelopes at home, let us print them for you! Simply order online, send us your guest list, and request that we print in a light color so that you can later trace your addresses. Learn more about this service below:
Order Printed Envelopes from LCI
---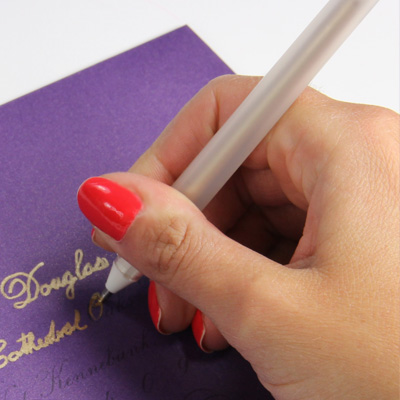 3. Get a Feel for Your Pen – Do a Few Trial Runs
To get a feel for your pen and to minimize error, it is recommended that you practice writing a bit on scrap paper or extra envelopes before you start tracing on your good envelopes. Also consider the following tips:
Some Gel Pen Tracing Tips
Leave adequate drying time! – Gel pens take longer to dry than the average pen, and you don't want smudges and smears
Careful lefties! – Since gel pens don't instantly dry, left handed writers risk dragging their hands across the wet ink
Keep scrap paper handy – Occasionally, the tip of the pen may get bogged down with dried ink, which interrupts the flow. A few scribbles on scrap will fix that right up!
Keep extra pens handy – The free flowing ink of gel pens can be gone before you know it, so keep extras on hand*
*1 pen = 100 envelopes, on average. Actual quantity may vary with font size/detail.
---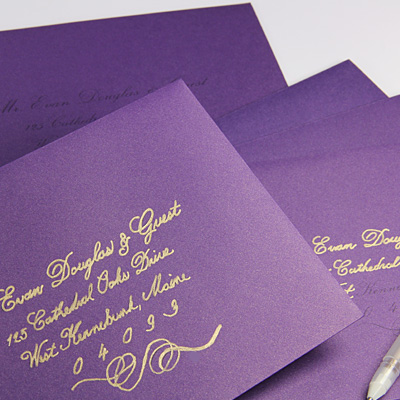 Trace, Trace, Trace Until You're Done!
Once you have a handle on tracing with your gel pen, trace the text of all of your envelopes until complete!
With a little bit of practice, patience, and time, you have created chic, elegant, calligraphy addressed envelopes for a fraction of the professional price!
– – –
If you have any questions about DIY calligraphy, be sure to get in touch with us!


---