Get Ready to Get Creative!
Pocket invitations – they're contemporary, they're stylish, they're everywhere!. Each design is slightly different – some are rectangular, some are square; some are thick, some are thin; some elaborate, some simple – you get the gist.
With so many pocket styles to choose from, the design possibilities are endless. Though each pocket invitation is different, the great ones are all assembled using the same principles, tips, and tricks – ones you'll find in this article.
Before you begin your design journey, we recommend you check out the tips below. They're 10 of our favorites, and 10 you'll want to know to make impressive, professional looking pocket invitations of your own.
---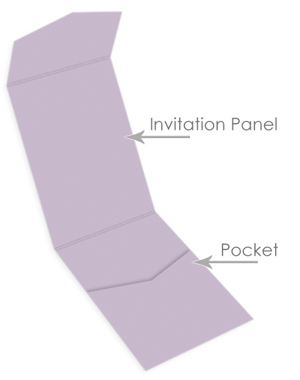 The Nuts & Bolts – What Goes into a Pocket Invitation
Starting with the basics – no matter their shape or size, pocket invitation folders always consist of two things:
A panel to adhere your invitation card to
A pocket or pouch to put enclosures in
Invitation on the Panel. . . What goes in the pocket?
Anything you want! Here are some popular choices:
Response card/envelope
Reception card
Direction card or map
Wedding website card
Registry card
How to Place Cards in the Pocket
Again, any way you please! Some trendy ways include:
Stacking or tiered insert cards, labeled at the top (reception, directions, etc.)
Pocket insert booklets – punch a hole through each card and tie with ribbon or twine
Wrapped insert cards – compile insert cards and package them with a band, ribbon, or twine
Place them in loosely – nothing wrong with keeping it simple!
---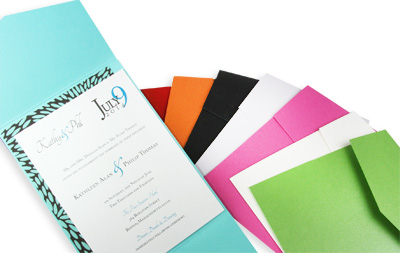 1. Mix, Match & Get Creative
The beauty of making your own invitations – especially modern style pocket invitations – is that anything goes! LCI offers invitation pocket folders in shapes, sizes, styles, colors, and finishes galore, and on top of that, hundreds of specialty papers and envelopes to pair them with, so get ready to get creative!
When designing your invitations, experiment with various pockets, papers, and color combinations. Play around with pocket inserts, add a decorative layer or two, or maybe an embellishment. The choice is yours! We have all the tools, you have all the imagination – the sky's the limit!
2. No Need to Print or Write on Pockets – Layering is Key
People often ask if they can print or write on their invitation pockets. Pockets are much too heavy to print on, and while it is possible to write on pockets, it really isn't necessary.
Simply put, pockets are designed to wrap up and organize your invitation cards & enclosures, similar to an inner wedding envelope, but much more stylish. You don't need to print or handwrite event details directly onto your pockets, because, all that information is printed on cards then placed in the pocket.
What about addresses, you ask? This brings us to our third tip – one we are very passionate about around here: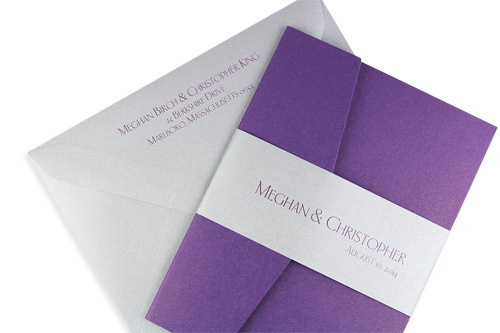 3. For the Love of Pocket, Use a Mailing Envelope!
Though your invitation cards will be protected by the pocket they're wrapped in, we highly recommend you place your pocket in an outer mailing envelope. Here's why:
More of a polished, professional looking presentation
Invitation is protected from postal markings and general wear and tear of mailing
Open edges of pocket may get caught and torn during mailing unlike a fully sealed envelope
In general, envelopes provide an extra layer of protection during mailing & with such a collection of envelopes, costing only a few cents each, why not pick your match. After spending hours making your own invitations, you want them to arrive at your guests' homes looking their best.
Quick Reminder: Ask your local post office to hand cancel your invitations.
4. Watch Your Paper Weight
Invitation pockets are made from premium, heavyweight card stock – several layers of it, in fact, when all folded up.
Keep this in mind when choosing cards that will go inside of your pocket. Thick, heavyweight cards wrapped in a thick, heavyweight pocket make for a bulky invitation – something particularly important to consider, if you are concerned about the cost of postage.
5. Make Sure Your Pocket Can Close & Your Envelopes Seal
Postage concerns aside, watch the number of inserts, decorative layers, and embellishments you place inside of your pockets, especially if they are made of thick stock. Although invitation pockets are designed to accommodate lots of "stuff", they have their limits.
Moral of the story, don't go crazy with inserts or your pocket won't close, and that's not good.
We discuss this topic more thoroughly in our video Pay Attention When Sealing Your Wedding Envelopes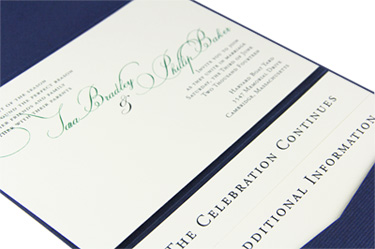 6. Invitation Card Must be at least 1/8″ Smaller than Panel
Speaking of pockets that don't close. . . If you use an invitation card that is the same size as the panel, your pocket won't fold correctly, causing the sides to bow out.
The rule of thumb is to use an invitation card that is at least 1/8 inch smaller than the panel it is being adhered to.
7. Go a Little Narrow on Inserts (Particularly Stackers)
The same rule of thumb applies to pocket inserts (sort of). For proper folding, your largest pocket insert can not be longer than the panel it resides on, but it gets a little more complicated than that.
It has to do with how pockets are made
The actual "pocket" part of an invitation folder is created by folding a portion of the paper up onto itself and gluing. This portion of paper (what will become the pocket) has two tabs that are folded in towards one another to create a seal around the perimeter of the pocket.
The anatomy of this pocket means that cards placed inside have to contend with two things:
The 2 tabs that are on the back wall of the pocket
The allotted space in the pocket (which is a hair more narrow than the invitation panel)
For all of your inserts to slide in smoothly and the pocket to fold nicely, the insert cards should be sized slightly more narrow than your invitation card.
Thick Insert Cards? Many Insert Cards?
If you are using very thick insert cards or lots of them, consider going even more narrow on the width. The more you put into a pocket, the more it bows out in the front, and the less space you have to work with.
8. Choose the Right Glue in the Right Quantity
Before assembling your pockets start thinking about how to best adhere your invitations. You'll want the right glue for the job.
Use a paper glue designed to not wrinkle paper or double sided tape:

Wrinkly invitation cards will totally ruin the professional look you're going for.

Use the right amount of adhesive – just enough to keep everything in place:

Amount will vary with paper weight, type, and adhesive – just test!
9. Use Invitation Tissue to Avoid "Pocket Stain"
We recommend incorporating invitation tissue into your pocket invitation design – not for the tradition, but for the aesthetics.
Wedding invitation tissue is used to prevent ink smudging during mailing. Without it, you run the risk of ink from your invitation card smudging into the "v" shape of the pocket it lies on top of – "pocket stain", which is never a good look.
10. Keep Flaps Down (and Pockets Nicely Decorated) with Bands or Bows
The end is near. You've chosen your invitation components, put them all together according to our tips, folded your invitation pocket up – and low and behold, that darn pocket flap won't stay down.Yes, once you put it in the envelope (hey, another reason to use an envelope), the flap will stay down, but that's boring.
We have some better (and more decorative) options for keeping that flap in place.
Invitation belly bands
Ribbons – made into a band or tied into a bow
Twine – wrapped around several times and/or tied into a bow
Seals – wax, stickers, etc.
---
Have some tips of your own? Pass them along we are all friends here!