A Day in the Life of a Letterpress Printer
If you think that being a letterpress printer is just your average day job, think again. Just as no two printers are alike, neither is the way they structure the course of their workweek.
When we walk in the door, we say hello to the presses. Seriously. They have soul and we spend a lot of time working with them so we treat them very well. We make sure they are clean and oiled and ready to go. Then we can answer emails, fill online orders and put together quotes. I try to get that all done within the hour but around the holidays that can be tough. We have 4 distinct areas in our shop and each day one of them gets a good cleaning as well as filling the retail side from the previous day's sales. Once were caught up and clean we start printing.
By design, almost immediately we can begin on current orders or retail projects. Typically we will have one person on custom work and one working on retail paper goods. On the average we can print 2-3 different pieces a day, depending on the complexity, finish work and amount of customer traffic. As the presses stop and each one is cleaned and oiled we look forward to the next days projects. We cut our stock 1-3 days in advance and keep it stored in humidors to optimize our printing. Job folders are reviewed, prepped and status' updated before we close the registers and turn off the lights and say goodnight to our presses.
– Marc Wilczak, SweetWater Letterpress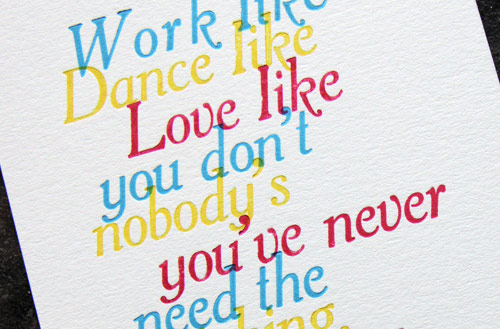 It is a strange mixture of modern technology and antiquity. I work on the computer a lot to produce my clients' images into acceptable letterpress forms. Then, I spend a few hours a day putting ink on paper, cranking sheet after sheet around the cylinder of my printing press.
The biggest learning curve has been becoming a small business owner. Because I was trained as a visual artist, I had no idea about good business practice or establishing the bottom line. I had a sister location in St. Pete, Florida, run by my good friend Bridget Elmer. We both have The Southern Letterpress, and work together to develop workshops, pricing and other logistics. It is amazing to have a partner you can run crises and ideas by!
– Jessica Peterson, Southern Letterpress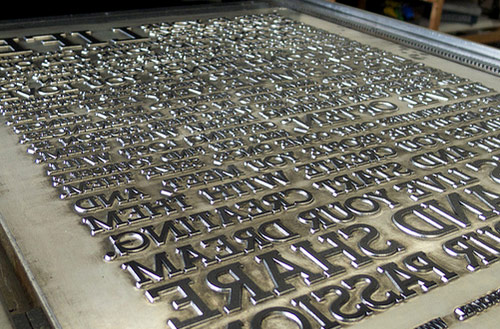 Letterpress is slow. We make our own plates, we mix our own inks, we cut our own paper, just as we write our estimates, one at a time, and with special attention to every customer and job, because they're all different.
I hardly ever print the same job twice. Even a re-order can have unique problems. So an average day does not exist. There's always something to do.
– Elias Roustom, EM Letterpress
For more, download a free copy of our letterpress eBook, Letterpress in the Modern Age.