Whether you are a novice or a professional, you've likely experienced it – you design something in your favorite page layout program – painstakingly select your colors and perfect your design, click print (or take it to your printer), and lo and behold, that color just isn't right. It's much lighter/darker/saturated on your screen, and quite frankly you're a little disappointed. So what gives? Why does the screen color not translate to paper, and how do you go about fixing it? In this article, we explain why, and suggest some ways to work around this often frustrating phenomenon.
All Viewing Devices are Different
The quick and simple explanation as to why screen color doesn't match print color is that all viewing devices are different, so what you are seeing on your screen may not even be the "correct" hue.
Let's use this turquoise and gray invitation as an example. From left to right, here's:
The design as a PDF (a nice, saturated turquoise)
A photo of the same PDF as it appears on a mobile device (well that looks oddly teal…)
A photo of the printed piece (much less saturated, much lighter)

As you can see, the colors differ widely from computer screen, to mobile, to print, and chances are, if you viewed that same PDF on a different computer, then a different smart phone, you'd likely get two more shades of blue/green. The moral of the story is, unfortunately you can not trust a screen, and until that printed piece is in your hand, you never quite know what you'll get.
The Paper – The Color, the Composition
It goes without saying that a design printed on colored paper will take on the hue of the paper – for example, blues printed on yellow look slightly green. However, what you may not know is that paper of any color, even white, will effect your final result.
From brand to brand, papers have different chemical compositions, additives, textures, finishes, etc., all of which react differently with inks and toners of digital and conventional presses. All things being equal, the same design printed on two different white card stocks may vary slightly in color.
The Way Colors are Embedded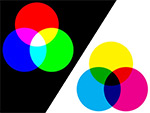 The way color is created/embedded in your file will have a large bearing on how the final product prints as well – Pantone, CMYK, RGB, hex, spot, process – they make a difference in what you see on screen vs. what you see in print, so be mindful. To learn more about these color systems, please view the following:
Pantone, CMYK, RGB – What's the Difference? >>
Some Workarounds for Inevitable Color Discrepancy
Now that you know that screen vs. print color discrepancy is inevitable, here are a few things you can do to work around it.
Be Aware of It, Allow Time for It
Knowing in advance allows you to prepare yourself (and your clients) for extra time for workarounds.
Know Your Paper from the Get Go
Especially if it is a color other than white, keep your paper in mind from the beginning. If you are printing on cream or ivory, for example, know in advance that you will likely have to take some hints of yellow out of each color you using to offset the yellow of the paper.
Know your Printer from the Get Go
If you are using a printer (or print shop) for the first time, this one may be difficult, but if you are familiar with your printing equipment (it tends to print light, dark, less saturated, etc.) use this to your advantage in your design process to eliminate extra work for yourself down the road.
Test Print/Proof before Your Full Run
Test prints and printed proofs are far more economical than printing several hundred pieces of the wrong color and having to redo it – so proof once, twice, as many times as it takes to get that color right!