In this tutorial, we teach you how to make & print your own stylish (and surprisingly simple) Chevron design envelope liners & invitations using our colorful paper collection. We give you FREE all the tools, templates & step by step instructions you need to do it! The color combinations for this design are endless, so mix, match, get creative, and have fun!
Please note, we have replaced the PopSet collection with our new Color System of cardstocks, papers and envelopes. 48 colors in all.
Materials To Customize This Invitation Design
A7 & A2 Size Blank Cards
A7 & A2 Envelopes
Text Paper to Print Envelope Liners
Download Templates
1. Download Print Template Files
Begin by downloading the template files you will need for this design, from the Download Templates section you will find two zip files:
Invitation & RSVP Word Templates: Templates for your invitation and response cards
Chevron Pattern Envelope Liners: A collection PDFs to be printed then cut to create envelope liners
Invitation & RSVP Templates:
Microsoft Word format
In standard font
In black text
Properly sized to A7 and A2 invitation and reply card sizes
Liner Templates:
In this file you will find a collection of print-ready chevron pattern PDFs:
Printer friendly 8 1/2 x 11 size
1/4 inch blank border for printer margin
6 color options:
Hot Pink
Purple
Lime Green
Peacock Blue
Warm Grey
Black

2. Customize Invitation & RSVP Templates
Next, customize your invitation and reply card templates by changing text, colors, and fonts. Fonts on example piece are Champagne & Limousines and Bickham Script.
Note about names in text boxes:
The names in the invitation template are in individual text boxes. To edit text boxes, hover over the names until a blue outline box appears, then double click on the box to edit the text inside.
3. Print Your Invitations
Once your invitation and reply card documents are ready to go, print! For instructions on printing invitations at home, please view the following video:
4. Print Envelope Liners
Cards look good? Good! Now it's time to print the liner paper with the Chevron Design onto 8 1/2 x 11 text weight paper. Since they are a standard, printer friendly size, just load your text paper into your regular tray, and print however many you
need – easy!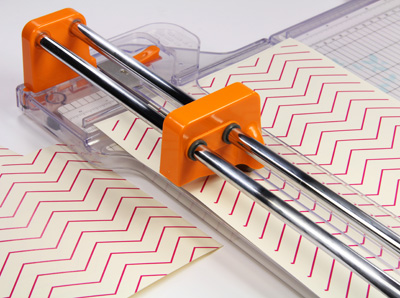 5. Cut Envelope Liners to 2 Sizes
To line your A2 and A7 envelopes, your liner paper needs to be cut to the dimensions listed below.
Dimensions are given for both partially and fully lined envelopes, depending on how much paper you wish to use.
Partially Lined Envelopes – Multiple Liners per 8 1/2 x 11 Sheet
A2 Liner – 4 1/2 x 3 1/2 – 3 liners per sheet
A7 Liner – 6 x 4 – 2 liners per sheet
Fully Lined Envelopes – 1 Liner per 8 1/2 x 11 Sheet
A2 Liner – 4 1/2 x 5 3/4
A7 Liner – 6 x 7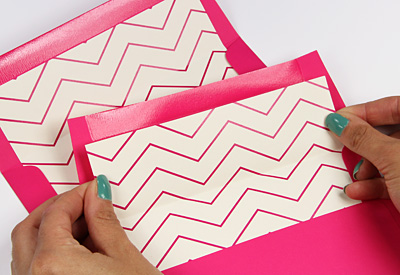 6. Adhere Liners to Envelopes
Finally, adhere envelope liners to envelopes using your adhesive of choice.
Tip – Go easy on the adhesive!: Just a trace of glue or a few pieces of tape surrounding the top perimeter of the liner is all you need! Too much adhesive will result in a lumpy, bumpy liner!
Video on Adhesives
---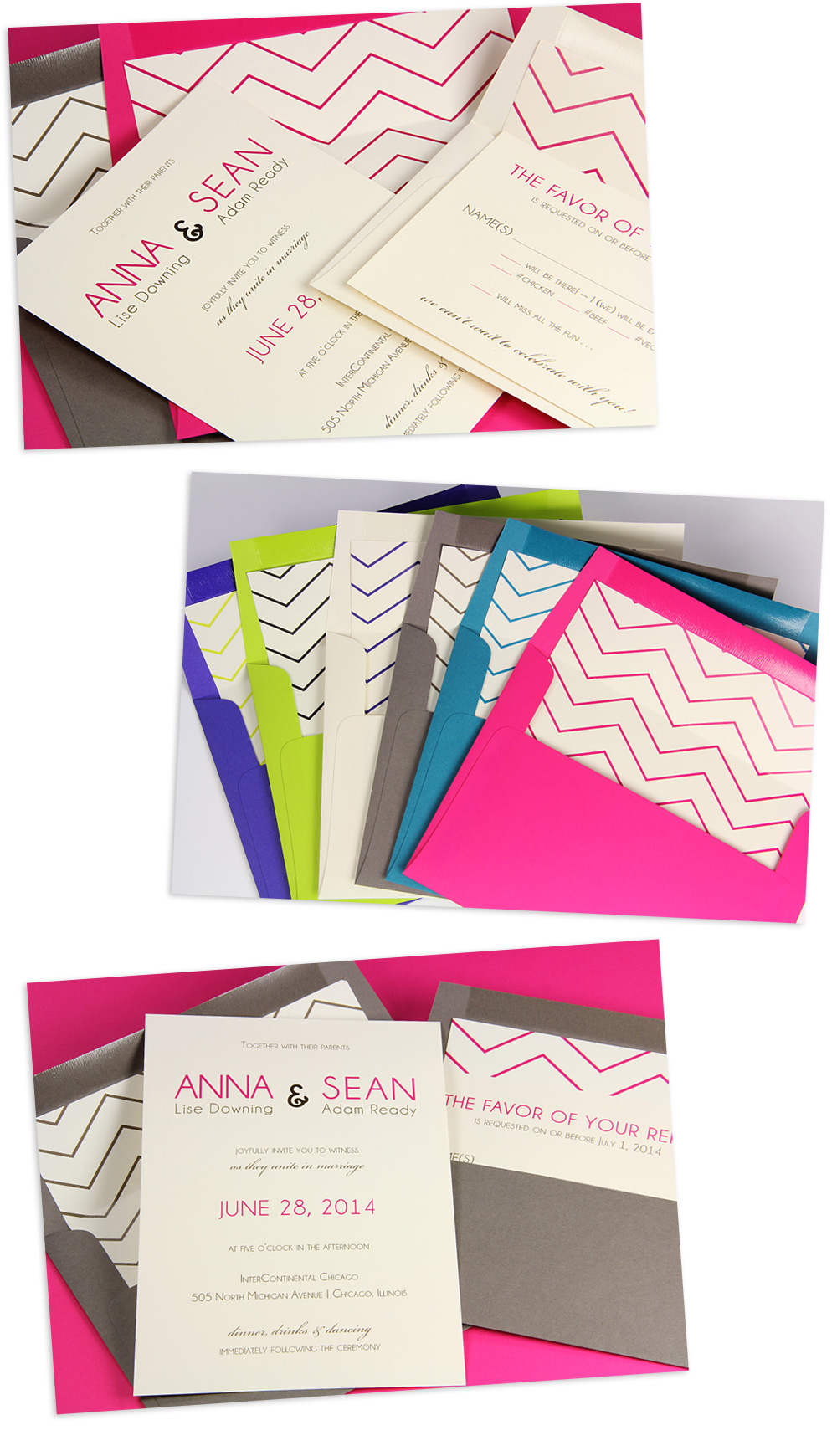 The Easy Route Pre lined Envelopes & Envelope Liner Paper
LCI Paper also has a selection of prelined envelopes and envelope liners cut to size and ready to slip in your envelopes. Important – our liner papers are made for our envelope only and may not fit other brands.