You're going to hear directly from one of our customers, Gina, about the frustration she experienced with not just one, but two different HP printers as she tried to print square, folding invitation cards. If you have ever printed non-letter sized paper, that is, paper that is not 8 ½ x 11 or other size that comes pre-programmed into your printer, here's a tip: When printing cards at home, many computer & printer setups require the user to access the printer's driver and enter a custom document size. But what happens when there is nowhere to enter a custom size? Here's Gina to tell us about how she overcame printing adversity.
Click the following link to listen, or right click and "save as" to download and listen at another time:
LCI Paper Podcast #47 – Gina in Ohio Talks Canon Vs. HP Printers
Here is a transcript of the interview: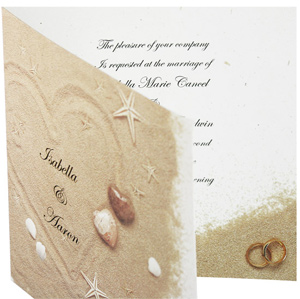 Thank you very much for taking the time to talk about your printing experience. So I know a bit. I know the frustration that you went through trying to print on 2 different HP printers and I want to let folks know what invitation you're trying to print. It's the Hearts in Sand Beach Wedding Invitation and it folds to a 6 ¼ x 6 ¼ square. It's a folding card.
Right. This is for my nephew who is getting married on the beach and this is for an after party when they get back because not that many people will be down in Sanibel Island. I found these perfect invitations for a beach wedding.
Can you give people a little bit of background on what you went through?
Sure
Was it Friday night that you started?
I started at dinner time Friday. I was eager to get going because I had received the invitations on Thursday and they were so neat.
I've done a lot of this stuff so I'm really not a novice at it. I thought I knew how to change the typical size paper when I print to a custom size. I had a newer HP printer [Photosmart D5400 model] than I used to have a long time ago and that gave no options to do a custom size. I started researching. I worked all Friday night. I worked all Saturday. I was researching on the internet. I was going into Administrative Functions, Printer Server Functions, all kinds of things that I'm really not an expert at.
I had never heard of those options. So you got some advice and you went deep. But it didn't work out, did it?
No, it did not and finally, I saw some blogs on the internet that made me think I might need a wide format printer.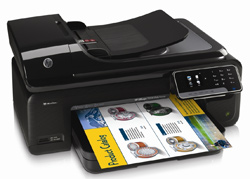 When you bought your new wide format printer to print these cards, you did go with the HP brand again.
Yes I did. Yes I did. And it was an expensive printer [Officejet 7500 model].
As you mentioned, I think you explained it very well, you could not find the option to input a custom document size.
Not at all.
And you even went so far as to go to HP's web site and download their latest driver, right?
Yes I did. I did. I installed from a CD and then I went and installed a more recent update to that driver release and it still did not work.
So I went out, for these very reasonably priced invitations, and bought an expensive wide format printer. The guy at the store, he assured me that this was good for any kind of custom stuff I wanted to do, even newspaper sized things. So I brought it home. It was huge. It was heavy. I took a long time to uninstall my other printer and install this. It did have a lot of unusual sizes already in the [print driver] program, but it did not have a function to create my own size. I got home about 5 or 6 Saturday afternoon. I worked Saturday evening. I worked half the day on Sunday and finally I gave up and I thought, "I'm going to call LCI first thing Monday morning and see what Josh has to say" because I had seen a couple of your videos, actually about the same size card.
So I talked with you and we talked about printers and I asked you to be honest with me and tell me what kind of printer you recommended and you were honest. You said you have learned over and over again in your discussions with your colleagues there at the company as well as with customers that HP is not very user friendly with this kind of stuff.
I told you and I tell other customers that we can usually get through it. We can usually dig deep inside that HP printer driver and find the place where you input a custom height and width for your card, but you and I could not find it.
It was nowhere. It wasn't in the Print Setup. It was nowhere. And you suggested an Epson or a Canon or maybe a Lexmark, but I'm not fond of them. I thought, "Gosh, I have to do all this?"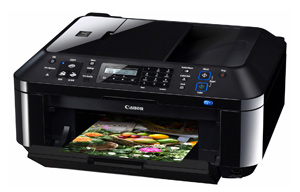 But after I talked with you I was kind of energized again. So I went to Staples and I got a $79 wonderful Canon [Pixma MX410] printer. And you also suggested that I get the back downward feed which I did and I've never had that before. I'm telling you, I got home, I installed this printer, I kicked out my invitations and envelopes—I printed all the envelopes—in an hour! No problems. No problems whatsoever. It was a breeze and I cannot believe the trouble that I had with the HP printers. So now I'm not an HP girl anymore.
Tell the listeners exactly what you did to set that custom size with the Canon printer.
It was very easy. I went to Print. Let me get there for just a second. Okay, in Print, which is where I was going all this last weekend, I went to Properties. And in Properties—I've seen different formats for this kind of information—but you'll see the Paper Printer Size. The default is always at the 8 ½ x 11 letter size, but you go down this list and it has Custom. Sometimes I've seen Custom, sometimes I've seen Other but this particular one says Custom. I go into Custom and it asks you whether you want inches of millimeters. I kept it on inch. I put in 6 ¼ x 12 ½ because that's the size of the unfolded card, hit Ok, and that was all I needed to do!
The other nice surprise was that it keeps that there for me. I don't have to do it every time. I went in just now and found that same size. It's there forever now.
Okay.
I just want to say to anybody who listens to this, first of all, I've bought supplies from LCI in the past, several times over the last 10 or 12 years I guess, from translucent paper to different stuff. I love the stuff that you sell. I think it's at a reasonable price but today I am a really happy camper because of the technical service. You could not fix what was wrong with my printer. Nobody could have. But you did lead me in the right direction and got me to where I could do this in an hour! And I'm really grateful for that Josh, I really am.
Now that that custom size is so accessible to you in the Canon printer driver, don't you think you can tackle any kind of card size in the future that might come up?
Any kind, any kind. And that's the other thing because I love to do this and I did not want to be limited to the little panel card that's 8 ½ x 5 ½ that you get at the stores. I wanted to be able to go to LCI and pick anything I wanted. And I'm not just saying that. I really mean that because I love to do this. I wanted to go there and pick anything I wanted and not be thinking about, "Am I going to be able to print this or not or is this going to be another 2 days out of my life?"
So I'm very, very happy. I thank you so much. Great customer service, and if anybody ever needs any paper supplies or card supplies, I know where to tell them to go!
—
Thanks to Gina for sharing her printing experience with all of our readers and podcast listeners. It's gratifying to hear positive printing feedback, especially after some difficulty. Do you have a printing experience that you'd like to share, even if it wasn't all smooth sailing? We'd like to hear about it. Post a comment and tell us!
You may also be interested in two of our printer reviews:
Canon Pixma iX7000 Large Format Ink Jet Printer Review