Krystie from Ohio Asked:
Is your Lapis Lazuli card stock suitable for professional laser printing at print shops like staples, etc? And will printing black text and image on this stock be visible? This paper matches the colors of our wedding great but I want to make sure it would be readable.

Please enable
JavaScript to see the video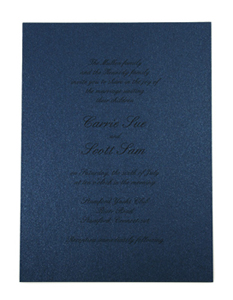 Have You Fallen for One of Our Dark Metallic Card Stocks?
Do you find yourself wondering how you may print on it and keep your text readable?
Let us help you.
All of our Metallic Blank Cards from Aspire Petallics and Stardream are laser printable, however on some paper stocks, the dark colored ink printed on the dark card doesn't provide enough contrast to make it readily visible.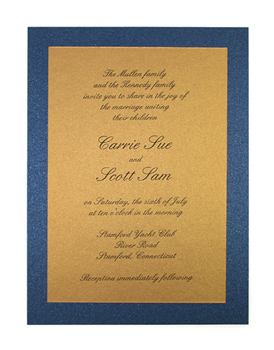 Dont worry, We've Got Some Great Suggestions
Have You Thought of screen printing or other conventional printing methods?.
Screen Printing allows light colored opaque ink to achieve a desirable level of contrast in order to make your text visible. For added elegance, consider having your local professional printer foil stamp or emboss your text.
For Invitations Twice as Nice, Consider Layering
By layering your invitations, you still get to use your favorite dark metallic card stock as a backing card, while allowing you to introduce a new accent color into your event's theme.
If you have any comments, questions or suggestions please contact us.