Don't Settle for Basic White Envelopes
Pre-designed invitations are convenient, affordable, and fast, making them popular for weddings, Bar and Bat Mitzvahs, and parties of all sorts. However, they typically come with basic white envelopes which some people consider to be boring.
If you are looking for envelopes that are a bit more fun and fancy for your invites, let us help you upgrade! We offer hundreds of colorful envelopes, blank or printed, to suit your event and style.
In this post, learn how to choose an envelope replacement and get some creative ideas for upgrading your envelopes.
How to Choose the Right Size Envelope
First and foremost, you need a properly sized envelope! Measure the envelopes that came with your invitations to determine what size you need to replace them. You may also measure one invite and look for an envelope that is 1/4 inch larger than it.
Learn more about envelope sizing
---
Add a Pop of Color & Texture
In this first example, we took the simple white Bat Mitzvah invitation and envelope pictured above and spruced it up with some color, texture, and layers. Here's what we did:
These simple upgrades go a long way – just look at the before and after!
---
Add Some Shine
Here we used an eye-catching Stardream silver envelope, printed with a custom return address. These envelopes are sure to stand out in a mail box!
Learn more about envelope printing & addressing services
---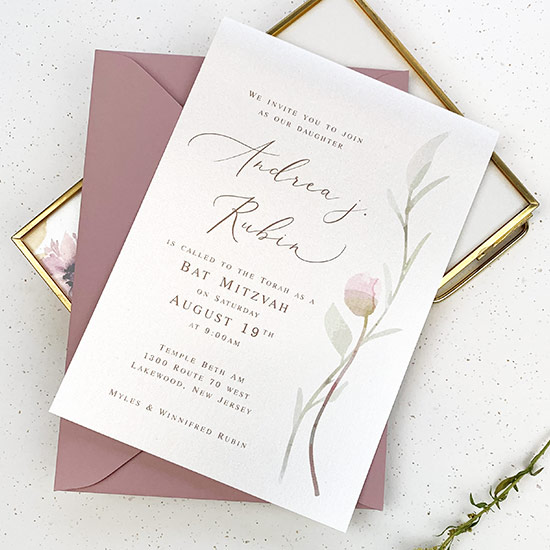 Change up the Flap Shape
Should you not want a classic straight flap envelope, we offer other flap styles as well. Here we used a Euro flap dusty rose envelope to enhance the style of this floral watercolor invite. Using a colorful envelope also helped bring out the subtle colors in the design.
---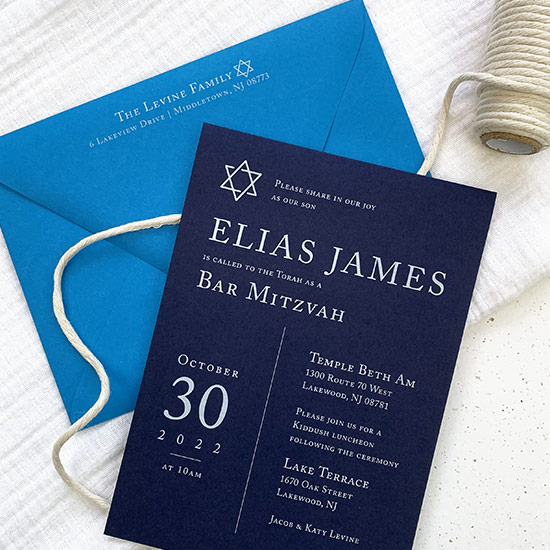 Add White Printing
White printing on dark envelopes is very modern. In this example we printed white on bright blue cyan envelopes to incorporate some bold color, but our customers really love white on traditional black, navy, and dark green too!
Learn more about white ink printing
---
Add a Liner
Envelope liners not only add a layer of protection during mailing, they're also pretty! An A7 ebony envelope is paired with a custom printed radiant white liner in this example.
We offer Euro flap liners for our A7 Euro flap envelopes and straight flap liners for our A2 and A7 straight flap envelopes. All of them can be ordered blank or printed with your supplied design.
---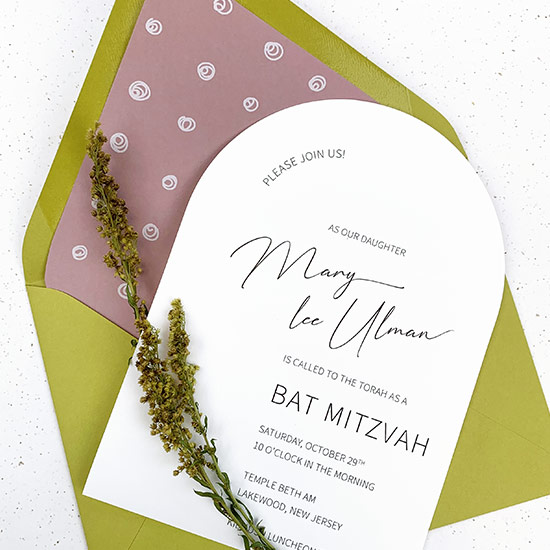 Here's that Liner Again…
…This time printed in white – a final example of how a fun and colorful envelope can totally transform the look of an otherwise simple invite.
Products shown here: