Guide to 2019's Top Wedding Colors (In Paper, of Course)!
Looking for a little wedding color guidance and inspiration? You've come to the right place. This guide includes:
Answers to common wedding color questions
Top 2019 color trends for spring, summer, fall and winter weddings
Creative invitation inspiration
---
How Many Wedding Colors Can I Have?
Though it's your day and ultimately your decision, we recommend using no more than three wedding colors.
When it's time to make invitations and choose bridesmaid dresses and decor, fewer colors means fewer complications. Your venue will also look more polished and cohesive if you stick to two-three shades.
Want to check out all of our colors? Order a chip chart!
How Do I Choose My Wedding Colors?
Having trouble choosing wedding colors? Use one of these methods:
Go with what's in Season:
Which colors, flowers and elements will be naturally present on your wedding day? Go with those!
Flowers that are in season are always more economical than those that are not.
Wedding colors that complement nature's colors make for awesome outdoor photos!
Match the Venue:
Some couples choose colors that complement the theme or feel of their venue. For example, choose light blues and greens for a beach wedding or rich jewel tones for a ballroom wedding.
Go with what You Like:
If you've always wanted a green wedding, have a green wedding! Some couples just go with what they like regardless of season, venue or trend and that's ok.
What are the Best Wedding Colors for 2019?
Now that you know how to choose wedding colors, here's a little inspiration based on 2019's top trends.
---
Seedling & Sage Green

Seedling & Sage are surprisingly neutral and work with a variety of colors and seasons. Pair them together or mix them with pops of color to create the look you love.

Spring or Summer Wedding? Try Sage, Rosa & Sea Grass
What's Shown Here: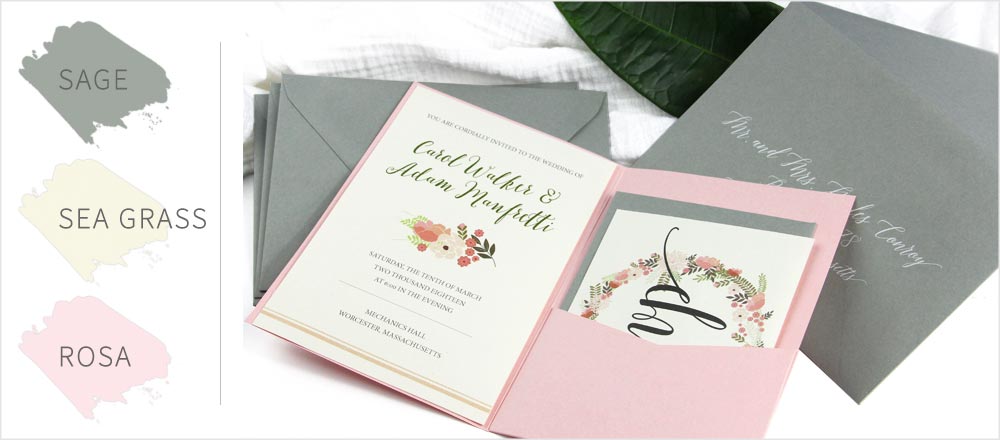 Seedling, Sage & Wedding White are Classic for Fall or Winter
What's Shown Here:
---
Dusty Blue

Dreamy dusty blue is all the rage this year. These medium blue tones pair beautifully with soft neutrals and pastels but can be used with bolder color as well.
Placid, Sage & Timberwolf Gray are Great for Beach Weddings
What's Shown Here
DIY flat seating cards made with 8 1/2 x 11 card stock in the following colors:
Like the look? Make your own using this tutorial:
Ombre Wedding Seating Chart Idea (Templates, Instructions)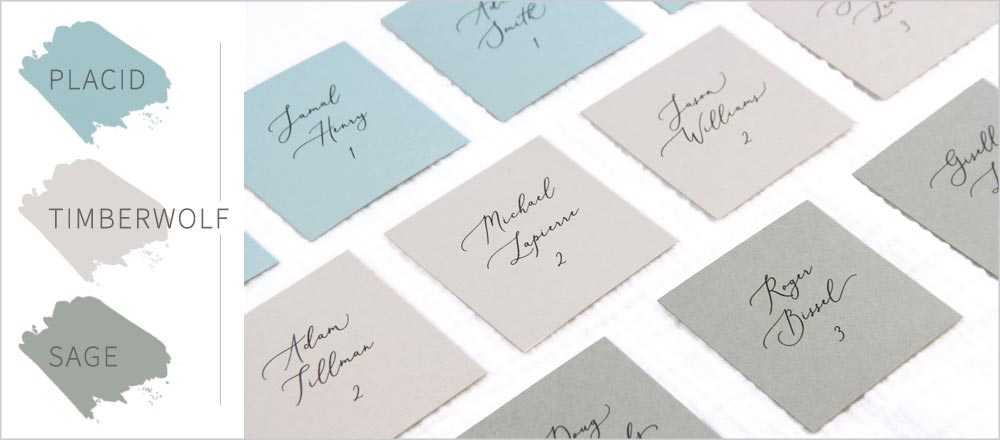 Marina, Merlot & Pop of Sun Glow a Fun Choice for Fall
What's Shown
---
Blush Pink
Year after year, soft, subtle blush continues to be a top wedding color. Pair with light shades for spring and summer and warm, dark tones for winter. You'll be surprised how versatile it is!

Coral, Light Sky Blue & Chardonnay – A Light & Lovely Combo for Spring & Summer
What's Shown Here
8 1/2 x 11 card stock custom cut to 5 1/2 x 5 1/2 in the following colors:
Nude, Merlot & Walnut – A Rich, Warm, Color Combo for Fall & Winter
What's Shown:
Like the envelope return addresses? Download free return address templates here!