Is one printer type generally better than another?
With so many printers on the market, the choices can seem overwhelming. But if you knew that you wanted a certain type, be it laser, inkjet, or an all-in-one inkjet, you could eliminate the other categories and be left with a less complicated decision. We have extensive experience printing metallic papers and card stock and we're ready to share our findings and test results. Our goal is to help you make a wise decision based on your printing habits.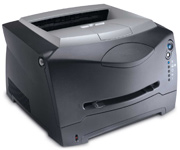 Laser Printers
Toner-based laser printers apply sharp, crisp, dark, well-saturated text on metallic paper. However, the toner may be prone to very subtle flaking and breaking from the non-porous paper surface. After the metallic sheet has printed, there's virtually no drying time to consider. You can handle the paper right away.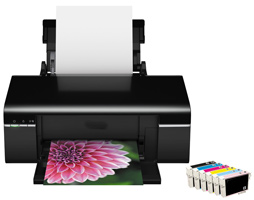 Inkjet Printers
While inkjet printers excel in their versatility, especially if photo printing is something that interests you, in general, printed text is not as sharp as that of laser printers. Challenge inkjet printers with the task of printing on metallic paper and results are hit and miss, depending on the particular printer and the composition of the sheet's metallic finish. More printing limitations arise from wet ink sprayed onto the metallic paper surface. Because the ink cannot bond to the metallic finish as quickly as toner, the printed result is not as precise or as dark as laser printing. And inkjet printed metallic paper always needs extra drying time–sometimes up to 24 or 48 hours–where the paper cannot be handled.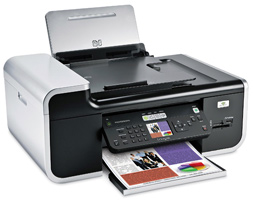 All-in-One Printers
Essentially inkjet printers with extra functionality, all-in-ones are limited to the same issues as detailed in the Inkjet Printers section: bleeding and less-precise text, lighter, less-saturated black ink, and a mandatory period of drying time. The added scanning and faxing features don't excuse the fact that wet ink is being sprayed onto a metallic finish paper surface.
Although inkjet printers are at a disadvantage, don't rule them out!
Extra drying time is unavoidable, but we have heard from customers who've achieved great results from their inkjet printers. Jennifer of Red Monkey Press in Minneapolis, MN shares her experiences printing on Stardream metallic paper:
I inkjet print on Stardream paper a lot. I have found that certain Stardream colors take the ink better than others. For example, Opal prints like a dream, but Crystal takes a bit longer to dry. You can usually tell the problem colors by the way the cardstock feels; rougher-textured paper doesn't absorb the ink as quickly as one that feels smoother.
Read more about inkjet printing on Stardream Metallic Paper
---
Paper thickness can be a factor.
Whether you go with laser or inkjet, research the printer's paper specifications to find the heaviest paper weight the printer can accept. You wouldn't want to invest in a printer and then find out it can't handle the metallic card stock that you want to print.
For example, 2 of the 5 printers that we tested for this article could not handle the weight of our metallic card stock so we had to use lighter text weight sheets for testing.
Need help with cover vs. text weight and paper weights in general? Watch our video, Learn About Card Stock Paper Weight & Paper Density.
---
Metallic Print Test Results from 5 Different Printers
Our Testing Methods:
We printed wedding program wording onto 8 1/2 x 11, 81 lb, metallic text weight paper–Aspire Petallics Spearmint to be exact. Our program wording was printed with Microsoft Word software and used the Edwardian Script ITC font which is more challenging for our printers than a non-script font.
After printing, we scanned the metallic sheets at 600 dpi using the Canon CanoScan 9000F scanner. Images were cropped close to show detail, but not no further editing was performed.

Ready to see the printing results and read our analysis?
Open our LCI Paper In-House Test Printing Results PDF file to see comparative printing results from each printer.
---
Printing Results Summary: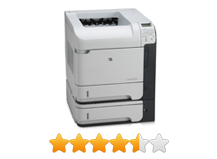 HP LaserJet P4015tn laser printer
Robust, black & white laser printer, networked for an office setting
$800 – $1,200
HP does not recommend printing cover heavier than 74 lb
Conclusion: Text is sharp, crisp, and true black, making for almost perfect printing on text weight metallic paper. Unfortunately, since the printer can only print up to 74 cover, it cannot handle the heavyweight metallic card stock brands like Stardream and Aspire Petallics.
---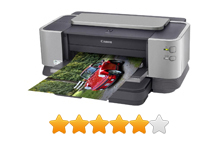 Canon iX7000 inkjet printer
13 x 20 wide format business inkjet printer with networking
$190 – $380
Conclusion: Although not as sharp as laser printing, delivers great printing performance from an inkjet printer, especially on text weight sheets. With three paper trays, you'll be consulting the manual on which papers, based on weight & size, load into which trays. We noticed slightly less black ink saturation the heavier the paper we printed.
Full Review: Canon Pixma iX7000 Large Format Ink Jet Printer
---
HP Envy 100 inkjet printer
Stylish, wireless, web-connected printer/copier/scanner
$190 – $250
Cannot print cover over 75 lb
Conclusion: Strong printing performance on text paper, comparable to the Canon iX7000. Not quite as sharp as laser printing. Cannot print cover over 75 lb which eliminates the ability to print heavy card stock like Stardream & Aspire Petallics cover.
Full Review: HP Envy 100 e-All-in-One Inkjet Printer
---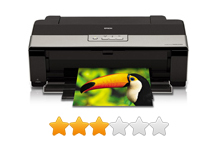 Epson Stylus Photo R1900 inkjet printer
Wide format 13 x 44 inkjet printer
$300 – $540
Conclusion: The ink is certainly not as black as the others and the bleeding is also a bit worse. But it can print heavy card stock and was able to print the metallic 105 cover we tested.
Full Review: Epson Stylus Photo R1900 Ink Jet Printer
Note: R2000 replaces this model. Worth considering
---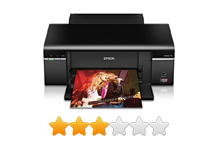 Epson Artisan 50 inkjet printer
Compact, basic inkjet printer
$120 – $150
Conclusion: Although the black text is more saturated than the Epson R1900, the bleeding is a bit worse. Overall, the printing quality falls short of the higher rated Canon Pixma iX7000 and HP Envy 100. A plus is that it can print heavy metallic card stock.
Full Review: Epson Artisan 50 Inkjet Printer
---
Editor's Pick
We've barely scratched the surface in testing just 5 of the hundreds of current home printer models so we certainly hope you'll get out there and research on your own, testing whenever possible. But, based on this test, with a focus on which is the best printer to print metallic paper, we can offer our opinion. At only $190, the Canon Pixma iX7000 inkjet printer is a great value. Not only does it print on metallic paper with exceptional quality considering it's an inkjet, it has the ability to print metallic sheets up to 11 x 17. With three different paper input trays, there is a bit of a learning curve, but we think the savings is worth the extra effort.
---
Need more help? We're here for you.
We hope we've made you more aware of some important areas to consider when choosing a printer for metallic paper. If you have any further questions, let us know. We are happy to help.