2 Metallic Pens Put to the Test on Cotton Envelopes
Many question hand writing or calligraphy on 100% cotton envelopes due to their highly tactile, porous, and absorbent finish. In this post, we put two types on pens to the test on our cotton envelopes to see which might work for hand writing or DIY faux calligraphy, if you prefer.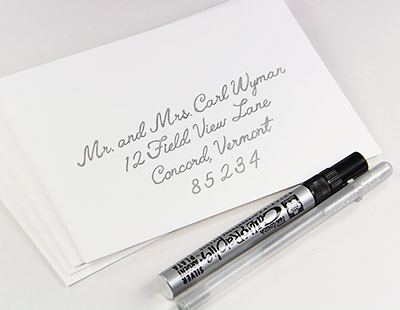 We traced addresses onto A7 Cotton Wedding White envelopes in silver ink using the following two styles of pens:
Test Pens
Test Points
Ease of Writing or Tracing
Coverage
Bleeding
Drying Time
Our results and recommendations are below.
---
Calligraphy Marker
Our medium point calligraphy markers have fairly wide, flat, spongy tips that write with an even flow of opaque paint. They are offered in silver, gold, white, and black. The results of tracing smaller and larger addresses with these pens are pictured below.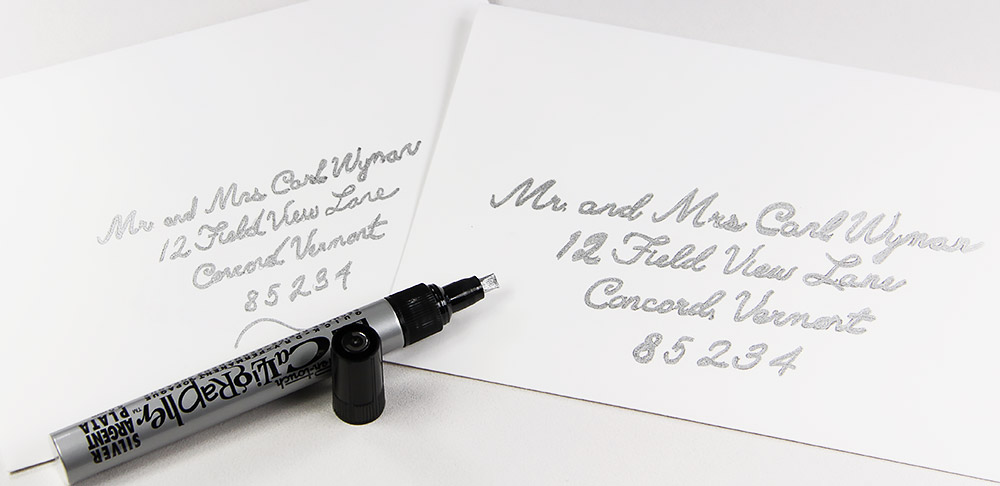 Pros
Smooth, easy writing over cotton finish
Even coverage
No bleeding
Fast drying
Cons
Wide tip made precision writing (or small letters) difficult, even when using just the corner
Pen has a strong odor
Gelly Roll Pen
Gelly Roll pens have small roller ball tips that roll opaque gel onto the surface. They come in several styles, multiple ball sizes, and a full spectrum of colors. Here are our results: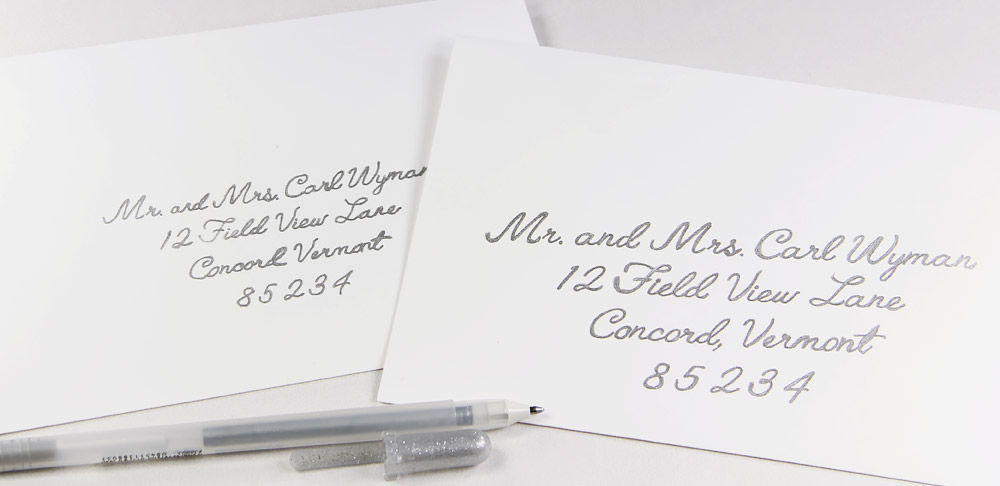 Pros
Smooth, easy writing
Even coverage (on small letters)
No bleeding
Cons
Larger or thicker letters require multiple passes which may result in uneven coverage
Slower drying time
Conclusion & Recommendations
Both pens produced acceptable results on the tactile and absorbent surface of cotton envelopes. Both pens flowed smoothly over the paper, did not bleed, and provided nice coverage. However, for smaller, more detailed letters, we recommend Gelly Roll pens, and for larger, bolder letters, calligraphy markers seem to do the trick.