The Results are In – Roller Ball Gel Pens Best for Hand Writing on Wood Grain
The deeply embossed texture found on wood grain envelopes is a striking one, but unfortunately it is also one that can be tricky to write on without the right type of pen.
To determine which pen was best for writing smoothly, consistently, and easily over the bumps and grooves of wood grain envelopes, we tested three different pens:
Black, dual tip calligraphy markers
Gelly Roll roller ball gel pens
Metallic opaque paint calligraphy markers
For consistency of hand writing, the same address was printed on all of the envelopes using an ink jet printer, then traced with the various pens.
Find out which pen passed the test in this video!
---
Black calligraphy markers have two flat chisel tips, one larger than the other. Tracing the address on a Limba (white) envelope using the small tip of the pen, we got the following results:
Writing was precise – able to trace the fairly small 12 point font of the address
Writing not smooth or consistent – hard to get chisel tip into deep grooves of texture resulting in white space
Physically difficult to write dark and clear over textured grooves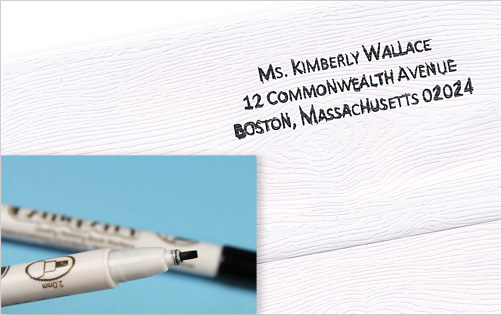 Gelly roll pens feature a roller ball tip that allows for a smooth, free flow of ink onto paper.
To test these pens, we traced the addresses on dark brown Bubinga envelopes using opaque white Classic and gold Metallic Gelly Roll pens.
The results were great!
Writing was precise – able to trace the fairly small 12 point font of the address
Writing smooth and consistent – ink flowed from roller ball tip flawlessly into grooves of the envelope
Physically easy to write vibrant, clear text on envelopes
3. Metallic Paint Calligraphy Marker
Metallic calligraphy markers feature a fairly large, rounded, spongy tip that disperses opaque metallic paint. When we tested a silver metallic marker on a Limba envelope, here is what we found:
Writing not precise – large tip made it difficult to form small letters precisely. Neatly tracing address was not possible.
Writing smooth – paint flowed easily onto paper and into grooves
Writing was physically easy and vibrant on paper
Note: Metallic calligraphy markers may be best for writing larger letters, and may not be appropriate for addressing envelopes.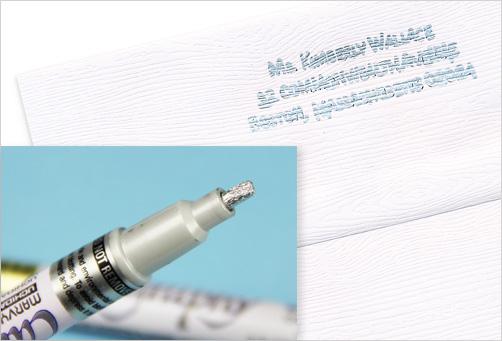 Conclusion – Gelly Roll Pens Worked Best
After testing the three types of pens, we determined that Gelly Roll pens with smooth flowing roller ball tips worked the best for smooth, consistent, vibrant writing on heavily textured wood grain envelopes. In addition to ease and consistency, Gelly Roll pens are available in several styles and colors that pop on both Limba and dark brown Bubinga envelopes.