DIY Banded Invitation Design – As Seen on Top Wedding Sites!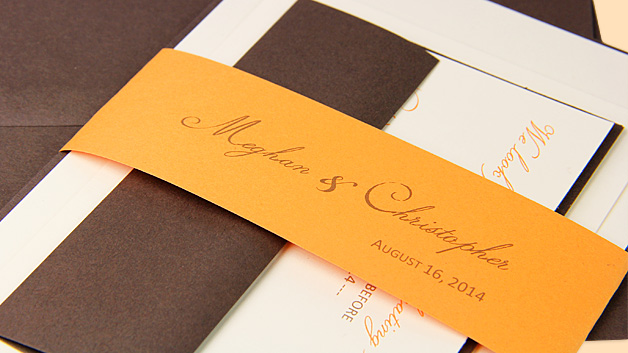 As featured on Top Wedding Sites, this DIY invitation is a simple combination of ecru invitation, reception, and response cards wrapped up in a customized paper band.
If you love this invitation as is, use the Add to Cart button below to order the materials to recreate it exactly as shown. If orange and brown aren't quite your style, use the detailed materials list to design it in a unique color scheme of your own – the choice is yours!
For detailed instructions on how to print and assemble this invitation, please visit the full tutorial on the Top Wedding Sites blog.
Materials To Customize Banded Invitation
Envelopes
Pre-Cut Blank Cards
8 1/2 x 11 Text Weight Paper for Bands
* Be sure to select Text Paper, not Card Stock
Additional Tools