Aspire Petallics for Designs that Impress
Add a "wow" factor to your next creative project with Aspire Petallics metallic specialty paper. With its lustrous dual-sided, mica-infused finish, Petallics is simply striking, and simply ideal for creating eye-catching designs. The highlight of the Petallics line is by far its glimmering and diverse color palette. Offered in a broad range of shades from traditional whites, to soft pastels, to rich reds and deep blacks, Petallics covers it all. Choose from multiple weights and smooth and linen finishes. Whether the tone of your design is professional, elegant, or whimsical, if it's made with Petallics, it will be impressive.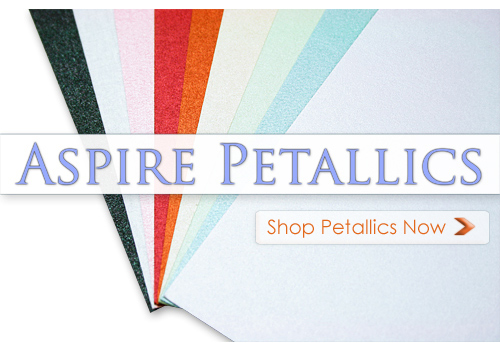 Eager to Start Your Impressive Design?
At LCI Paper We Offer More Than Aspire Petallics Paper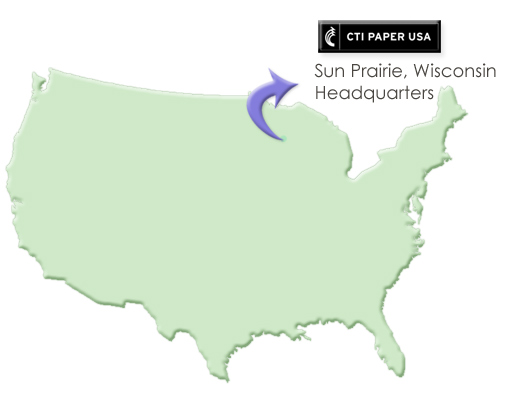 A Product of CTI Paper USA?
Must Be Some Fine Paper.
Aspire Petallics is a product of CTI Paper USA. An esteemed paper company headquartered in Sun Prairie, Wisconsin, CTI continuously researches, develops, and strives to produce papers that meet the highest of industry standards, and the most discriminating of tastes.
Backed by standards of environmentally conscious paper manufacturing, quality, beauty, and modern style, you can be confident that the fine papers of CTI are always in good taste.
Learn more about CTI Paper in LCI Paper's interview with CTI Paper President John Kelly.
So Much More Beneath That Shimmery Surface
Much more than meets the eye, Aspire Petallics paper is manufactured not only with beauty in mind, but with the quality, longevity, and the environment as well. Petallics is manufactured:
Carbon neutral
Elemental chlorine free
Acid free
Lignin free
Many Petallics sheets are made with 30% post consumer waste (PCW) recycled content
What a Variety!
Colors Classic & Modern, Finishes Linen & Smooth
Petallics is available in a wide range of vibrant colors; from bright sparkling whites to deep shimmering blacks and a rainbow in between.
In a small, neutral variety of these colors, Petallics is also available in a subtle linen finish.
And to Add to the Variety, Multiple Weights.
To best suit your project, the Aspire Petallics line is available in a heavy-weight card stock and in a lighter weight text paper.
98lb Cover
105lb Cover *
80lb Text
81lb Text *
* New ink jet compatible colors only – Black Ore, Snow Willow, Spearmint, Wine Cup
Pre- Cut Paper Sizes for Your Convenience
LCI Paper offers Petallics in a convenient, and rather extensive range of pre-cut paper and card sizes, as well as in a variety of modern style invitation pockets and wraps.
And a Matching Line of Envelopes as Well
Send your correspondence off in style with eye-catching Petallics envelopes. Choose from a range of popular correspondence sizes from a small rectangular response size to a large and modern 7 1/2 inch square size.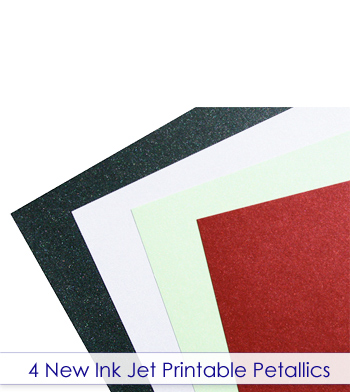 Printing on Aspire Petallics
Due to its non-porous, non-absorbent metallic surface, Petallics is recommended for laser printers.
But Wait! 4 New Colors of Petallics are Ink Jet Compatible!
LCI offers four new Petallics papers with improved ink jet acceptability. That's right, Snow Willow, Spearmint, Wine Cup, and Black Ore can be printed with an ink jet printer, not just a laser! This paper just keeps getting better.
See the video for more information.
Video: New Petallics Colors with Improved Ink Jet Compatibility
Conventional Print Methods
The following methods of print are also recommended for Petallics:
Digital Printing
Offset Lithography
Embossing
Engraving
Foil Stamping
Silk Screening
Thermography
Oh the Designs You Can Create. . .
Did you know that Aspire Petallics has been the paper of choice for projects done by Disney World, General Motors, and several high-rolling casinos?*
*See interview with CTI's John Kelly above
It comes as no surprise that Petallics' polished, lustrous appearance was chosen by these high profile companies, or that it is chosen by average consumers every day for creating unique designs that make a lasting impression. Petallics is great for creative designs of all sorts including:
Invitations
Announcements
Promotional Pieces
Professional Presentations
Event Programs
Gift Wrap & Packaging
Price Point

In a comparable price range of all lines of paper offered by LCI Paper, Petallics is given a 3.25 our of 5. Let's face it, Aspire Petallics is one seriously awesome line of paper. Aesthetics aside, it comes from well-known, highly reputable CTI Paper which offers papers backed only by high standards of beauty, quality, longevity, and environmentally responsible paper manufacturing. Priced just slightly above the mid-grade range, Aspire Petallics is certainly a great value, and given its "wow factor", certainly worth every penny!
Comparable Brands
With almost indiscernible differences, the Aspire Petallics and Stardream lines are similar in the following ways:
Dual sided mica-coated metallic finish
Similar cover and text weights
Available in wide range of colors and sizes
Matching envelope line available
Pockets and wraps available
Similarly priced