Traditional Calligraphy? Modern Printing? – Pros & Cons for You to Decide!

When it comes to addressing wedding envelopes, there are two schools of thought – stick to tradition with handwritten calligraphy, or go modern with machine printing. So which way is the "right" way? In today's day and age, though traditionalists may disagree, we say both are correct, and that the choice is yours.
So to help you decide between handwriting or printing for your wedding envelopes, we've compiled a list of the pros and cons of each. Read it, think about it, consult your budget, then decide!
---
Traditional Wedding Calligraphy for Envelopes
Yes, ever since your great, great grandparents' wedding day, handwritten calligraphy envelopes have been around to invite guests to the big day. They're classic, they're elegant, and there's no denying, they're really quite pretty – but they are not for everyone.
Are they for you? Here's the rundown on handwritten envelopes:
The Hand Addressed School of Thought – Etiquette & Tradition Rule
The hand calligraphy school of thought stems from the following:
Traditionally, social correspondence (like say, wedding invitations) is addressed by hand, and business correspondence (threatening letters from the IRS) is addressed and printed by machine.
Folks from this school of thought feel that hand addressed envelopes follow wedding tradition and proper etiquette, and are more appropriate than digitally addressed envelopes.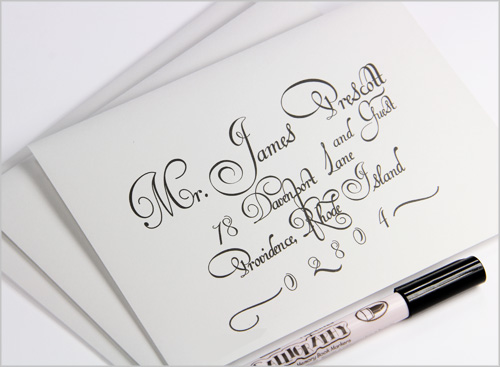 How It's Done
There are three ways in which you can have handwritten wedding envelopes, the first of which is most common and generally preferred.
— Professional Calligrapher
Typically, envelopes are taken to a professional calligrapher who has a fascinatingly steady hand and impeccable handwriting skills. He/she will hand write each of your addresses in a unique and lovely fashion.
— DIY "Faux" Calligraphy
If you do not have the means to take your envelopes to a professional, and do not love the look of your own handwriting, you may choose DIY calligraphy. With this method, you print in a calligraphy font then trace over it with a nice pen. Who will ever know?
— Go For It – Just Write
If you have nice penmanship, just go ahead and address your own envelopes!
The Pros
They follow wedding tradition and etiquette
They're timeless – no guest, young or old, classic or contemporary, will balk
They offer a nice personal touch
They're unique – each envelope is unique, and your invitations will look unique
DIY handwriting is economical
The Cons
They're pricy (if taken to a professional calligrapher)
They're time consuming
Sometimes hard to read
---
Modern Machine Printed Envelopes
A more modern approach, machine addressed and printed envelopes are fast, convenient, and can be made to match any invitation style you please! And yes, you can even print in font that will mimic calligraphy!
The 411 on printed envelopes:
The Machine Addressed School of Thought – Speed and Efficiency Rule
Those who do not mind machine printed envelopes (or even prefer them) think something like the following:
Yes, wedding tradition is nice, but in today's modern times, it does not necessarily have to be followed. Machine printed envelopes look great too, and have that added bonus of being economical and super fast!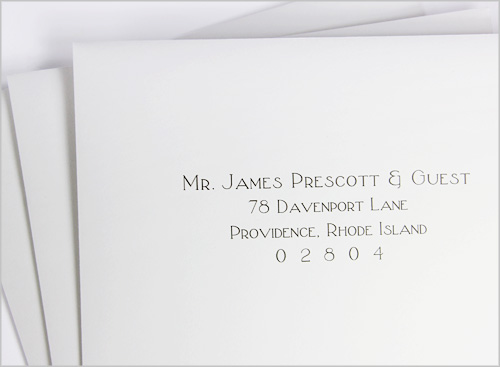 How It's Done
There are two ways in which you can quickly address and print your wedding envelopes:
— Print Envelopes at Home
With the proper equipment and know-how, home envelope printing can be easy, quick, and convenient. All you need is a computer, a program with a data merge feature such as Microsoft Word, and a printer.
— Order Printed Envelopes
If you do not want to deal with home envelope printing, you can always order them printed from us! Simply click Order Printed, shoot over your guest list, and in a few days, professionally printed and addressed envelopes arrive at your doorstep. How's that for efficiency?
The Pros
Fast!
Economical
Convenient – just click print (or order printed!)
Uniform, neat addresses
Legible addresses – postman will thank you
Address text can be printed to complement any invitation style
The Cons
Do not follow wedding tradition – some traditionalists may balk
Less personal
May not be quite as unique as calligraphy
Home envelope printing can be stressful without the proper knowledge or equipment
---
So What Will It Be?
Ultimately, the choice between handwritten or printed envelopes comes down to preference, budget, and your own personal invitation/wedding style, though we hope that this information has helped you in your decision!
If you have any questions or comments on envelope addressing, or wedding envelopes in general, please leave a comment below.