Gatefold cards are great for wrapping up and organizing invitations, but those darn flaps never stay closed! Below, we share our five favorite ways to close (and nicely decorate) gatefold invites.
Wrap it Like a Present
Make guests feel like they're opening a present with this classic ribbon tying method. It's simple and it looks nice, and who doesn't like opening presents?
What it is
Beach Sand gatefold
Cream 1/4 inch satin ribbon.
How we did it
Just like you would wrap a gift, wrap the ribbon horizontally across the front, twist it in the back, bring it back to the front, and tie.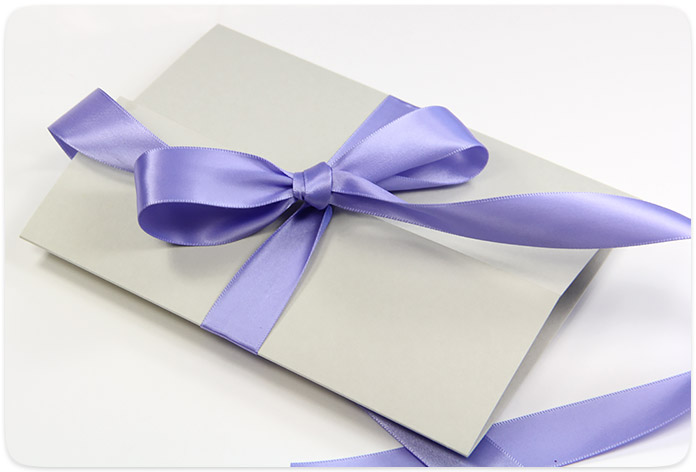 Glue some Ribbon On
Here we attached a wide ribbon to the gatefold and tied it into a decorative bow in the center. This way, the ribbon stays with the card and can be tied and untied as necessary.
What it is
Rain gatefold
Iris 7/8 inch satin ribbon.
How we did it
ZipDry was used to glue ribbon to the entire back side of the gatefold and flaps, then tied into a bow.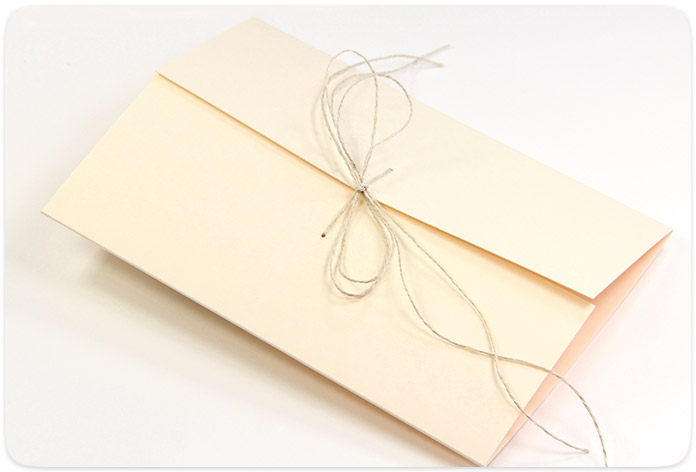 Punch some Holes, Tie some Twine
A more rustic look, in this example we punched holes in the gatefold flap and laced some twine through them. String or ribbon would work too.
What it is
Antique Ivory gatefold
Hemp twine
How we did it
A ruler and pencil were used to measure and mark the punch location on the flaps, then punched with a 1/16 inch round micro punch.
String It & Tag It
For a more personal touch, use string, ribbon or twine to tie a monogram or logo tag on.
What it is
Light Sky Blue gatefold<
Hemp twine (red)
89lb Gmund Colors Matt Snow card stock (printed then cut to 2 3/4 square)
How we did it
(12) 2 3/4 square cards were printed to one 8 1/2 x 11 sheet, then cut. A hole was punched in the corner of each tag, then tied on with twine.
Here, we wrapped the twine around many times, but a more subtle look with less twine would work as well.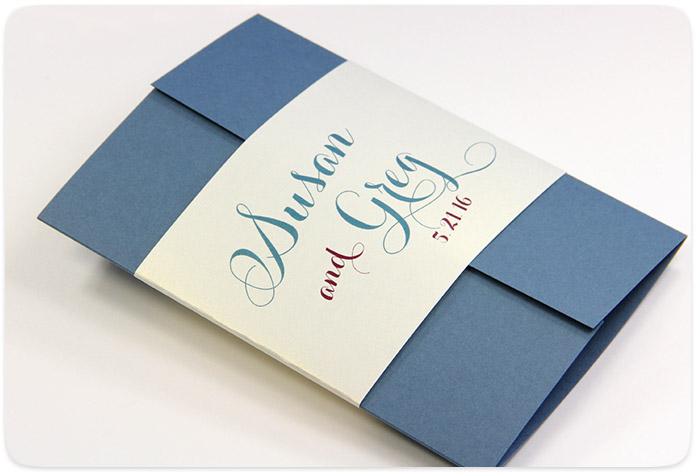 Wrap it in an Invitation Belly Band
Instead of a personalized tag, this gatefold is closed with a personalized belly band.
What it is
How we did it
It was easy! We printed and cut two 3 1/2 x 11 bands from one 8 1/2 x 11 sheet. The belly band was wrapped around the gatefold and secured in the back with glue.