Envelopes, Tissues & Other Top Mailing Secrets
Your invitations are your guests' first glimpse into your upcoming event. After you spend hours designing and assembling your own statement-making pocketfold wedding invitations, you want to be sure they arrive at your guests' homes looking great! But there's a curve ball – unless you're hand delivering each invitation, they'll have undergo the rigors of mailing.
The mailing process can be tough on invitations – tearing, marking, return to sender stamps – all horrible things you don't want happening to your lovely invitations.
Read through our tips & learn how to protect your pocket invitations from mail box horrors.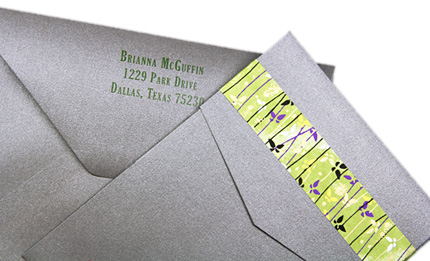 1. Don't Be Fooled Invitation Pockets Make Bad Mailing Envelopes
Since pockets house your invitation cards much like envelopes do, many are inclined to think that outer envelopes are not necessary when mailing pocket invitations – but they most definitely are.
The main purpose of an invitation pocket is to stylishly organize your invitation ensemble. There's a panel for an invitation card and a pocket for all those extra detail cards – reception, direction, RSVP, etc. After you stuff it, you wrap it around your cards, creating one neat, compact invitation folder. At this point is sounds almost like it could be used as an envelope, except. . . the sides are open, and that outer flap, doesn't seal.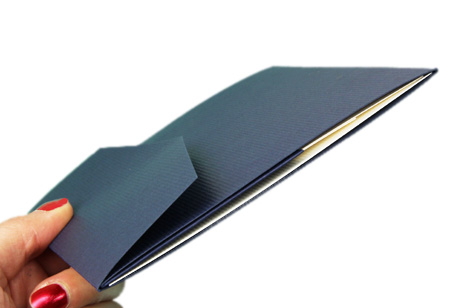 Open Sides & Non-Sealing Flap Expose Your Invitation Inside
With such an open design, the components inside of your invitation pocket are exposed to the elements (rain, snow) during mailing. The open flaps and sides are also likely to get snagged in route, resulting in bending or tearing.
Avoid Marks & Dirty Pockets
You want your pockets to arrive at your guests' doorstep looking as great as they did sitting in a pile on your kitchen table. If you do not place them in an outer envelope, they will be exposed to postal markings, dirt, dings, rain, snow, dogs, and who knows what else.
Avoid this & protect your invitations from catching, tearing, and marking by using mailing envelopes. We highly recommend you use them!
2. Save Money, You Don't Need Double Envelope
While we are on the topic of envelopes, let's discuss the use of double envelopes with pocket invitations.
Double Wedding Envelopes are Traditional. Pockets are Modern.
Using double envelope sets is a wedding tradition that dates back hundreds of years. While they are still very commonly used, they tend to be reserved for invitations that are more traditional in style. Inner and outer envelopes are not often used with modern style pocket invitations, as a result.
Your Pocket Is The Inner Envelope
Traditionally, inner envelopes are used to organize & protect your invitations and enclosures from weather, dings, tearing & other rigors of mailing. Upon arrival, the marked up outer envelope would be discarded, leaving guests with a nice, clean, inner envelope. Sound familiar?
The pocket does a similar job of protecting your invitations while the outer envelope protects the pocket during mailing.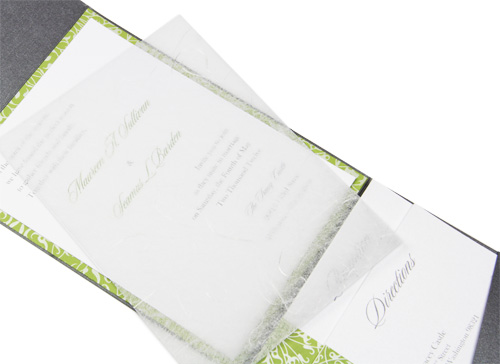 3. Use Invitation Tissue & Avoid "V" Shaped Smudging
When all folded up, the panel with the pocket falls on top of the invitation card panel. During mailing the v-shaped pocket will rub against the printing causing smudges, known as v-shaped smudge stain.
How do you prevent this? The very simple, very economical addition of invitation tissue. Just place a single piece between the two panels to help prevent smudging, worry & frustration – it's as easy as that.
4. Be Sure Envelopes are Well Sealed
There's no ifs, ands, or buts about it, pocket invitations are thick, heavy, and bulky. Made of heavyweight card stock wrapped multiple times around several heavyweight invitations & enclosures. Wedding envelopes are made to seal bulky pocket invitations without tearing, however, the thicker the invitations the more the sides bow and the less accommodating the envelope become. Pocket invitations are a tight fit – so pull that flap down tight and press a little longer on the gum seal. This extra effort will help make sure your envelopes stay closed in the mail.
Pay Attention When Sealing Wedding Envelopes
5. Determine Accurate Postage & Hand Cancel
According to the United States Postal Service Guidelines, mail that weighs over 1 ounce or is odd shaped will require additional postage. Due to their very heavy weight, most, if not all pocket invitations will require additional postage. The exact amount of postage will vary with the weight and shape of your invitation pockets.
Your best bet? Bring one complete ensemble to the post office. They'll weigh it there to determine accurate postage. This way, before sending, you can be sure that your invitations won't come back with a big "return to sender" stamp."
While at the post office discuss having your invitations hand cancelled. This simple request will help eliminate tearing and damage caused by the high speed sorting machines used for most mail. This request is granted or denied by each post office, so discuss this request with them. Further, since mail does travel through different sorting centers your invitations may ultimately go through an automatic sorter.
Check out these other helpful wedding invitation mailing tips!
10 Ways to Save on Mailing Your Wedding Invitations