Our Favorite Ways to Add Vellum to Invitation Programs – What's Your Favorite?
A seemingly endless trend, vellum and wedding programs seem to go hand in hand, and with so many ways to incorporate translucent vellum into your programs, we see why!
Here, we share our five favorite ways to use vellum in programs, list the materials we used, and explain just how we did it! Look them over and let us know, what's your favorite vellum wedding program idea?
---
1. Heavyweight Vellum Paper as a Cover
Here, we created a 5 1/2 x 8 1/2 folding program with a heavyweight vellum cover, polkadot pattern printed insert paper, and a satin ribbon tie. The vellum cover works to soften the polkadot pattern beneath while still letting it show through, and the ribbon serves as a practical and decorative accent, holding everything together.
Materials We Used:
How We Made It:
After printing a design on the front of the vellum cover, we scored (pre-creased) it at 5 1/2 inches to create a 5 1/2 x 8 1/2 folder. Next, we printed a purple polkadot pattern on one side of the Radiant White text paper and the program information on the other. We folded and placed the polka dot paper inside of the vellum cover, then tied it together with approximately two feet of satin ribbon.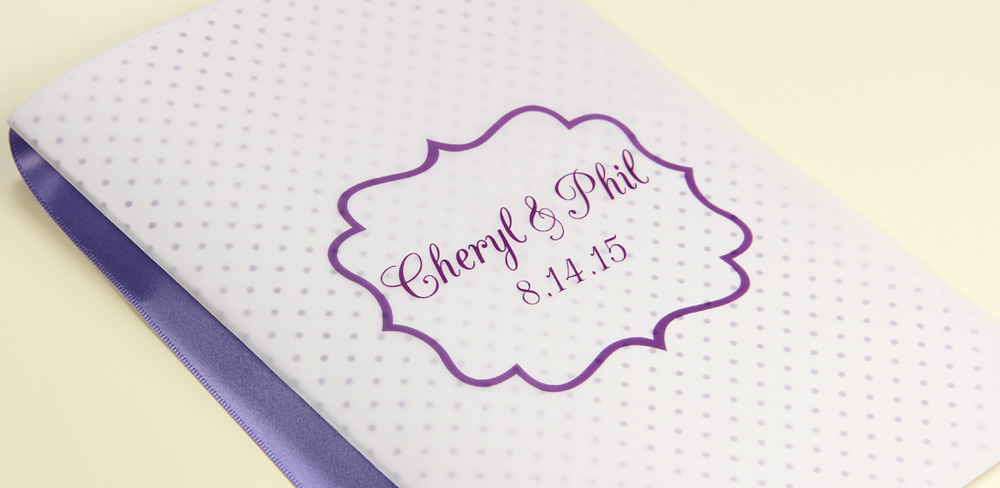 2. Printed Vellum Overlay with Photo Beneath
In this example, colorful vellum was used as a photo overlay on a landscape 4-tier wedding program, held together with a single ribbon handle.
Materials We Used:
Satin Ribbon – 1/4 Inch – Black
How We Made It:
First, we cut our individual tiered layers to the following dimensions:
4 x 7 (blue vellum overlay and Beargrass photo layer)
4 x 8
4 x 9
4 x 10
After printing the layers, we stacked them neatly, punched a single hole through them all, and ran approximately 10 inches of ribbon through the hole and tied it to create a handle.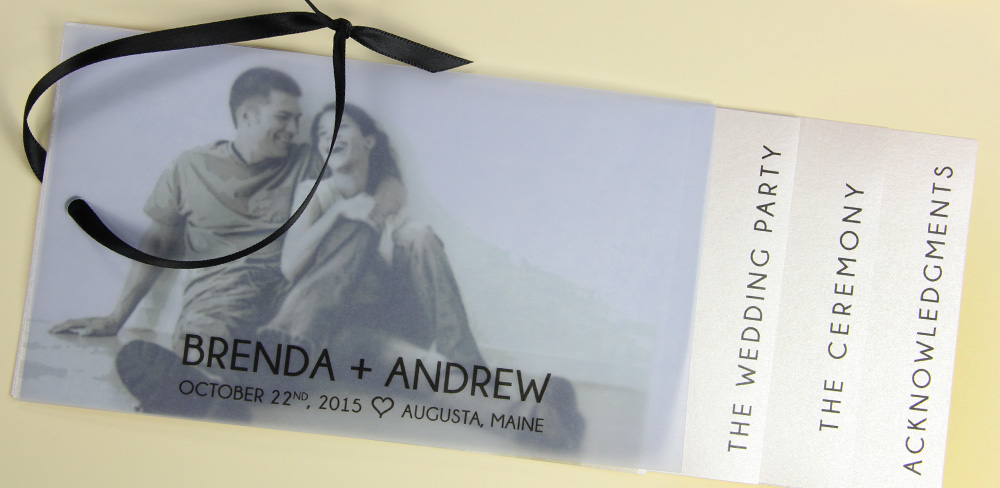 3. Wide Printed Vellum Belly Bands
A decorative and practical way to hold folding wedding programs closed, below you see two examples of 4 inch wide printed vellum invitation belly bands wrapped around A7 folders.
Shop Belly Bands for your Invitations
Materials We Used:
How We Made It:
Since these bands are 4 x 11 inches wide with a design that bleeds to the edge of the band, we printed one band to an 8 1/2 x 11 sheet. Next, we cut them to size, wrapped them tightly around the program folders, and adhered them where they overlapped in the back with ZipDry Paper Glue.
When assembling your programs, be sure not to adhere the band to the program cover!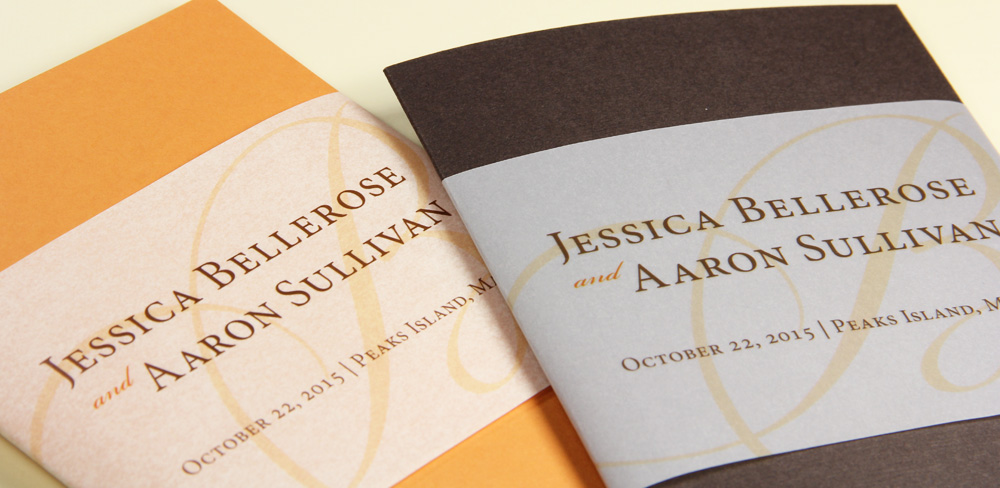 4. Printed Vellum Program Insert Sheets
This 5 1/4 square folding program uses printed vellum insert sheets which allows the decorative layer of Japanese Pearlized paper beneath to subtly show through. The whole ensemble is held together with satin ribbon.
Materials We Used:
How We Made It:
Both the Japanese pearlized paper and green vellum paper inserts were custom cut to 5 1/8 x 10 3/8 inches. After printing the program information on the vellum, we folded the vellum and pearlized paper in half, placed them in the program cover, and tied the whole thing together with approximately 18 inches of satin ribbon along the program spine.
5. Translucent Vellum Gate Fold
Finally, something a little off the beaten path, we took the popular tiered wedding program and placed it inside of a heavyweight vellum gate fold. This offers a fun and different alternative to placing your tiered program on a standard card stock backers or holding it together with ribbon.
Materials We Used:
48lb Glama Vellum
Stardream Paper – 81lb Text Lagoon & Crystal
ZipDry Paper Glue
How We Made It:
We cut/scored the papers to the following dimensions:
Vellum:
Cut — to 7 x 11 inches
Scored — At 3 inches and 8 inches (3 inches in from each side)
Stradream Text Paper (alternating colors):
3 7/8 x 4 7/8
4 7/8 x 4 7/8
4 7/8 x 5 7/8
4 7/8 x 6 7/8
After cutting, tiered layers were printed and stacked neatly. Each layer was glued to the next with just a dab or ZipDry at the top. Finally, the whole stack was glued to the vellum backer at the top, again, with just a dab of glue.