A large wedding, party, or corporate event can be easily organized with the help of place cards. LCI Paper offers a variety of place cards, the newest offering being circle place cards. LCI Paper's laser cut circle cards come in 3 convenient sizes, over 60 colors, and in 2 modern finishes to complement your event's style.
3×3 Circles, perfect for calligraphy.
5×5 Circles, add a design and personalize for each guest
8×8 Circles, create personalized modern menu place cards for your guests.
Below, you'll find a list of LCI's favorite circle place card designs.
---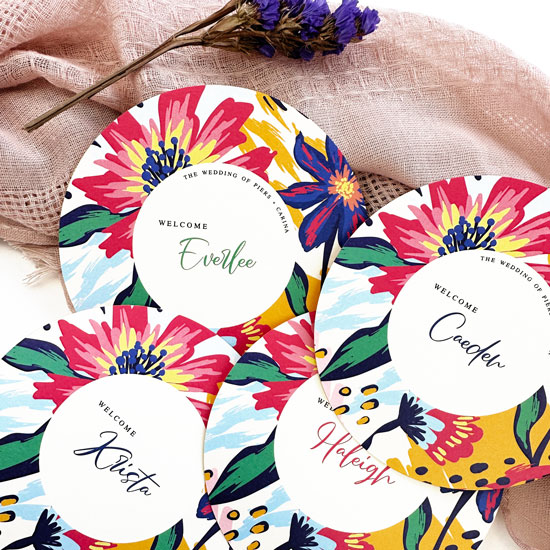 Floral Round Place Cards
Add a spring or summer vibe and a pop of color to your event by printing bright colored floral designs onto the round place card of your choice. Add in a personal message along with your guests' name and the date for a modern, memorable event place card.
Recreate these place cards
---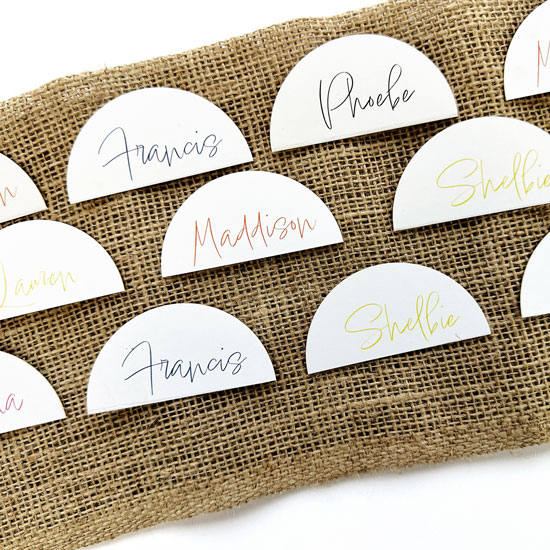 Demi-Circle Place Cards
Shown here are hand written circle cards cut in half to create flat demi-circle place cards. As an alternative, score the circle card and fold at the crease. Now, the other half of the circle is out of site and doubles as a stand for your guests to easily find their name in a sea of place cards.
Recreate the Look
---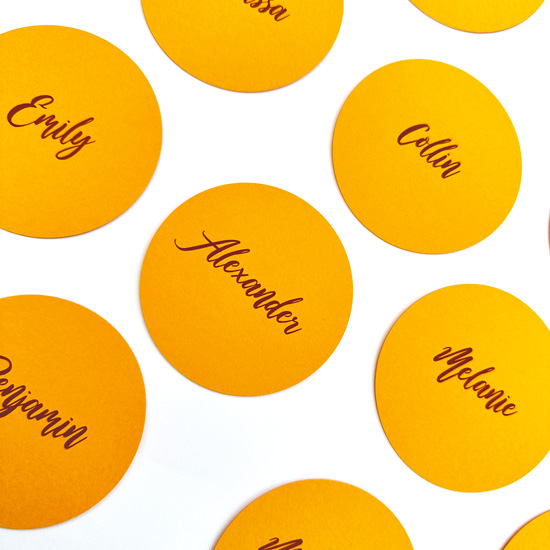 Calligraphy on Circle Place Cards
Handwritten place cards are the ultimate personalized piece. They are sure to blow your guests out of the water with the sheer elegance and uniqueness of a round, circle shaped place card. If you're an avid DIY-er, be sure to use a matte card stock with a smooth finish or call your favorite calligrapher.
Recreate the Look
---
Colorful Round Place Cards
Bright, bold colors are a huge hit so far in 2023. Print your guests' names in pretty colors, or choose to print on cards in over 60 colors offered at LCI. Shown in the example on the right are some of the most popular bright colors printed in both black and white ink with a simplistic design.
Recreate the Look with the Colors Below
---
A Note from LCI Paper: Printing on Circle Cards
Please note that circle cards cannot be printed on once they are cut, so instead these can be used for stamping or handwriting. If you would like your design printed on LCI Paper's circle cards, we recommend ordering your cards with printing so that we can cut them to the perfect size with our laser cutting service.