DIY Ideas For Stylish 5 x 7 Pocket Invites
Customer Patti from Michigan recently wrote in with a great question about our A7 portrait invitation pockets.
Patti writes:
I loved my pockets and envelopes, but the only problem I have is that the envelopes for the reply cards do not fit horizontally in the pocket invitations which throws off the entire look of my design. Please advise.
Patti is referring to the fact that standard sized A1 (3 5/8 x 5 1/8) response envelopes will not fit horizontally inside of a 5 inch wide pocket, so they must be oriented vertically, which may interfere with the look of stacked pocket inserts.
In this post, find out why A7 pockets are made this way, as well as three common ways to place vertically oriented response items in A7 pockets.
---
Why an A1 RSVP Envelope Won't Fit Horizontally in an A7 Portrait Pocket
The Math:
There is a good reason why standard rsvp envelopes do not fit in 5×7 pockets horizontally. It all comes down to basic math:
A7 pocket invitations fit inside of 5 1/4 x 7 1/4 A7 envelope
A7 pocket is 5 inches wide
A1 rsvp envelope is 5 1/8 inches wide
What it Means, and Why the Pocket Can't be Wider
In order for an A1 envelope to fit horizontally inside of a pocket, the pocket itself would need to be 5 1/4 inches wide – but remember, an A7 envelope is 5 1/4 inches wide. If the invitation pocket was the same size as the envelope it is supposed to go inside of, it just won't fit!
Same Story with A7 Posh Pockets and 5 x 7 pocket cards
You are going to run into the same issue with Posh Pockets and Pocket Cards – they are just a little bit too narrow for an A1 response envelope to sit horizontally. If you're using one of these pockets and you don't love the way a vertically oriented response envelope looks, there are ways around it – three popular choices that people often do.
---
1. Place Response Items Behind Stacked Inserts
The first option is to place the response items vertically behind the your stacked pocket inserts so that they won't interfere with the look of your stack at all. If you are a little bit worried about your guests not seeing the response items, don't be, because they are going to have to take out the stack of cards to read them, and when they do, they will be sure to see your response items.
---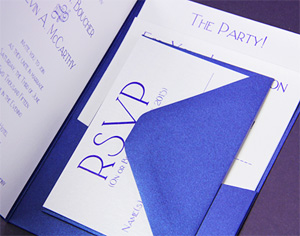 2. Place Response Items Loosely in Pocket
Another popular choice is to stuff your invitation pocket as it should look, then place your response card and envelope inside loosely. When guests open your pocket invites, response items will be seen first, but once they are removed, all that will remain is the nice stacked presentation that you had in mind.
---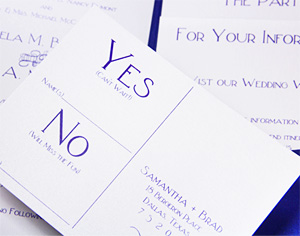 3. Use Post Card Response, Incorporate into Stack
Third, rather than using a traditional response card and envelope that you feel does not quite fit in with the presentation you had in mind, you might prefer to create a design that incorporates a post card as a stacked insert, thus flowing with your design better.
---
In the end, it really boils down to preference and what you feel looks best with your pocket invitation design. If you have any questions or would like to discuss this further, get in touch with us by phone, email, or live chat.