Read Before You Mail! Guaranteed to Save Time, Money & Your Sanity
When it comes to wedding invitations envelopes postage & mailing are important factors to consider first, last, and throughout the entire process. Before you run off to the post office, read these 10 tips on invitation mailing. They will save time, money, and hassle and help get your invites to your guests in great shape and on time.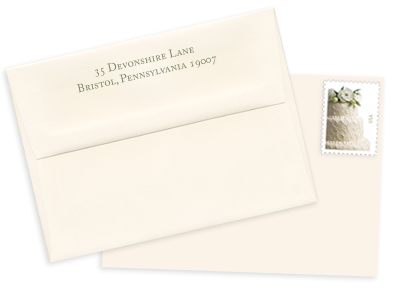 1. Postage Revolves Around Envelopes – Choose Envelopes First!
Before you design your invitations, be sure you have envelopes to mail them in. This may seem obvious, but all too often this crucial tip is overlooked.
Invitations can be made in any size, but envelopes are made only in standard sizes. Although an invitation can be altered to fit an envelope, and envelope can not be altered to fit an invitation. You do not want to finish your invites and find out there is no envelope available to mail them in – and if you're thinking about getting custom envelopes made, think again. Unless you are requesting thousands of them, you would be hard pressed to find someone to make them for you.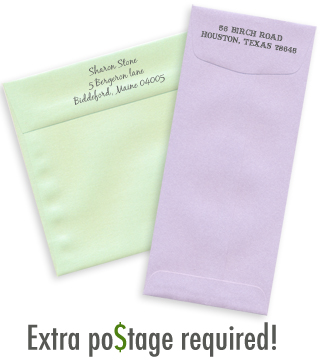 2. Recognize Envelopes of "Odd Sizes" Require Additional Postage
If you are concerned about wedding postage, be aware that envelopes of unusual shapes and sizes (square envelopes, most commonly) require additional postage.
The United States Postal Service has specific shape and size parameters that envelopes must fall within to be considered "normal" or acceptable for standard postage. Any envelopes that fall outside of these parameters can not be run through automated sorting machinery, and are therefore charged a "non-machinable surcharge" – 21 cents a piece*
To avoid the surcharge, stick to the "normal" rectangles. Postage for an A7 (5×7) envelope, for example, is standard (barring weight).
3. Envelopes Weighing Over 1 Ounce Require Additional Postage
Any envelope weighing over 1 ounce will require additional postage regardless of size or shape. Typically by the time you throw in a invitation, response items, and any additional info cards, most wedding invitations will weigh over 1 ounce.
If you are concerned about postage, there are some steps you can take to keep the price down. Learn about them in this video:
What Size Wedding Invitation Should I Make to Keep the Price of Postage Down
4. Take Advantage of 2oz. Wedding Stamps – They'll Save You Money & They're Pretty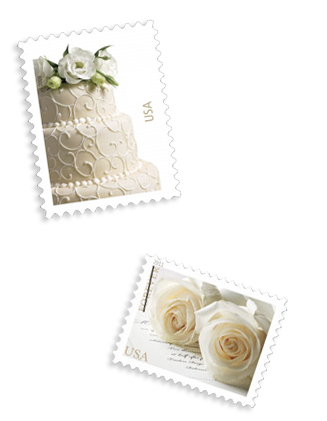 Wedding stamps are another great tool for keeping postage costs down. They were designed with bulkier wedding invitations in mind, and more importantly, they're much prettier than the average stamp – cakes & flowers over flags & bells – so take advantage!
One 71 cent* wedding stamp is good for up to 2 ounces (instead of paying for 2 stamps). The USPS also offers a 1 ounce wedding stamp for 50 cents.*
* Current USPS postage rates in February 2018
5. Pay Attention to Sealing – Make Sure Everything is Good & Stuck
Before sending your invitations on their way, be sure everything is properly sealed – and we're not just talking stamps to envelopes, but the envelope itself too.
The more enclosures you have inside your envelopes the closer attention you have to pay to sealing. Make sure the gum seal is secure all the way around, or your envelope may open in route.
6. Have Invitations Ready to Mail 6-8 Weeks in Advance
Yes, this tip is probably one you've heard a hundred times, but a reminder never hurts. Have your invitations ready to mail at least 6-8 weeks before your wedding. This gives invitations adequate time to arrive, and your guests adequate time to respond.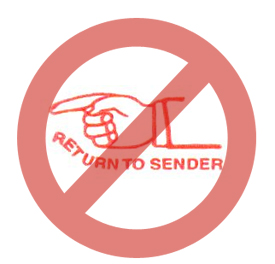 7. Bring One Finished Ensemble to the Post Office Determine Necessary Postage
After you send your invites out, you want your reply cards to come back, but not the whole thing! Bring one complete invitation to the post office prior to mailing to avoid them being retuned due to inadequate postage.
8. While You're at the Post Office, Send Yourself a Test
While you're at the post office, mail yourself a test invite. This is just a way to double check that your invitations truly do have adequate postage. It also gives you an idea of what they'll look like upon arrival and an opportunity to make changes, if necessary. For example, perhaps that ribbon should be tied a little tighter, or maybe you should throw in a piece of wedding tissue to prevent smudging.
9. Double Check Addresses
Be sure to use full, accurate addresses on each envelope. Here are some little thing to double check (it never hurts):
Correct spelling of street and city names
Correct zip codes and state abbreviations (if you must abbreviate)
Include directionals – for example West Main Street, South Cherryville
Include any apartment/unit numbers
10. Request Hand Cancellation at the Post Office
After all the hard work, you want to make sure your invitations arrive in the best possible shape – not torn, bent, or marked up by high speed sorting machinery.
The best way to protect your invites from machinery is to request invitations be hand cancelled at the post office. This means that instead of being aggressively run through and stamped (cancelled) by a machine, they will be stamped by hand.
Hand cancelling is pretty common practice for formal invitations. It is something your local post office branch will be familiar with and should have no trouble doing for you; but be prepared, in some cases, you may be asked to hand cancel your own invitations – well worth the extra 20-30 minutes this may take you.
Happy mailing!