'Tis the season to send greetings, and LCI offers hundreds of holiday envelopes for you to do just that! Below we answer your top holiday card and envelope questions, give you a rundown of the holiday envelopes we offer, and share some of our festive favorites. Whether for personal or corporate holiday cards, you're sure to find the right holiday envelopes to mail them in here.
Top Holiday Envelope Questions, Answered
Here are the five most common holiday envelope questions we get. If you have other questions, get in touch with us!
Do people still mail Christmas, Hanukkah, or holiday cards?
Yes, they do! Mailing a holiday card is a nice way to let loved ones know you are thinking of them during the holiday season (and it's fun to receive pretty envelopes in the mail). Companies still send holiday cards to customers, too! It's a great way to show customer and client appreciation.
How do I know what size holiday envelope to use?
Choose an envelope that is a 1/4 inch larger than your holiday card. A7 envelopes (for 5x7 holiday cards) are by far the most popular size. Read How to choose the right envelope size for your card to learn more.
What's the right way to address holiday envelopes?
Holiday cards are usually addressed informally, as they are designed to be fun, thoughtful, and are typically sent to your closest friends and family. For example, use John and Jane Smith as opposed to Mr. and Mrs. Jonathan Smith.
Should holiday card envelopes be hand written, or can I get holiday envelopes printed with addresses?
It's preference, but since the holiday season is so busy, we say order Christmas envelopes with printed addresses! Save time and let us do the work for you. We can print your return address or custom company logo, all of your recipients' addresses, or both.
Do holiday card envelopes require special postage?
Christmas and holiday postage is a nice touch, but isn't necessary. Most holiday cards require just one stamp, as most weigh one ounce or under. If you are concerned that your Christmas card envelopes may weigh over one ounce, you can bring one to your local post office to determine accurate postage.
---
LCI Paper's Holiday Envelopes Collection, Blank or Printed
LCI offers an endless envelope collection in sizes, styles, colors, and textures of all varieties. They are all premium quality and are all offered blank or printed. Our customers are seriously creative. As we've seen, just about any envelope can become a holiday envelope, but below are some seasonal favorites. Take a look, get inspired, then find the perfect envelopes for your holiday cards.
You guessed it, this collection includes classic, festive, red and green holiday envelopes. Shop them in several sizes and in matte and metallic finishes. Red and green envelopes are popular for Christmas cards and look lovely printed in white.
---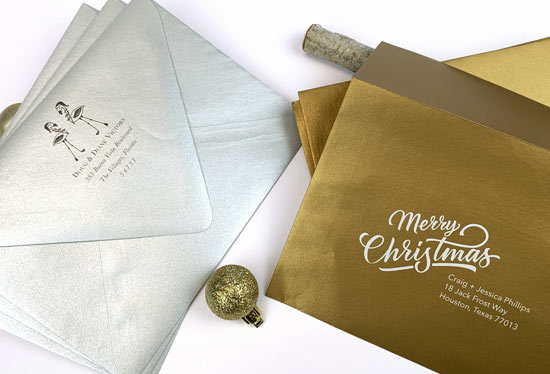 Shimmery metallic silver and gold envelopes are popular for Christmas, Hanukkah, and New Year's cards and party invites. If silver and gold aren't quite your thing, we have many other colorful metallic envelopes too. Here are some other seasonal favorites:
---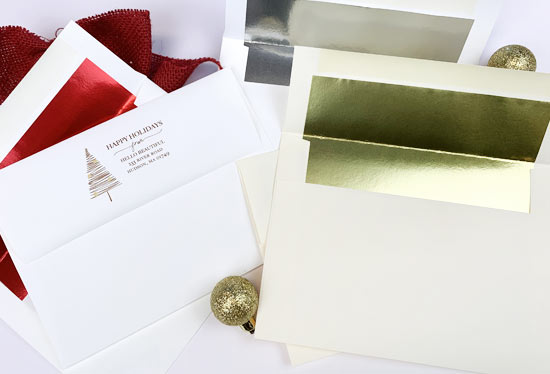 Foil lined envelopes are offered in white or cream, three different liner colors, and six different sizes. Classic on the outside with a festive pop of shine on the inside, they are a favorite for personal and company holiday cards alike.
---
Simple, traditional, and economical, LCI smooth white and cream envelopes are the perfect blank slate for your holiday envelope creativity! Choose from two flap styles and so many sizes, all made with premium 80lb text weight paper.
---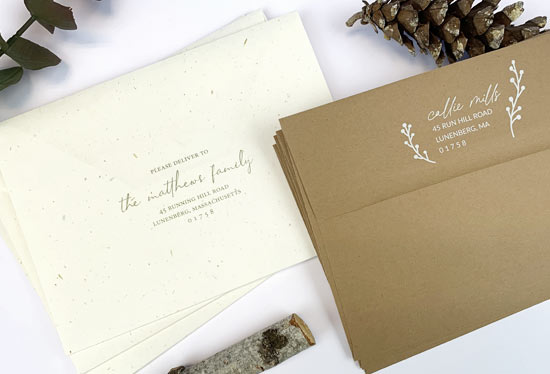 Perfect for eco-friendly holiday cards, this envelope collection includes a variety of sustainable, recycled and even compostable plant-based envelopes.