In this article, learn all you need to know about ultra heavy, double thick card stock.
Whether you are considering using it for your next creative project, or just want to know what this super thick paper is all about, read below to learn:
What double thick card stock is
How and why double thick card stock is made
Some common uses for double thick card stock
Ways to print double thick card stock
Double thick card stock offerings at LCI Paper
What is Double Thick Cover, or Card Stock?
As implied by the name, double thick cover weight paper, or card stock, is made up of two sheets of card stock put together, making it doubly thick. Simple, right?
How and Why is it Made?
Why Not Just Make One Really Thick Sheet?
Often times, creating sheets as thick and heavy as double thick stock is not as efficient as taking two thinner stocks (that have to be made anyway) and adhering them together, so double thick is the solution.*
As an example, see below. LCI's radiant white double thick card stock (200lb / 541 g/m2) is made of two 100lb / 270 g/m2 sheets pasted together.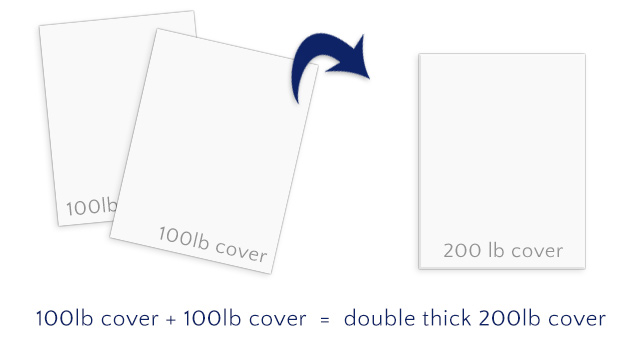 *To get a better understanding of how paper is made and why double thick stock is often an efficient solution, please view the following:
Can You See the Line Between the Two Layers?
Though double thick card stock is made up of two pasted sheets, the paper is strongly and seamlessly adhered, leaving no visible line or weakness between the two sheets.
What is Double Thick Card Stock Used For? Double thick card stock is used for projects of all sorts:
Invitations
Promotional pieces
Business cards
Packaging
Paper sculpture/art
In essence, since it is common for people to associate paper thickness with a feeling of luxury and quality, double thick is great for any project that you want to have a high end, upscale feel.
Double Thick Stocks Offered at LCI
LCI Radiant White - 200lb / 541 g/m2
Clean, classic, and with a multitude of uses, LCI's radiant white double thick features the following
Smooth, matte, vellum finish
Bright white color
Offered in the following sizes:
8 1/2 x 11
8 1/2 x 14
11 x 17
Environment - 120lb / 325g/m2
Rustic and eco chic Environment brand double thick paper by Neenah with the following specs:
3 earthy kraft tone colors
Visible flecks and fibers sprinkled though the paper
Made of 30% post consumer waste recycled fiber
Smooth finish (Desert Storm and Moonrock) and roughened Raw finish (Grocer Kraft) available
Offered in small cut card and large sheet sizes
Matching Neenah Environment envelopes available
LCI Cotton 222lb / 600 g/m2
A luxurious stock that prints letterpress like a dream, LCI Cotton double thick card stock boasts the following: 100% cotton card stock, 2 soft, neutral colors - whites and gray, luxuriously soft finish
Matching 100% cotton envelopes
How to Print on Double Thick Stocks (Don't Try this at Home)
Due to the weight and thickness of double thick card stock, it can not be printed at home, but with the following conventional methods: Letterpress, Foil stamping, Offset or high end digital presses*
*120lb cover only, not 200 and 600lb options