Digital Laser Cutting Service

---
What is Digital Laser Cutting?
Unlike traditional die cutting that uses a sharp metal die to cut paper into a custom shape, digital laser die cutting is electronic, using computer software and lasers to cut paper into a custom shape. LCI Paper offers digital laser cutting on any of its papers, allowing customers to create unique laser cut cards, invitations, wraps, and more - quickly and affordably.
Order Custom Digital Laser Cutting
---
What are the Benefits of Digital Laser Cutting?
Fast - no need to wait for a traditional die to be made
Economical - no need to pay high costs associated with a traditional die
Die cut on demand - great for small projects, samples, prototypes, and one-offs
Versatility - can make any shape
Fine detail - great for cutting intricate designs that traditional die cutters can't
---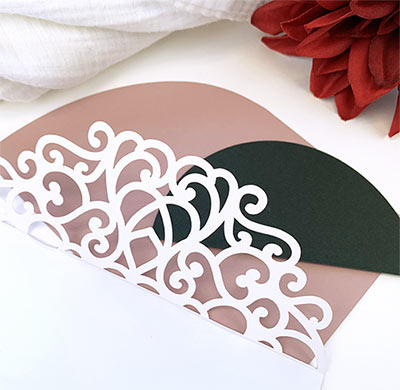 How to Order Laser Cutting from LCI Paper
Custom digital laser cutting is an add-on item, designed to be placed in conjunction with a blank paper or printed card order.
Add the correct paper or printed card quantity to your cart
Add (1) digital laser cut charge to your cart per 100 finished pieces*
Check out
Send your files to printing@lcipaper.com. Please consult the artwork requirements.**
*Price applies to simple, single-path cuts only. Please see the examples below. LCI Paper's laser die cutting pricing is based on a time-on-machine structure. Complex, intricate artwork requires a custom quote. LCI Paper reserves the right to review supplied artwork and request additional funds should the cut be intricate and time-consuming.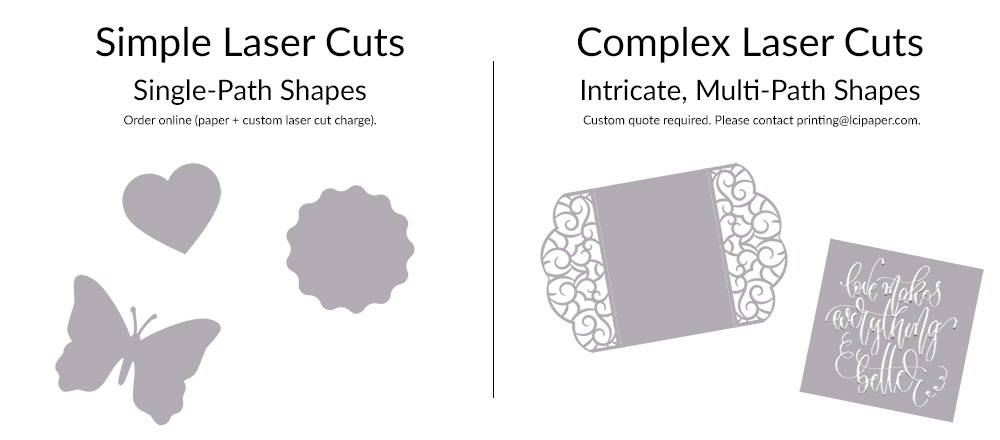 Order Custom Digital Laser Cutting
---
**Laser Die Cutting Artwork Requirements
Artwork requirements are listed below, as well as on the ordering page.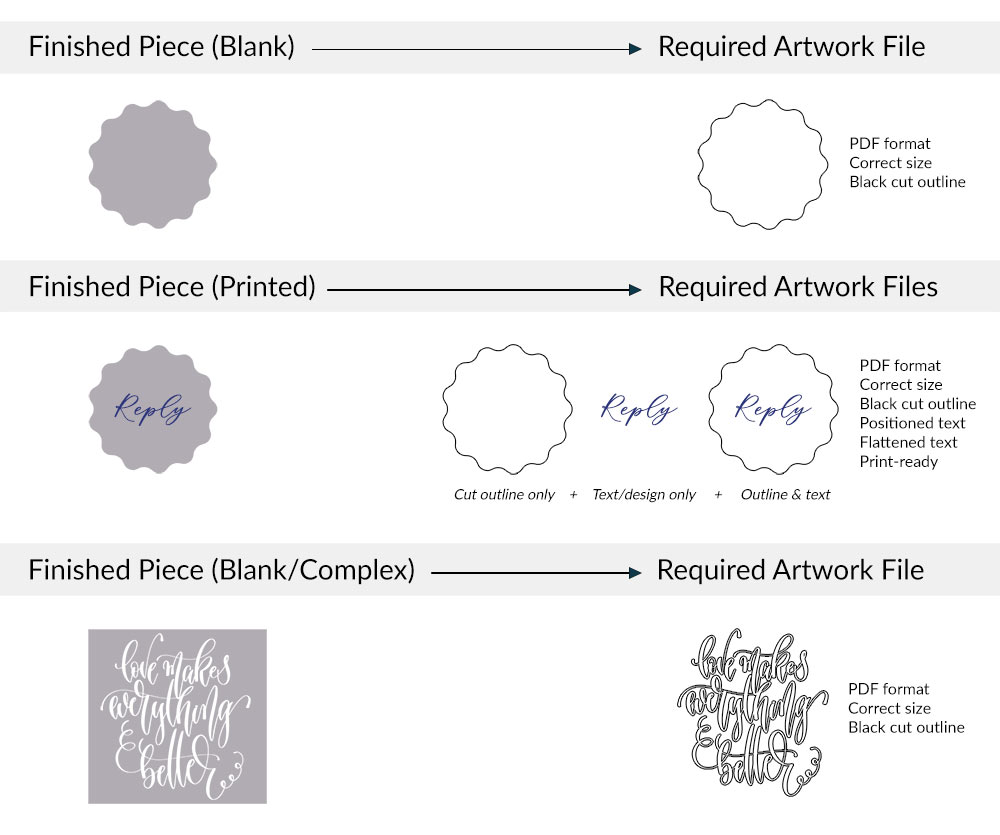 Laser Cut File Requirements
PDF format
Shape/design to be cut must be properly sized and outlined in black
Printed orders - Submit 3 files: 1 black cut outline, 1 text/design only, 1 text/outline combination
Printed orders - all text must be flatted and outlined
Order Custom Digital Laser Cutting
---
Digital Laser Cut Paper FAQs
What is the difference between digital die cutting and digital laser cutting?
These terms are sometimes used interchangeably, both used to refer to electronic, digital custom shape cutting that does not require the use of a traditional die. The technical difference is that digital die cutting is done with a knife/blade whereas laser cutting is done with a laser.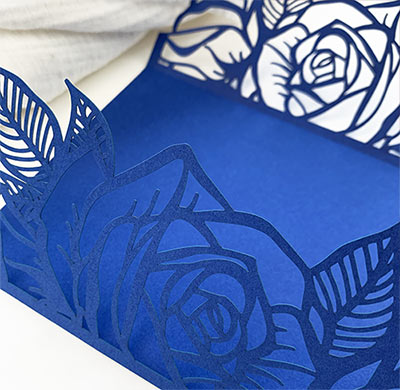 Will I get a proof of my custom laser cut design?
Absolutely! Whether you order laser cut cards or paper blank or printed, you will receive a proof for your approval prior to us cutting the whole order.
Does laser cutting change the color of the paper edges?
All of papers and card stocks are dyed through to the core (no white edges or centers after cutting). However, since lasers are technically burning the paper to cut it, you may notice subtle discoloration on the edge of your laser cut cards, particular on lighter colored papers. This is not apparent on a single card, but may be noticeable when the cards are in a stack.
Does LCI Paper offer laser engraving on paper?
Though our laser equipment is capable of laser engraving on paper, we do not formally offer this service at this time.
Does LCI laser cut or engrave materials other than paper?
At this time, no. However, we have plans to add laser cutting and engraving on other materials in the very near future.