Everything You Need To Know About Curious Metallics, Right Here.
There are many metallic sheets on the market - they all shimmer, they all shine, they all look great. But as so appropriately implied by its name, there is something a bit different about Curious Metallics - something that sets it apart from rest, and in this video and accompanying guide, you'll learn just what it is!
We'll also tell you about Curious' interesting background, its eco-friendly manufacturing, and more about its irresistable sparkle, must-touch texture, and luxe, ultra saturated color palette. If you weren't crazy about Curious before, after learning more about it, you probably will be!
Curious Metallics: Part of the Curious Collection Manufactured by Arjowiggins Creative Papers
Curious Metallics is part of the Curious Collection, one of many outstanding paper collections manufactured by Arjowiggins Creative Papers. With production facilities spread throughout Europe and North America, Arjowiggins Creative Papers is a leading producer of modern, innovative, cutting edge specialty papers.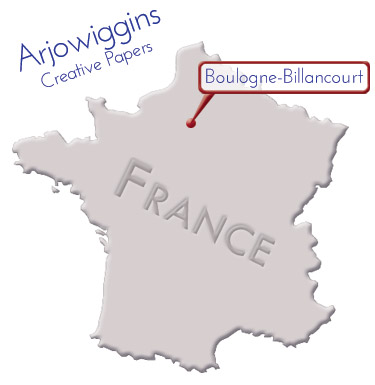 Where Do Curious Metallics Come From, Exactly?
Curious Metallics is made in a mill in Aberdeen, Scotland, though Arjowiggins Creative Papers' corporate headquarters are located in Boulogne-Billancourt, France and their American distribution company, Appleton Coated, in located in Combined Lock, Wisconsin.
About Arjowiggins Creative Papers
Arjowiggins Creative Papers is a company backed by high standards of environmental sustainability, premium quality, modern variety, and utmost style. With an overriding goal of producing the most eco-friendly creative sheets in the market, here are some environmental strides they are taking:
All Creative Papers made with FSC certified wood pulp
All mills ISO 14001 certified (international environmental standard)
95% of water used in manufacturing purified and returned to the source
Decrease in carbon emissions each year from 2006 on
Purchase of renewable energy credits (RECS) from Green-e certified energy sources
Collection of recycled papers available
Curious Metallics are Sparkly and Eco-Friendly?!
That's right, the lovely traits of Curious Metallics papers go much deeper than their colorful, sparkly surfaces. Metallics are manufactured:
With 100% renewable energy credits from Green-e certified energy sources
Acid free
Lignin free
Elemental chlorine free (ECF)
Collection of 100% recycled Curious Metallics (Gold Leaf, White Gold, Ice Silver, White Gold) available*
Now that you know Curious Metallics is lovely inside and out, let's get into the good stuff - like that fantastic finish!
A Metallic Finish that's Roughened and Absorbent? This Paper is Rather Curious. . .
Like most metallic papers, Curious has a mica infused coating on both sides, resulting in a lustrous, iridescent sheen. The paper reacting to the slightest of movements, a subtle sparkle appears, colors change, and the eyes (particularly the creative ones) are fixated. Yes there's no doubt about it - Curious has that je ne sais quoi possessed by the finest of metallic sheets.
But there's something a bit different about Curious - something that sets it apart from its mica-coated counterparts - its slightly roughened (toothy), highly absorbent surface. When placed next to your average slick and smooth metallic, this difference is apparent to both the eye and the touch, and is all the difference in the world.
How does a little tooth make such a big impact?
What's the big deal about the toothy texture, you ask? Here's how it works: To make metallic papers, a mica-infused coating is applied to colorfully dyed base sheets. On smooth, non-porous metallics, this coating lies flat and evenly on top of smooth surface sheets - end of story. On Curious Metallics, toothy texture means more surface space for mica coating - mica crystals not only sit on top of the base paper, but also fall within the grooves of the texture. This allows light to reflect off the paper at any angle - truly enhancing the sparkle and shimmer of the sheet and bringing it to the next level of metallic.
A Rainbow of Deeply Saturated Colors. . . That Somehow All Match!
That color palette - that glorious, deeply saturated color palette - could very well be considered the highlight of the Curious Metallics line! The line is available in 27 rich colors (LCI currently offers 13 of these colors) from crisp whites to deep charcoals - all slightly iridescent, all with a shimmering sheen, all ingeniously featuring a colorful coating specifically chosen to enhance the vibrancy of the shade.
What's neat about this range of colors is that they all go so darn well together! No matter which ones you pair - even if you assume they would clash - they're the perfect complement to one another and the perfect base for a stand-out design.
Perhaps it is another "Curious" trait of the paper, or maybe we're just overzealous about rich color and sparkle - but we're confident in saying, when choosing colors for your next project, go nuts, because somehow, it will just work! Mix, match, and see for yourself!
Light Text? Heavy Cover? Some of Each?
Curious is available in heavy cover weights and in lighter weight text paper to fit your projects' needs:
92lb (249 g/m2) 111lb (300 g/m2) cover weight - varies with color
80lb (118 g/m2) text weight
Pre-Cut to Just the Right Size. . .
Pre-cut for your convenience and sized perfectly for press and other creative projects, choose from a variety of standard, popular paper sizes. If you don't happen to see the size that is perfect for your creative project, don't fret, we'll custom cut it for you!
. . . And Available for Mailing in Matching Curious Metallics Envelopes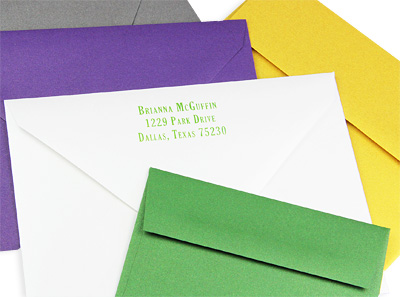 There, in the middle of a big, boring pile of junk mail and bills, is a Curious Metallic envelope. It's shiny, it's colorful, it's downright too awesome to miss. It's like an envelope oasis, and sure to be the very first piece of mail opened.
Be that guy, elicit that response, use Curious Metallics envelopes. You have all kinds of standard A sizes to choose from.
Don't Forget Pockets and Wraps!
This paper makes for some serious invitations (who wouldn't want to go to an event hosted by someone with such fantastic taste in paper?), so we went ahead and made some into nice, heavyweight invitation pockets & pochettes.
So wrap up and organize your invitation ensemble in the luxury of Curious Metallics and set the tone for a fabulous event.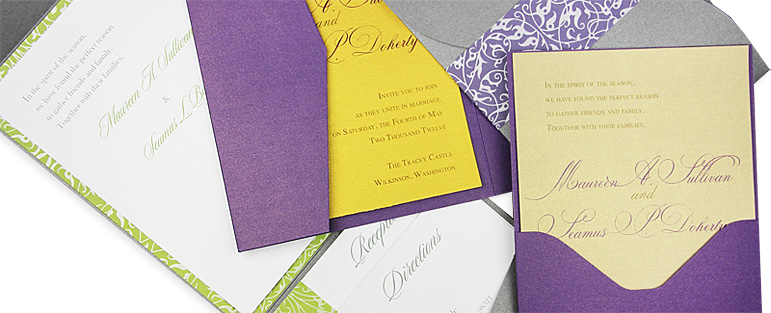 Printing on Curious - Not Your Average Metallic
When printing your average metallic paper at home, you can expect smudging, smearing and slow drying time with ink jets and sharp, dark, crisp results with a laser. But as we've mentioned, Curious is not your average metallic paper. With its unique roughened and absorbent surface comes unique printing results. We tested Curious Metallics in house and got some funky and surprising results, which you can find in detail in the video and accompanying article below:
Curious about Curious? Our In-House Print Report
In short, here's what we found: Laser printers still produced darker, sharper results on Curious than did ink jets. However, due to the papers' high absorbency and not so silky smooth surface, ink jet results showed much less smudging, smearing, and running of ink than was anticipated. In fact, the wet ink of ink jets just seemed to get sucked right into the paper, drying instantly and resulting in a light, desaturated (though kind of cool) result. Again. . . curious.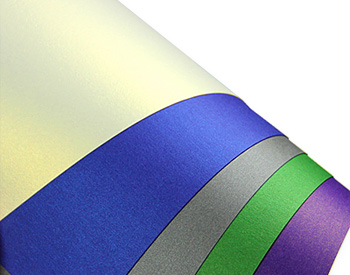 Conventional Print Methods for Curious Metallics The following conventional print methods produce favorable results on Curious Metallics:
Offset Lithography (standard and UV)
Letterpress
Thermography (pre-print test recommended)
Embossing
Foil Stamping
A Note From the Mill about Curious' Surface & Optical Effects
The unique surface finish of these papers will interplay with printed images in interesting ways. The distinctive metal-like surface will show through the ink and may reduce the image contrast - all as part of the designer's intended effect. By the same token, deep, solid areas of black or blue can be difficult to achieve; this is not a paper defect, but a natural characteristic of metallic/iridescent papers. A double-hit of ink is recommended in this situation.
Designs Guaranteed to Stand Out from the Rest! What Will You Create with Curious?
With its rich, modern color palette, glimmering finish, and a variety of paper weights and sizes to choose from, the design possibilities are endless. All you need is a little bit of creative inspiration and to know that whatever it is you're making, if it's made with Curious, it's going to be great!
Here are a few great uses for Curious Metallics that we came up with:
Invitations - But we've said this already
Menus - If the food is half as good as this paper. . .
Signage - Weddings, promotional events, businesses
Business Cards/Promotional Pieces - Set your business apart from the rest
Packaging - Gift or commercial - with paper this great the recipient will be dying to see the gift/product inside
Curious Metallics Price Point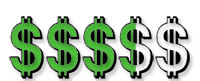 In a range of all brands of paper offered by LCI, we gave Curious Metallics a 3.5 out of 5 - a point higher than middle of the range, but certainly not the priciest line offered.
Imported from a world-renowned European paper mill, heavy in weight, rich in color and quality, featuring an oh-so-unique finish, and eco-friendly to boot, this line of metallic paper is sure to make your designs pop and is worth every penny.
Note that Curious Metallics is priced just slightly higher than Aspire Petallics and slightly lower than Stardream, comparable imported metallic brands detailed below.
Like Metallics? Check Out These Similar Brands
As we said, no other metallic lines have a finish and texture quite like that of Curious Metallics, though Aspire Petallics Paper and Stardream Paper are similar to Curious in the following ways:
Mineral infused coating on paper provides dual sided metallic finish (non-absorbent, smooth surface)
Slight iridescence and sparkle to paper
Large, modern color palettes
Heavy cover and lighter text weights available
Spectrum of popular pre-cut paper sizes
Full line of envelopes
Invitation pockets and wraps
Did You Know This About Curious Metallics?
The Curious Metallics color palette was created in collaboration with top fashion trend-caster Lidewij Edelkoort.
In case you've never heard of her before, Li Edelkoort is a pretty big deal. A trend forecaster is clearly someone who foresees trends, but the job can't be underestimated. And good ones aren't easy to find. In the case of Ms. Edelkoort, she travels the world studying various cultures, trends and their people. Her studies cover the gamut from fashion and textiles to cars and food. A professional trend forecaster like Edelkoort then takes all of this information and helps strategists project two years ahead. Her clients are so diverse and all at the top of their game: Coca-Cola, Nissan, Time Warner Cable, Esprit, Lacoste, and, naturally, Appleton.
Now you know why the Curious Metallics feel so "of the now"! Developers went to great lengths to make them look current and trend-worthy. It's fun to think of these papers used for an eye catching marketing brochure, or, even better, a lively annual report.