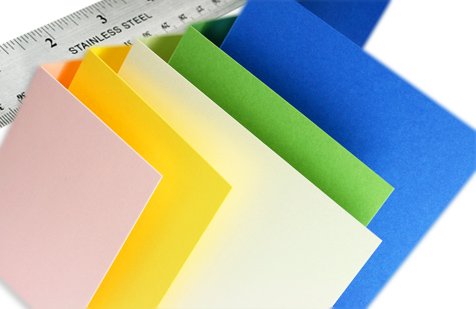 For convenience, LCI offers our card stock papers in standard & common sizes. From small to large and every dimension in between, we have a paper size to fit your creative project. But what are these standard sizes, and where do they come from, you ask?
The paper mills supply paper in very large sheets - parent sheets - that measure roughly 23 x 35 or 26 x 40 inches, the exact size varying with each paper. With the exception of commercial printers, not many people have the equipment to handle such large sheets, so we cut them down to more usable sizes. The result is a collection of perfectly cut, perfectly sized card stock for your creative project. Learn more about these sizes below.
---
It's the size in your printers, your photocopiers, your fax machines - you know it when you see it. It's the most commonly used paper size for office and personal use. It's easy to handle & convenient to cut.
Why It's Great
You're comfortable with it. You've been using it since preschool.
Most printers default to it, which means no custom page set up
It's a perfect size - large enough to create multiple cards with, small enough to fit in most printers
It's really easy to make 5 1/2 x 8 1/2 (A9) cards with - just cut it or fold it in half, and your work is done!
Add an extra three inches to that 8 1/2 x 11 sheet, and you have 8 1/2 x 14, or legal sized card stock.
Why It's Great
Your printer won't default to it, but it'll certainly recognize it as a standard size. Easy.
Designing with bleeds? Making a fancy award certificate? Sometimes that extra 3 inches comes in handy
Again, large enough for multiple cards without being too large for a home printer
Double the standard 8 1/2 x 11 and you get 11 x 17 tabloid sized card stock - a large, but useful size for all kinds of commercial & digital printing to crafting projects.
Why It's Great
Great press sized sheet - most home printers can't print on it, but professional printers certainly can, and many would prefer to
Folded in half it makes a great menu, or portfolio cover
Creating a design that bleeds? No sweat! Print on 11 x 17, then cut!
That's right scrapbookers, this one's for you. This size is very often seen in scrapbook pages, but it has some other great uses too.
Why Square is Great!
Perfect fit for scrapbooks (but we already said that)
Get multiple square cards to a sheet with little waste (unlike 8 1/2 x 11)
Fits in all 12 x 12 standard paper cutters (another reference for the crafty folks)
---
Listed above are the most common paper sizes stocked at LCI. Not all papers and colors are stocked in these convenient paper sizes, but most are. And because we have these sizes stocked at our location, we are able to provide lightening fast deliveries on most of our papers.
Don't See Quite What You're Looking For? Don't Fret - We Offer Custom Cutting Too!
If you can't find that specific size you're after, we offer custom paper cutting too! Get the right sized paper delivered to your doorstep quickly - no muss, no fuss. Give us a call to find out more.