If you're looking for the easiest way to print invitations for Weddings, Parties or Birthdays using your home computer and printer, our Printable Invitation Cards are the way to go! Here's Why:
Print On Standard 8 1/2 x 11 Size Paper, Not Smaller Cards
Invitations Formatted 2 or 4 Invitations Per Sheet
65lb Smooth Card Stock, Super Easy For Laser Or Inkjet
Free Print Templates
After Printing Simply Separate & Mail
---
Printable Invitation Cards In 6 Easy Steps

---
Step 1: Download Free Word Printing Template
Locate the "Multi-up Cards" from our downloadable templates page
---
Step 2: Customize the Template By Entering Your Event Details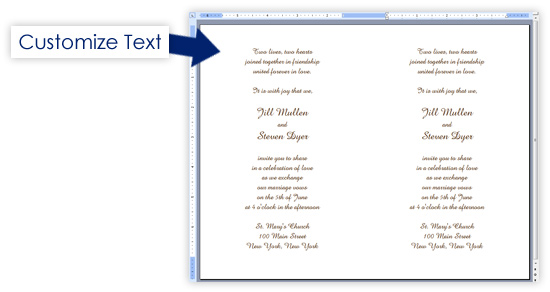 Change template's sample wording and make it your own
Be as creative as you can with your choice of font(s), font size, and even font color
Optionally, add graphics, a monogram, or anything else that will add to your event theme
Save the document and give it a file name you'll remember
---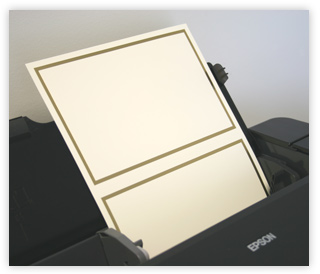 Step 3: Load Invitations Into Printer
Load invitation paper short edge first as you would with ordinary copy paper
---
Step 4: In Print Driver Set Printing Orientation to Landscape
Since the Word printing template for this type of invitation is oriented in Landscape mode, not Portrait, you must choose Landscape in your printer's driver.
PC Instructions
Click File > Print
If your printer is not already selected, select it from the list
Click Properties
Look for Orientation & select Landscape
Click Ok to save settings
Mac Instructions
Click File > Print
If your printer is not already selected, select it from the list
Click Page Setup
In Orientation area, click Landscape icon
Click Ok to save settings
---
Step 5: Print Invitations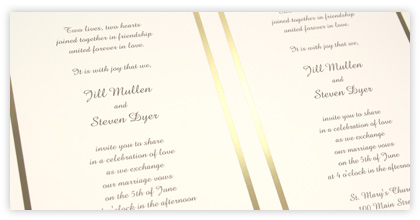 You've done all the setup. Now print your invitations!

For testing purposes, we suggesting printing a single sheet first.
---

Step 6: Fold & Separate the Invitations
Fold along the micro-perforated edges, then fold backwards to loosen the cards from each other
Gently tear to separate the 2 or 4 invitations from each other
Share Your Printing Experience with Us!
We hope this tutorial gives you the confidence and the knowledge that you can print your own elegant invitations at home. We'd love to hear about your successful printing on our 2 Up Invitations. Post a comment and tell us about your experience.