Gmund Colors 4-Swatchbook Set
4 Books, 48 Complementary Colors, 1 System
It's here - the full Gmund Colors swatch book set. 4 books, 4 finishes, 48 luxe, complementary colors at your fingertips. Touch, feel, experience the world's finest luxury paper system.
Get The Colors Swatch Book Set With Free Shipping & Special Order Coupons
(Each full Gmund Colors swatch book set includes a $5 coupon good towards your next Gmund Colors paper order!)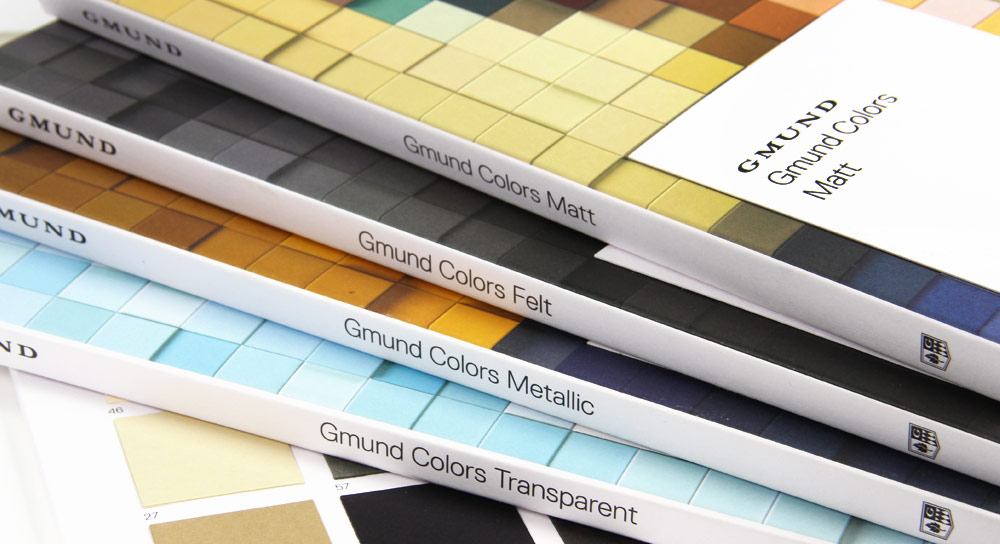 The 4 Swatch Books, 4 Finishes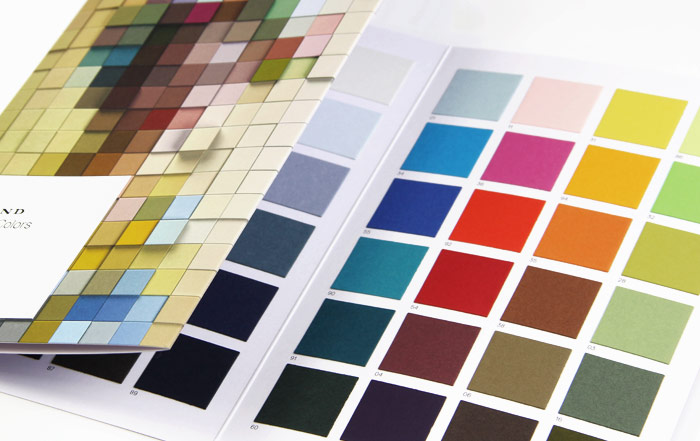 1. Gmund Colors Matt
The collection that started it all, Gmund Colors Matt has a smooth, matte finish and 48 numerically titled colors.
Masterfully crafted, each color is designed to complement any other color in the system, and to perfectly match its Felt, Metallic, and/or Transparent counterpart.
Matt is offered in cover and text weights, the text weights creating matching Colors Envelopes.
Order Colors Matt Swatch Book Separately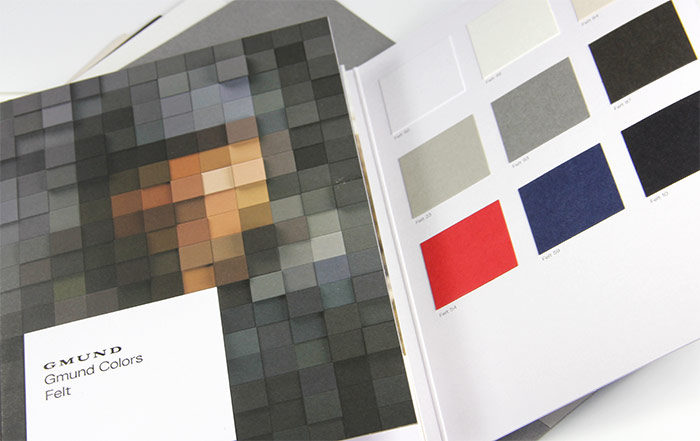 2. Gmund Colors Felt
Colors with texture, Colors Felt is embossed on both sides with a European felt finish.
Unlike American felt finish which is characterized by bumps and divots, European felt finish is a subtle linear texture - very clean, very classic, very classy.
Felt comes cover weights and in 9 timeless colors, each with a Matt counterpart, of course.
Order Colors Felt Swatch Book Separately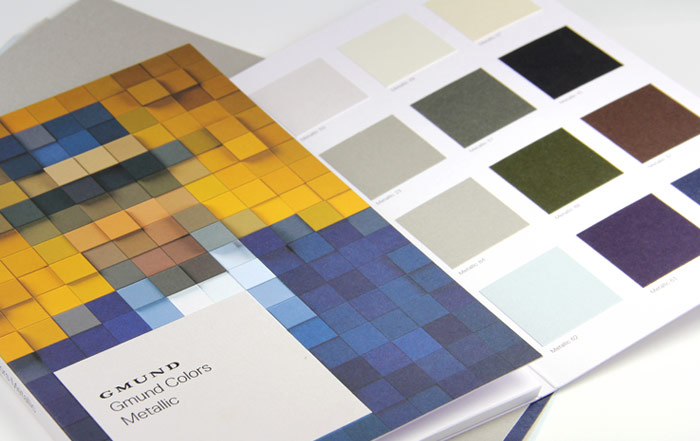 3. Gmund Colors Metallic
Colors with sheen, Gmund Colors Metallics is coated on one side with a lustrous metallic finish and is matte on the other.
Colors Metallics has a very interesting feel, almost like canvas to the touch. This finish creates a sheen more subtle than most metallic sheets and a paper that is moisture and fingerprint resistant on the coated side.
12 rich colors were chosen for the metallics collection, each cover weight with matching Matt envelopes.
Order Colors Felt Book Separately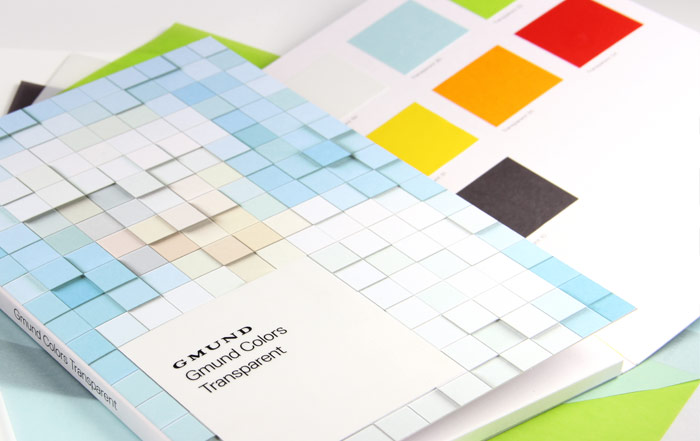 4. Gmund Colors Transparent
Colors you can see through, Gmund Colors Transparent is colorful translucent vellum paper.
Choose from 7 saturated shades and two weights - medium (30lb translucent) and heavy (54lb translucent).
Order Colors Transparent Swatch Book Separately
The Color System
If you are not familiar with the ingenious Gmund Color System, here's how it works: Whether Matt, Felt, Metallic, or Transparent, if it has the same number, it's a perfect match. It's that easy.
Whether for social, corporate, or promotional, this makes mixing, matching, and superior design simple.
The Perks
The Gmund Colors swatch book set is inspiring in and of itself. Cleverly and stylishly designed and full of fine papers, you can't help but look, touch, desire to create something exceptional.
Creative inspiration aside, here are some other perks of ordering the impressive Gmund Colors swatch book.
Handy reference tool - each swatch at your fingertips with corresponding Color number. Keep on hand for future projects and clients for years to come.
Includes large print & weight samples - These papers print like a dream. Within each book, half a dozen professionally printed samples for you to touch, admire, and share with clients.
Informative folding design - Front to back, in and out, each book is full of specifications, information, and inspiration for you to work with.
Paper in stock at LCIPaper.com - Find it, love it, order it at LCIPaper.com. All of our Gmund Colors papers are in stock, ready to ship from our Massachusetts warehouse.